Creating your baby's registry can be an overwhelming experience: who knew such a tiny human would need so. many. products! While we've always got you covered with the best products and gear you'll need to add to your baby's registry, today we're talking about a category that often gets overlooked: your little one's library!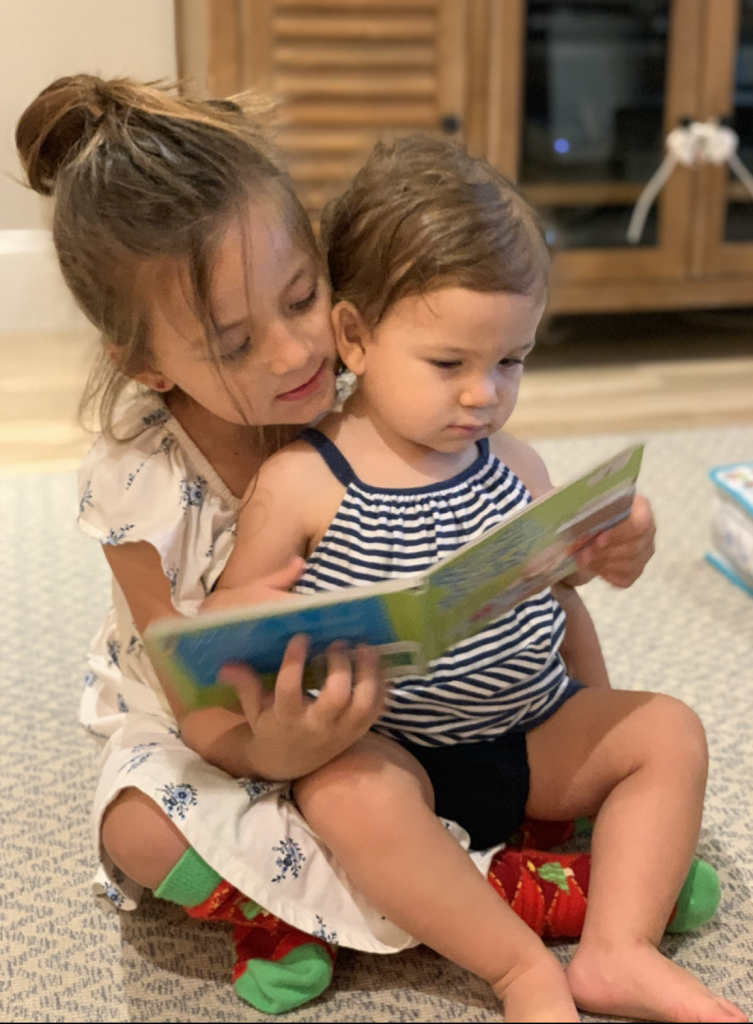 My oldest daughter, Elle, loves reading to her younger sister!
Thanks to the Real Moms who responded to my Instagram survey, I'm here with the top reasons why you should add books to your registry; plus they're sharing their favorite books to give and receive!
Why Register for Books?
It's no secret that reading aloud to babies has incredible benefits, and it's never too early to start! Adding books to your registry is the perfect way to stock your bookshelves, and ensure that you always have something on hand to read and enjoy.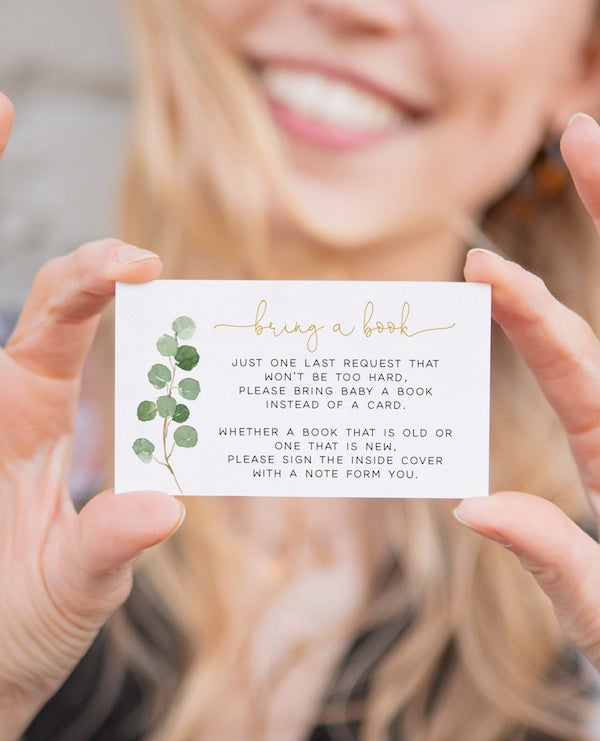 Additionally, we're all seeing tons of baby shower invitations that include cards like the one above, asking guests to bring a book in lieu of a card. Among the hundreds of responses I received on Instagram, 96% of respondents have received a card like this–so go ahead and add books to your registry to ensure that your guests have plenty of options you love in case your shower hostess decides to include this in the baby shower invitation.
Curate a Library You Love
Cuddling up with your baby and a book creates a meaningful moment of connection, and the books you choose to share with them offer an opportunity to bond, learn, and pass on your values and beliefs. Registering for books will allow you to curate a library that reflects what matters most to you, so that you can share those values with your little one!
And to be very practical: adding books to your registry also ensures that you won't receive four copies of Goodnight Moon with heartfelt inscriptions (meaning you can't return or regift them!).
The Best Books to Register
No children's library would be complete without the classics–stories of sleepy bunnies, hungry caterpillars, and dancing bears–but it's 2021. We want our bookshelves to reflect our hopes and dreams for our children, to encourage them to see the world from different perspectives, and to celebrate what makes them and others unique! So without further ado, here are our Real Moms' favorite books that celebrate inclusion and diversity!
Inclusive, Diverse Books to Add to Your Baby's Library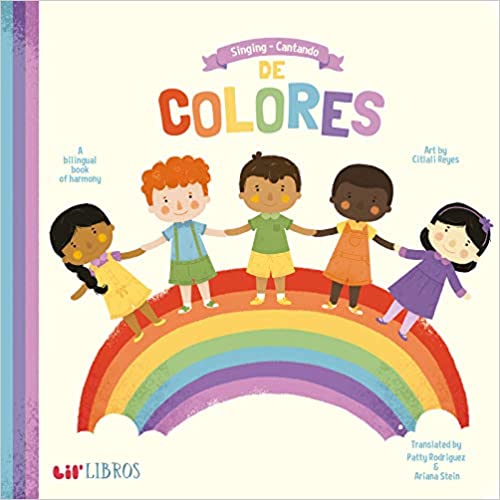 Lil' Libros books, by Patty Rodriguez (Author), Ariana Stein (Author), Citlali Reyes (Illustrator)
Unable to find bilingual first concept books she could enjoy reading to her baby, Patty Rodriguezcame up with the idea behind Lil' Libros, a colorfully illustrated series of books celebrating bilingualism and Latin American culture. Each book in the series honors beautiful stories like the life of Mexican painter Frida Kahlo and Cuban music icon, Celia Cruz in English and Spanish with rich and colorful illustrations while also introducing them to concepts like first words, numbers, colors, shapes, and biographies!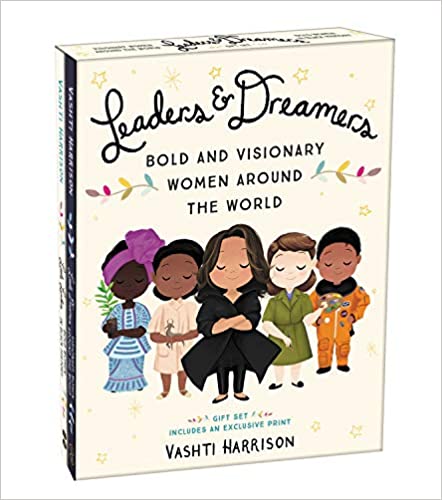 These beautifully illustrated books introduce readers of all ages to 80 women who changed the world. Little Leaders: Bold Women in Black History features 40 trailblazing black women in American history, and Little Leaders: Visionary Women Around the World features 40 women creators, ranging from writers to inventors, artists to scientists.
Illuminating text paired with irresistible illustrations bring to life both iconic and lesser-known female figures of history such as abolitionist Sojourner Truth, pilot Bessie Coleman, politician Shirley Chisholm, mathematician Katherine Johnson, poet Maya Angelou, filmmaker Julie Dash, painter Mary Blair, actor/inventor Hedy Lamar, environmental activist Wangari Maathai, architect Zaha Hadid, and physicist Chien-Shiung Wu.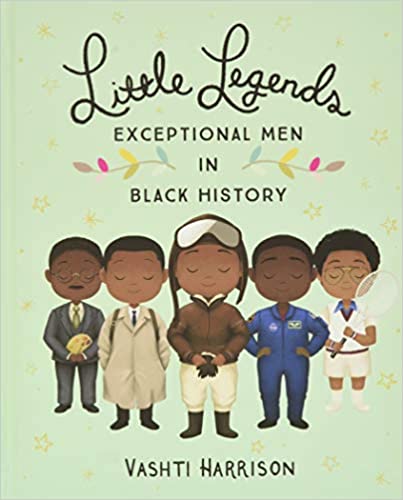 Another powerful book from Vashti Harriosn, this beautifully illustrated and engagingly written volume brings to life true stories of black men in history. Among these biographies, readers will find aviators and artists, politicians and pop stars, athletes and activists. The exceptional men featured include writer James Baldwin, artist Aaron Douglas, filmmaker Oscar Devereaux Micheaux, lawman Bass Reeves, civil rights leader John Lewis, dancer Alvin Ailey, and musician Prince.
The legends in Little Legends: Exceptional Men in Black History span centuries and continents, but each one has blazed a trail for generations to come.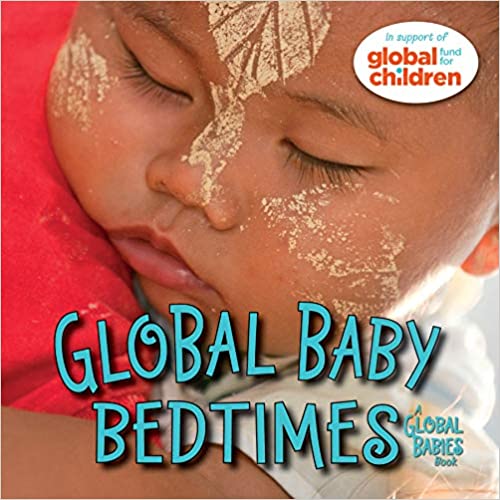 Good night, global babies! Babies love to look at babies and this bright collection of photos is a ticket to an around-the-world journey. From Panama to Peru, Vietnam to Argentina, each of the sixteen colorful photos in Global Baby Bedtimes is a glimpse into a new country and culture. Celebrate (quietly!) different bedtime routines and introduce babies and toddlers to their global neighbors as they all get ready to say "goodnight."
And how special is this: part of the proceeds from the Global Babies books will be donated to the Global Fund for Children to support innovative community-based organizations that serve the world's most vulnerable children and youth.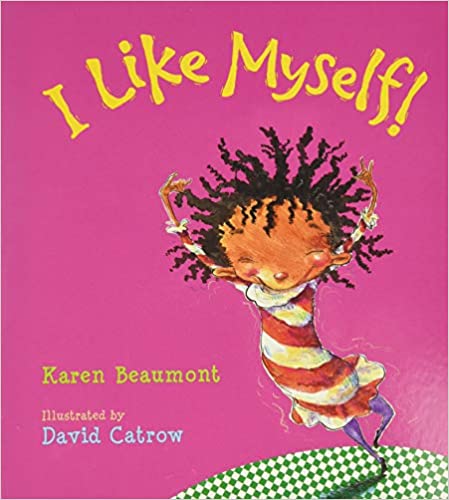 High on energy and imagination, this ode to self-esteem encourages kids to appreciate everything about themselves—inside and out. Messy hair? Beaver breath? So what! Here's a little girl who knows what really matters.
At once silly and serious, Karen Beaumont's joyous rhyming text and David Catrow's wild illustrations unite in a book that is sassy, soulful, and straight from the heart. The sturdy board book is just right for little hands!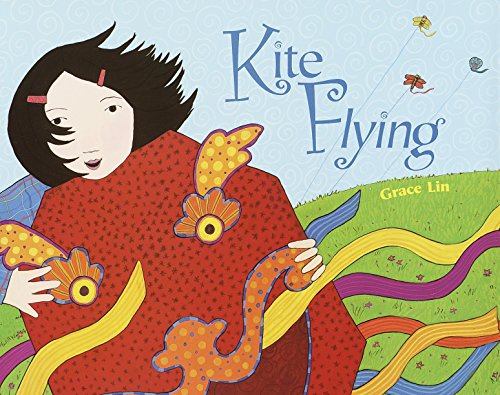 I'm putting all of Grace Lin's books on my Amazon wish list! I chose Kite Flying for this list because it lovingly depicts a family bonded by the ancient Chinese tradition and modern pleasure of flying a kite! Check out all of Lin's books, ranging from board books for babies to longer books for early readers.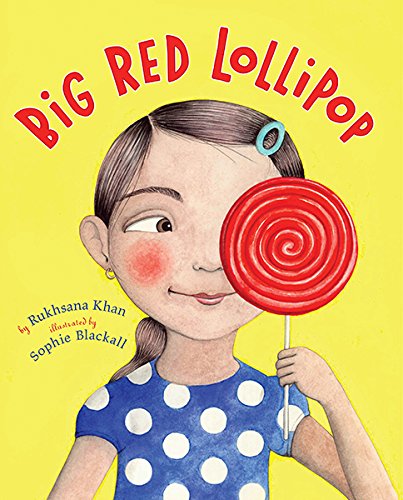 Siblings everywhere will relate this story, even though it is rooted in the experience of an Pakistani immigrant family. Touching and tender, this book is a thoughtful springboard for discussion of different birthday traditions and gorgeous to the eye!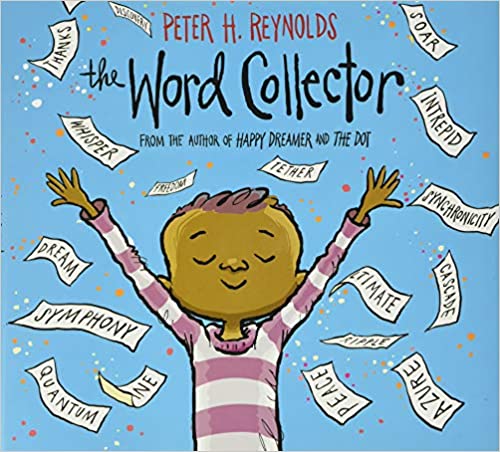 This book is a celebration of finding your own words — and the impact you can have when you share them with the world. The Word Collector recognizes the joy of learning, the beauty of words, and the power of kindness–and couldn't we all use a little more of that in our world?
Ready to Read?
I hope you're feeling inspired to add a few of these books to your registry and bookshelf! There are so many more wonderful titles to choose from, and if you have any suggestions, please send them my way. As a former English teacher and mom of three, there is no greater joy for me than reading to my children–especially when the books we read celebrate how wonderful our differences can be!
For more baby essentials and registry advice, check out our GiveIt Blog where our Real Moms share their tried and true tips and links for shopping and registering!