You've been there before…your best friend just asked you to be in her wedding. You're thrilled you get to stand with her on her big day. Thrilled that is, until you remember that you have to wear a bridesmaids dress. Fast forward a bit. Now it's your big day and you've asked your closest girlfriends to be by your side as you become a Mrs. Up next – finding the perfect attire for your bridesmaids.
This is no easy task considering that the dress has to fit and flatter several different body shapes and skin tones, as well as coordinate with your wedding theme and look good in pictures. On top of all that, you'd like to find a dress that your girls will actually wear again after the wedding, right? Well, look no further, we've selected several gorgeous dresses in a variety of styles and colors that will allow you to confidently say to your girls, "You can wear it again!"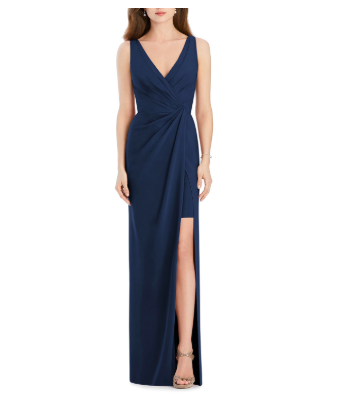 For an elegant evening wedding, this crepe gown flatters most body types and the rich midnight blue color is the perfect backdrop for cream and blush floral bouquets. Once the "I Do's" have been said, this dress can be one that your besties will want to wear again for their next formal event.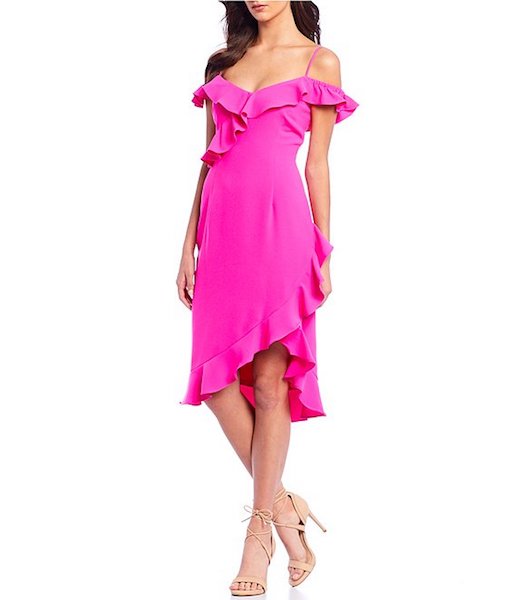 This fun and flirty crepe dress with ruffle hemline will be a staple in your friends' closets for years to come. From a ceremony beneath the trees one week to dinner at the captain's table on a cruise ship the next, it's one they can count on like a faithful girlfriend.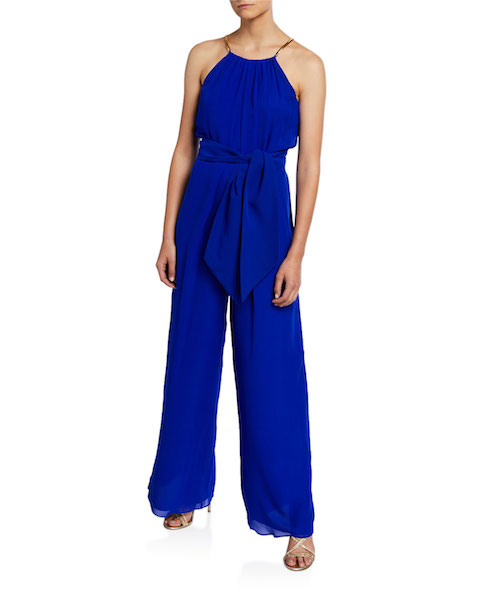 If you want your girls to thank you again and again, pick this halter jumpsuit for your modern, on-trend wedding. Not only will they be extremely comfortable, they will look no further for the perfect outfit for the next bachelorette party or girls night out.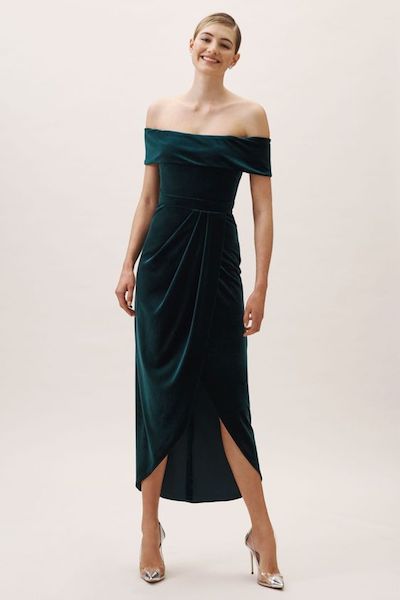 Green is a great color choice because it goes with all skin tones and hair colors. In this off the shoulder cocktail dress, your bridesmaids will look as stunning at their company Christmas party as they will standing by your side on your special day.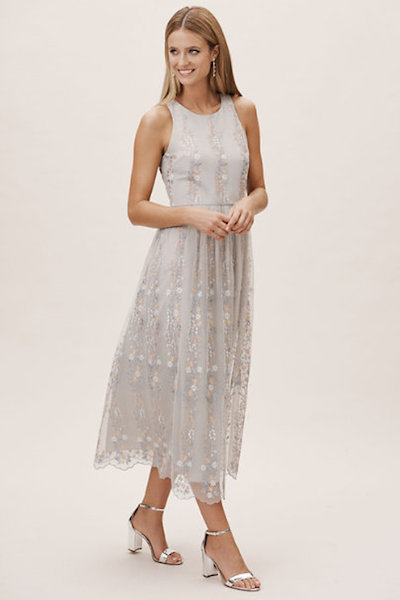 Nothing says romance like wedding flowers everywhere. Available in 3 neutral colors, this floral applique gown is a perfect addition to the English garden wedding you've been dreaming of. From bridesmaids dress to a beautiful wedding guest dress, your maid of honor will be making a romantic statement wherever she goes.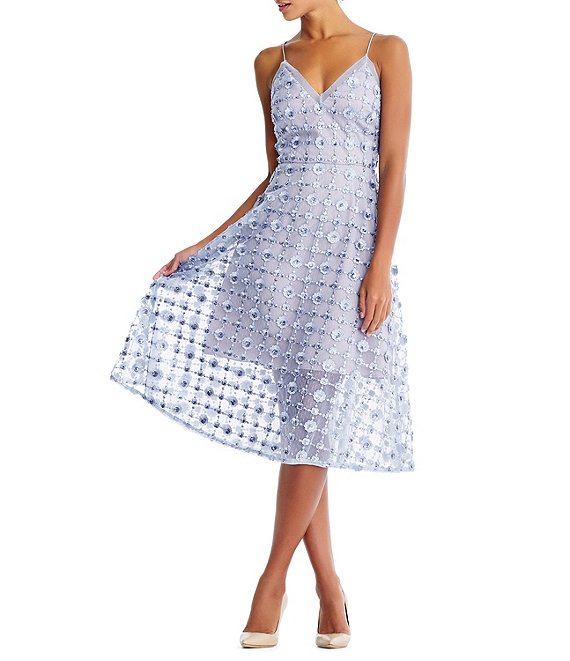 At the beach or in the backyard, there's no better time for a wedding than in the sweet summertime. This embellished sundress will keep your girls feeling cool, fun and flirty. It will be as beautiful in the wedding photos as it would in family beach pics. For a destination wedding or cocktails at sunset, this dress is a "go anywhere" staple.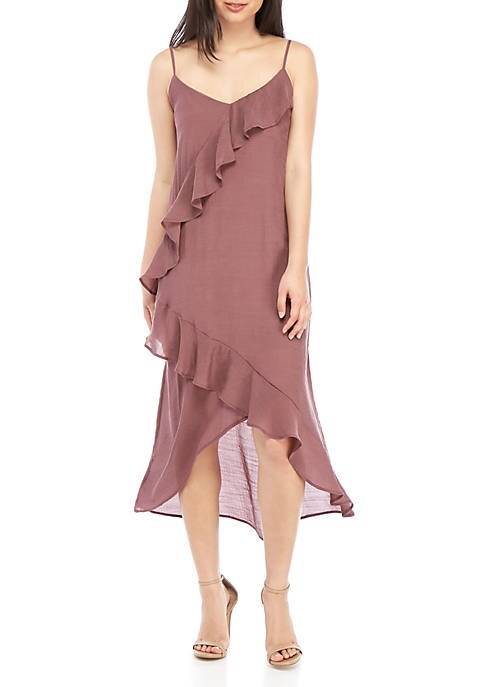 Attending to you is the one job your bridesmaids have on your special day. But once their duties are over, they go back to their lives as teachers, moms, sisters, doctors, and more. This breezy dress fits all the personalities. With its hi-low hem, v-neck and ruffle trim it will work great on your wedding day and for the many events your friends have scheduled in the next year. It has just enough class for a business dinner and just enough sass for a night out on the town.
On your wedding day you vow to always love your spouse, but don't forget, your girlfriends have been and always will be the "glue" in your life. They're going to be super thankful you kept them in mind when finding a dress that they can wear over and over again. Every time they put it on they will be reminded of celebrating with you on your special day.
Now that you've gotten your girls all fixed up, it's time to focus on your gift registry. Help your guests easily and quickly find your registries by pointing them directly to RegistryFinder.com where they can find all your registries in one location.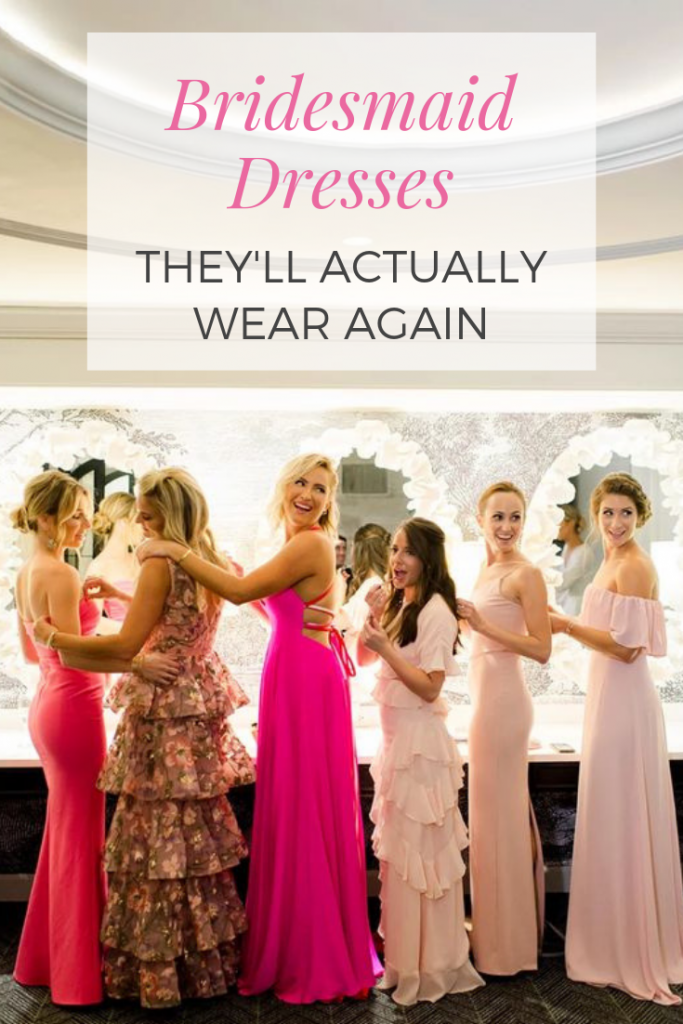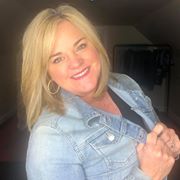 Jennifer Coffey is an empty nester who recently became a bride for the second time. Her bridesmaids were her daughter and future step-daughter. She kept the dress choice simple by handing them her credit card and sending them out together to choose the style and color. Talk about two happy bridesmaids!
This post contains affiliate links. We may be compensated if you make a purchase by clicking on one of the links. Thanks for your support!
Featured image via @inspiredbythis, photo by @nicolecastonguayphoto, dresses by @bardot