Your honeymoon should be one of the most exciting memories the two of you ever make—and there are no rules about how you make it! Knowing this, don't let the planning process overwhelm you. From choosing the right destination and budgeting to packing, figuring out what you want to do and actually making an itinerary, here are some travel-planning tips you don't want to forget.
Macy's wants to help you check one thing off your list…stick around to the end to find out how you can WIN a 7-day dream honeymoon to the Maldives!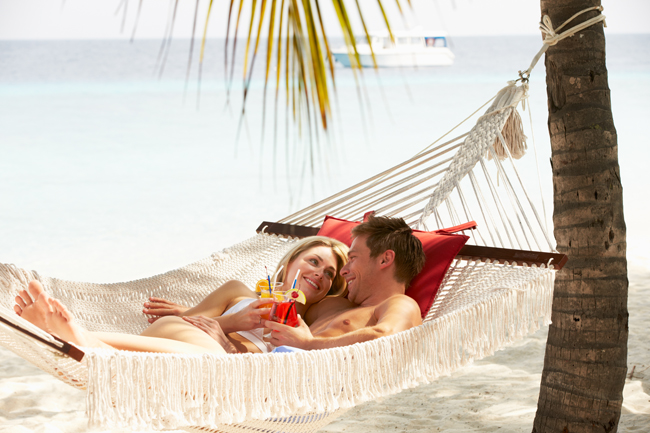 In between venue scouting and cake tastings, remember to start planning your honeymoon.
I know what you're thinking: "You mean, in the middle of having to find a wedding dress, pick out flowers and bridesmaid dresses, coordinate decor, choose wedding colors and find a venue, I need to plan my honeymoon, too? Can't that wait until later?"
To a certain extent, it can—but you might not want it to. Planning your honeymoon early can save you a lot of unnecessary stress. Regardless of how much you travel, when it comes to your honeymoon, you don't want to just "wing it." Your honeymoon is a welcome break after one of the busiest, most exciting moments of your life, and it's a time to celebrate your future together. Spontaneity makes for wonderful travel adventures, but when it comes to this trip, book your hotel rooms and flights early and let the adventure come into play when you pick activities on the fly. As a general rule, try and plan your honeymoon at least six months in advance, and only wait to book if you think a better deal is on the horizon.
Here's something to keep in mind when you plan: While you certainly don't have to go on your honeymoon right after your wedding, you might be like many couples who want to. If you are and you already know where you want to go, factor the seasons of that destination into your wedding planning! For example, if you want to spend your honeymoon in the Greek Isles, don't plan a winter wedding and expect to go immediately after. Many of the Greek Isles shut down during the colder months, so if you just have to leave the day after you get married, plan a spring wedding, instead.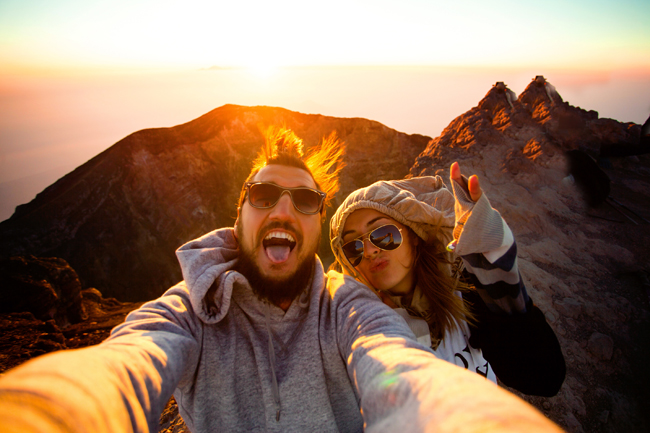 Do what you want—it's YOUR honeymoon, after all.
Not interested in a romantic, cookie-cutter trip to Hawaii? Think those gondola rides through Venice look like a tourist trap? Both are wonderful, but they might not be the best fit for you and your special someone. Sit down and talk about what you both like to do when traveling, and mix it up! Find a destination that has a little bit of everything; from big cities and cozy mountain towns to beaches, wild landscapes, luxurious hotels or whatever else fits your idea of a dream honeymoon. When it comes to traveling, never forget that the world is your oyster. You can take a culinary trip to Italy, go whitewater rafting in Colorado, spend a week on the beaches of Bali, do a yoga retreat in Nicaragua, or even go skydiving in New Zealand. There's only one "golden rule" when it comes to mapping out your honeymoon itinerary, and that's "do exactly what you want."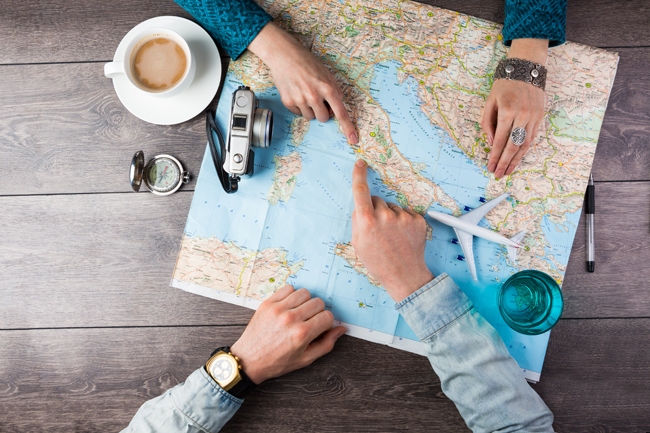 Choose your destination carefully.
Be open-minded about destinations, but also be logical. The time of year, safety and regional precautions are all things to keep in mind when choosing a honeymoon destination. For example, if you don't like frigid temperatures, don't go to Norway in February. Similarly, if you don't like to sweat, maybe a ski trip to Park City is exactly what you need. Don't go anywhere that isn't deemed safe, and if you're like many couples who look forward to a week filled with carefree eating and drinking, you might want to think twice about going anywhere where the food and water are questionable.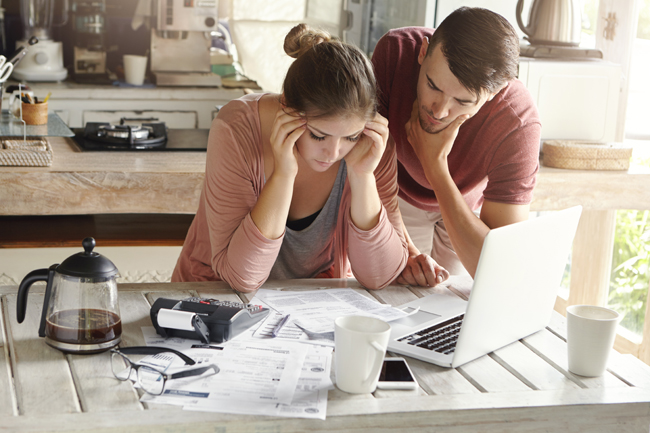 Set a budget, but give yourself some wiggle room.
You don't want to stress on your honeymoon, so don't plan a trip that goes beyond your means. That said, it's okay to want to spend a little extra to make it special! Just be smart about it. (Remember: You're starting a life together, so future expenses, like a new home, are sure to come your way.) If you want to plan a major trip somewhere far, a great way to fund it is to add it to your wedding registry! Online registry providers Honeyfund and Zola let wedding guests contribute to specific excursions, flights or the whole honeymoon in general.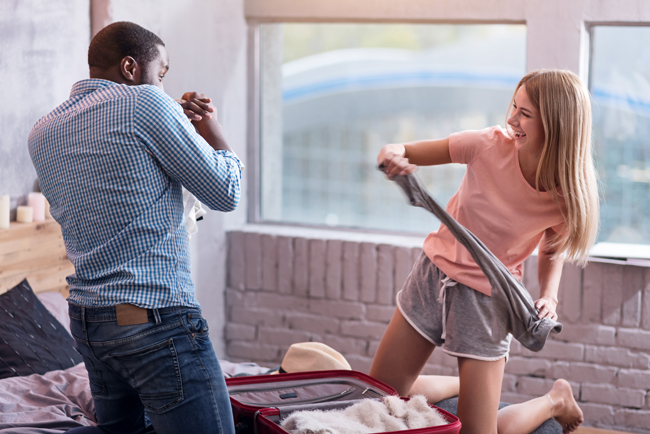 If you're leaving right after your wedding, pack early.
Even if you're the most organized bride of 2018, you won't be able to prepare for the week of your wedding. As is the case with most big life events, unforeseen tasks will pop up and the week will be busier than you think. Knowing this, pack early! Make a detailed list of everything you'll need, and figure out when and where you're going to get it. Do any online shopping no later than a month before your wedding, and factor your honeymoon shopping into your wedding shopping. For example, if you're at a shoe store looking for rehearsal dinner shoes, think about what you might need for your honeymoon (maybe some fun espadrilles, if you're going to the Caribbean?) and pick that up while you're there, too. Wedding planning is hectic enough—don't add any extra errands to your "to-do" list! Make sure you're all packed prior to the week of your wedding and put your suitcases in a noticeable spot so that you don't forget to grab them when you leave for your wedding.
Honeymoons are fun… and so are surprises!
You should definitely plan your honeymoon with your fiancé, but to keep it fun, throw in a surprise or two. Adding a couple's massage, one of his bucket-list excursions or a Michelin-star dinner to the itinerary unbeknownst to him are great ways to kick-off your marriage with a little excitement.
Now, back to that Honeymoon Sweepstakes…
Picture yourself sitting next to your love…staring into the vast blue ocean! Sounds amazing, right?!?! Well, dreams do come true! Our friends at Macy's are holding a Happy Honeymoon Sweepstakes. Enter for your chance to win the grand prize: a 7-night, all-expenses-paid stay in a deluxe water villa at the Centara Ras Fushi Resort & Spa Maldives.
The winner also snags:
• $5,000 (cash money!) to put towards airfare
• a $2,000 Macy's gift card (tropical vacay = new swimsuits + new sunnies from Sunglass Hut)
• 4 pieces of Delsey luggage
To participate you must have a Macy's Registry & be registered for at least $500 worth of items. Don't have a registry? Get started now!
No Purchase Necessary. Prize valued at $12,780. Ends 3/31/2018. See the official rules for more details.