Planning a bridal shower for one of your closest friends, relatives or coworkers can be daunting, but it doesn't have to be! Hosting a bridal shower, and wondering how it all works? Follow our tips below and you'll be a pro in no time.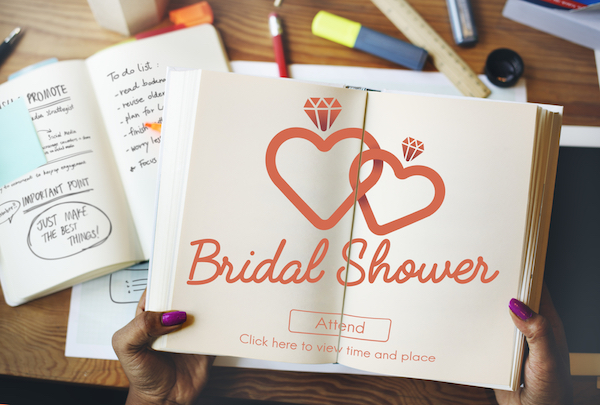 Make sure everyone invited to the shower is also on the wedding invitation list.
First things first: the guest list. It's very important that everyone invited to the shower is going to be invited to the wedding, too! We get it—the guest list isn't totally your decision. But as the host, you do have some say.
If the bride tries to invite people that won't get to share in the joy of her big day, kindly remind her that any guest of the shower will assume they are invited to the wedding, and they might be offended if they are not. In general, the guest list should include the wedding party, the bride's closest friends and relatives, and her partner's female relatives.
Outside of that, let the bride's vibe and your shower's venue and budget determine how big the party can get. It's nice to keep the gathering smaller and more intimate so that the bride and guests can enjoy spending quality time together!
Still concerned about the guest list? Check out this post for answers to all your bridal shower etiquette questions!
And no matter who you invite, be sure to send a real invitation! This is a big deal, so it's not the time for e-vites or text message invitations.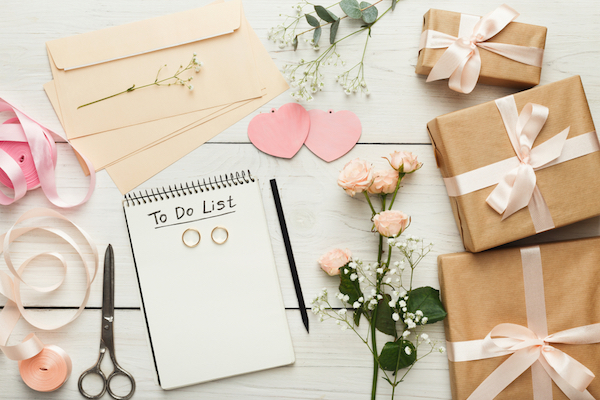 If people want to help, let them.
Bridal showers are traditionally hosted by a maid of honor, bridesmaids, a family friend of the bride, or the bride's aunt or cousins. That said, even if you're the main host, accept help from whoever offers it (except the bride).
As much as you might want to control the planning—I've been there!—it really can get overwhelming and expensive.
A good way to let people help is to give them small tasks that lessen your burden, like handling the cake, planning and preparing the games, or organizing the drink bar, to name a few.
Let the bride have some input.
While some brides are more hands off, most of them are not. Unless the bride specifically tells you she wants to be surprised, it's safe to assume she's going to have opinions on some of the logistics. Let her; it's her wedding year!
Consult the bride on key topics like date, time, place and theme, in case she has something she definitely does or does not want. (For example, some brides don't even like the idea of a themed shower.) Doing this will actually help you, as it will give you a great starting point for the rest of the planning.
…But don't let the bride pay for anything.
There's really nothing more to say about this. The bride may try to buy things for the shower, but don't let her. The main hosts pay for everything, and any "host" who takes on smaller shower responsibilities (like just the cake or games) pays for what they agreed to take care of. That's just how it is.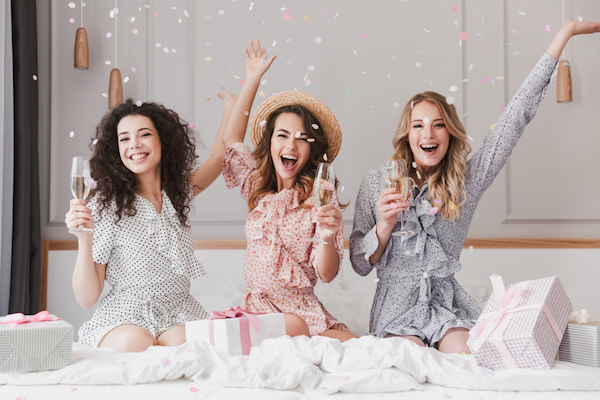 Be creative, and have fun!
Every bridal shower has food, drinks, games, a cake and gifts. If your shower has those items, you're golden! That said, to really make it special, avoid being like every other cookie-cutter bridal shower. Get creative and throw in surprises you know the bride will love—like turning it into an in-home spa day, bringing in a mixologist to teach everyone how to make the bride's favorite cocktail, or if you have a decent-sized group, doing karaoke or hiring a local band for some live music.
A theme is a great way to get creative! For example, you could turn the whole thing into a Disney-themed shower, decorate the venue to look like a Parisian cafe, or make it a "fiesta," where everyone wears sombreros and drinks margaritas. Still looking for a great bridal shower theme? We have one for every month!
Pick a venue you know the bride will love.
Venues can be anything: someone's house, a cute restaurant or even an actual event venue are all fair game. Choose your venue based on the size of your guest list, the theme and your shower budget.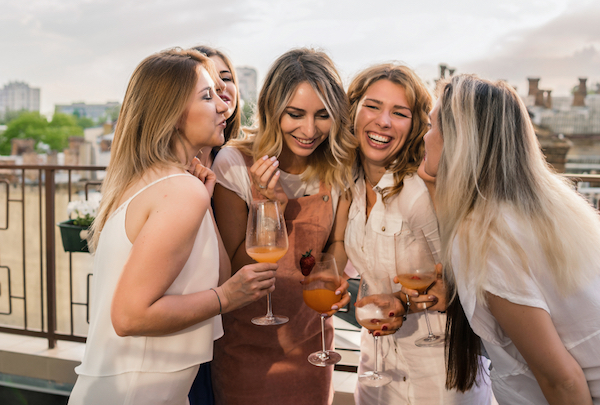 Make it a day to remember.
It's the little things that count. Have photos from the bride's childhood, or pictures of her and her soon-to-be groom framed and put on different tables. Make a rehearsal dinner bridal bouquet with a paper plate and ribbons and bows from all her bridal shower presents. Give her her "something borrowed" or "something blue" for her big day. Small gestures like these will make a big impression on the lady of honor.
Don't host it too far in advance.
Take your time! Based on a year-long engagement, the bridal shower should fall between two weeks and five months prior to the wedding. That way, the bride has had plenty of time to ask her bridesmaids to be in her wedding, and you have time to budget and plan. You also want to be able to include the gift registry on your shower invitation, and the couple will need time to complete their registry together. Plus, the closer to the wedding it is, the more excited everyone will be for the big day!
Hosting a bridal shower, and sending out invitations? Send your guests to RegistryFinder.com so they can shop for something the bride wants! RegistryFinder.com is the ultimate destination for all wedding, baby shower and graduation gift registries.
Featured image courtesy of @inspiredbythis. Photo by @lizfogarty, Catering/Styling/Design by @heirloomdc, Rentals by @dcreventrentals