After I rounded up the best of the best for strollers and diaper bags, I went back to my mom friends and inquired about car seats. There is so much research out there when it comes to selecting a car seat and I needed help knowing which were not only the safest, but the most durable, comfortable and easy to clean. As always, these seasoned moms did not disappoint. I came away with tons of suggestions and headed to my local baby gear retailer. I was able to pick up all the various seats, buckle and unbuckle all the straps and comb through the color options.
I also learned about all the different terms when it comes to car seats:
Your infant car seat (or pumpkin seat as it is commonly referred to amongst mamas) will work for your new baby up until they are around 30 pounds (or roughly 1 year old).
Once they outgrow the infant seat, they'll move up to a convertible car seat. Technically convertible car seats can be used for infants, but they can't be removed from your car with ease and connected to a stroller, so it's easiest to start with an infant seat. The convertible seat can grow with your child up until they are over about 100 pounds.
Finally, booster car seats are great for older kids and can also grow with them until they're about 120 pounds.
There are several questions to keep in mind as you shop for a car seat for your new little one:
What comes with the infant car seat? Will you have to purchase a newborn insert, shade, stroller adapter or base separately?
What do the safety ratings look like?
Is the car seat compatible with the stroller you've selected? Should you consider a travel system that comes set with a stroller and car seat?
What are the weight limitations on the convertible car seat? Will it grow with your child? Can it easily be adjusted as my child grows?
Infant Car Seats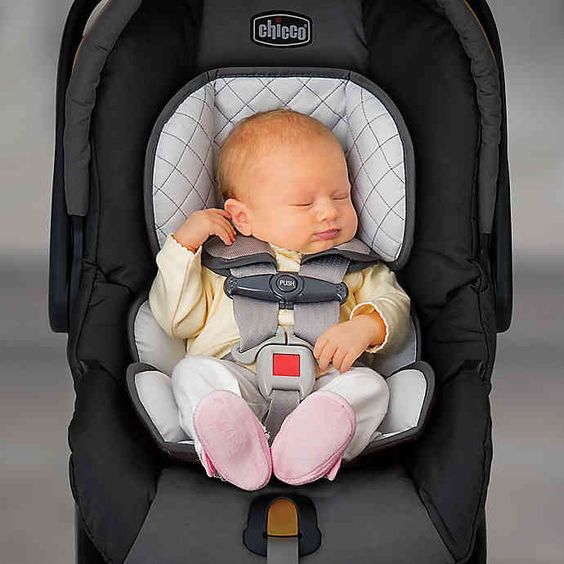 The Chicco KeyFit car seat was one of the most recommended to me when I began my car seat hunt. Not only is it part of the Chicco travel system, but it's also easy to clean (the padding is removable and machine washable) and comes with the car seat base as well as the newborn insert. It weighs in at 9 and a half pounds and it fits on several of Chicco's stroller options. Price:$159.99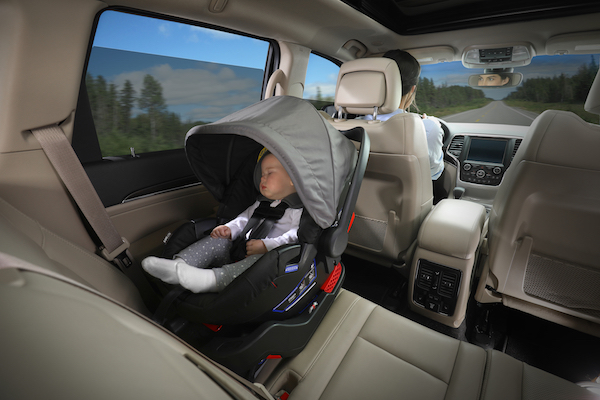 Britax is known for their high safety ratings, even passing the extra testing needed in Europe with its impact stabling steel frame and impact absorbing base. Even with all the safety features, Britax boasts a slimmer design making it an easy fit in your car. The base is included and the canopy is extra large- perfect for shading baby from sun, rain or snow. Britax seats are compatible with Britax strollers and are easy to install in both car and stroller. Price: $199.99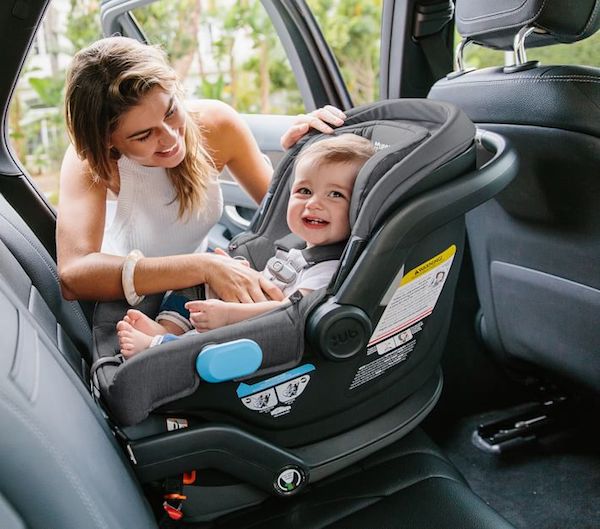 The UppaBaby Mesa car seat comes complete with everything you need! Included with the car seat is the base for your car, the newborn insert and the "SMART secure system" that makes installing the seat a breeze. The canopy on top provides SPF protection for your little one and the car seat can transfer to the UppaBaby Vista or Cruz stroller without an extra attachment.  Price: $299.99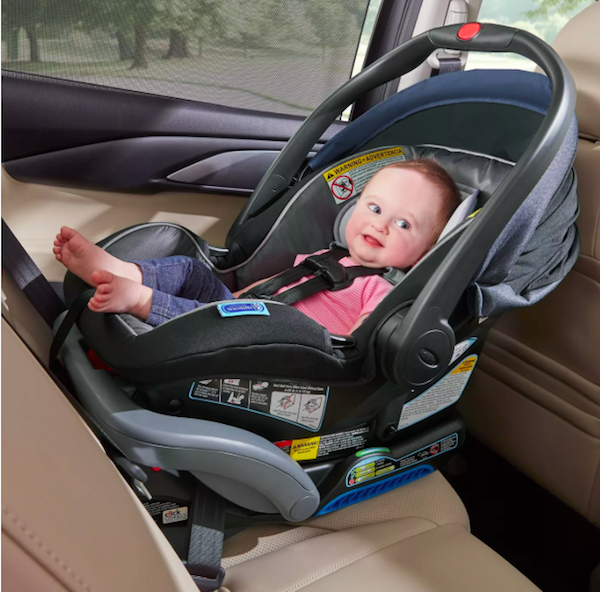 This Graco car seat provides peace of mind with its easy and secure installation process. You can use either your vehicle's seat belt or latch system to secure the baby's car seat in your vehicle. The inside lining of the car seat is removable and machine washable. The canopy can be adjusted even while baby is sleeping without ever disturbing baby. Price: $199.99
Convertible Car Seats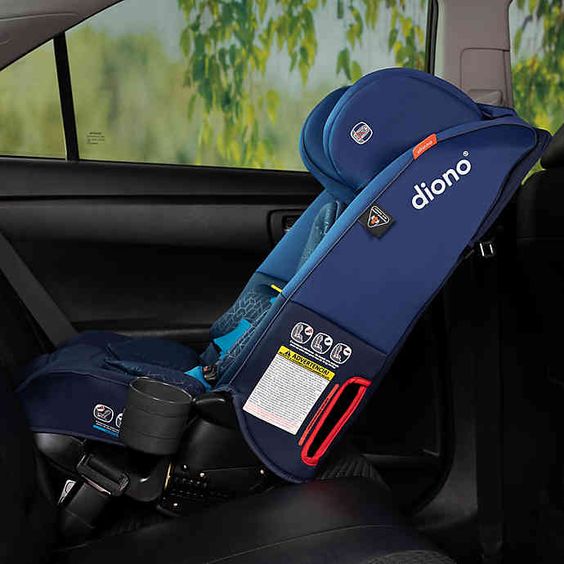 Diono is known for their safety standards and their slimline design. Three Diono convertible car seats can fit across the backseat of a car, easily accommodating rear or front-facing children.  Their seats are extra comfortable because of memory foam padding and the extra shoulder space at the top of the seat. Price: $299.99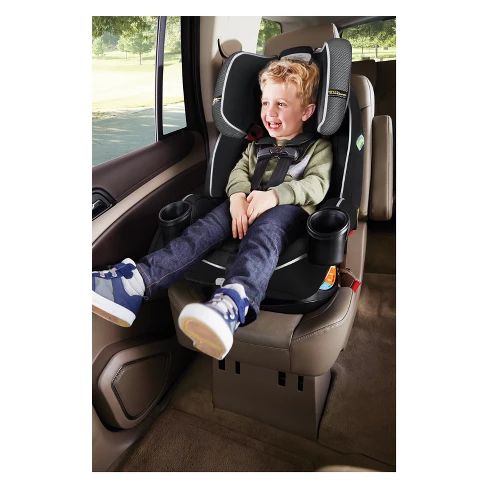 This all-in-one convertible car seat by Graco grows with your child from infancy to elementary school. From infant carrier to high back booster seat to backless booster, the Graco 4Ever car seat will keep children safe with their one hand LATCH system and fuss-free harness. Price: $329.99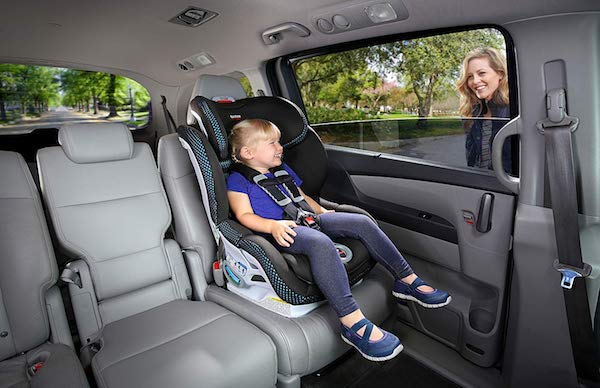 With its steel frame and impact absorbing base, the Britax Clicktight is not only safe and secure for your growing child, it's also easy to use. Installation is as simple as buckling a seatbelt.
You can quickly adjust the harness as your child grows as it never requires rethreading with its 14 point harness. Price: $255.99
Car Seat Accessories
Not only will a backseat mirror keep baby entertained on drives, it will give you peace of mind  too. Take a quick peek in your rearview mirror and you'll see baby's reflection in this backseat mirror.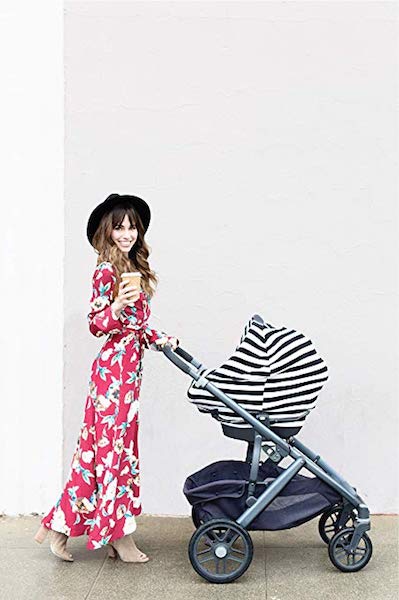 This car seat cover by Itzy Ritzy comes with so many perks! First off, it's available in several patterns and makes an adorable statement. It covers baby's car seat while he or she is sleeping, but still gives you the ability to peek in and check on them. Its universal fit provides shade and protects from wind on any car seat model. In addition to covering your baby's car seat, this also acts as a nursing cover, shopping car seat cover and fashionable infinity scarf.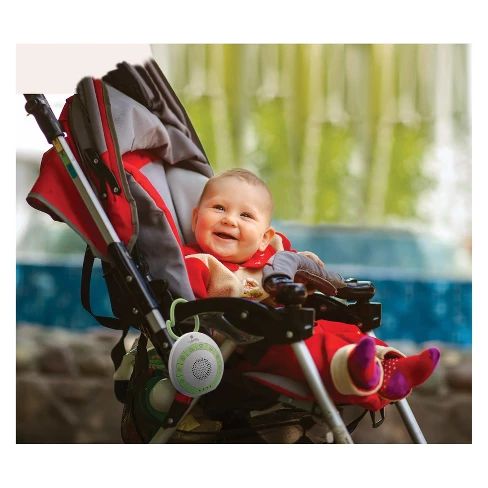 If your baby's nursery is outfitted with a sound machine, you might consider this mobile sound machine as well. The clip makes it easy to hang on the edge of baby's car seat or stroller when you're out and about. It includes 4 relaxing sounds that will lull baby to sleep no matter where your travels take you.
When it came time to add a car seat to my baby registry, I chose an infant carrier for ease. It is quick to install and also makes transferring a sleeping baby a little easier as it doesn't require unstrapping baby from the seat. When necessary, I can quickly carry the car seat into restaurants, stores or back into my house. The infant carrier we chose is the UppaBaby Mesa. It appealed to me, mostly because it came with everything we needed to get started and it was super easy to install in both our cars and our UppaBaby Vista stroller.
Add it to Your Registry
No matter which car seat type or brand you choose, once it's added to your registry you can send your shower guests, friends and family to one easy spot at RegistryFinder.com. If you're a new mom looking for other information on baby gear, check out our New Mom's Guide series of posts to help you out!