Your wedding party does so much more than stand next to you at the altar on your wedding day. From bridesmaids answering your 3am panicked phone calls and planning your memorable bachelorette party to groomsmen making it to the venue with tuxes in tow, they make sure that the months, days and hours leading up to your I dos go as smoothly as possible.
If you're reading this and thinking How can I possibly show my wedding party how much their presence and assistance is appreciated?, then you've come to the right place. A personalized gift is a great way to thank those close to you and gives you a chance to add a special touch to each gift.
Today, we've paired up with our friends at Personalization Mall and Bed Bath & Beyond to round up our favorite customizable and monogram-able gifts for a unique way to show your thanks and fit your budget.
Personalized Bridesmaids Gifts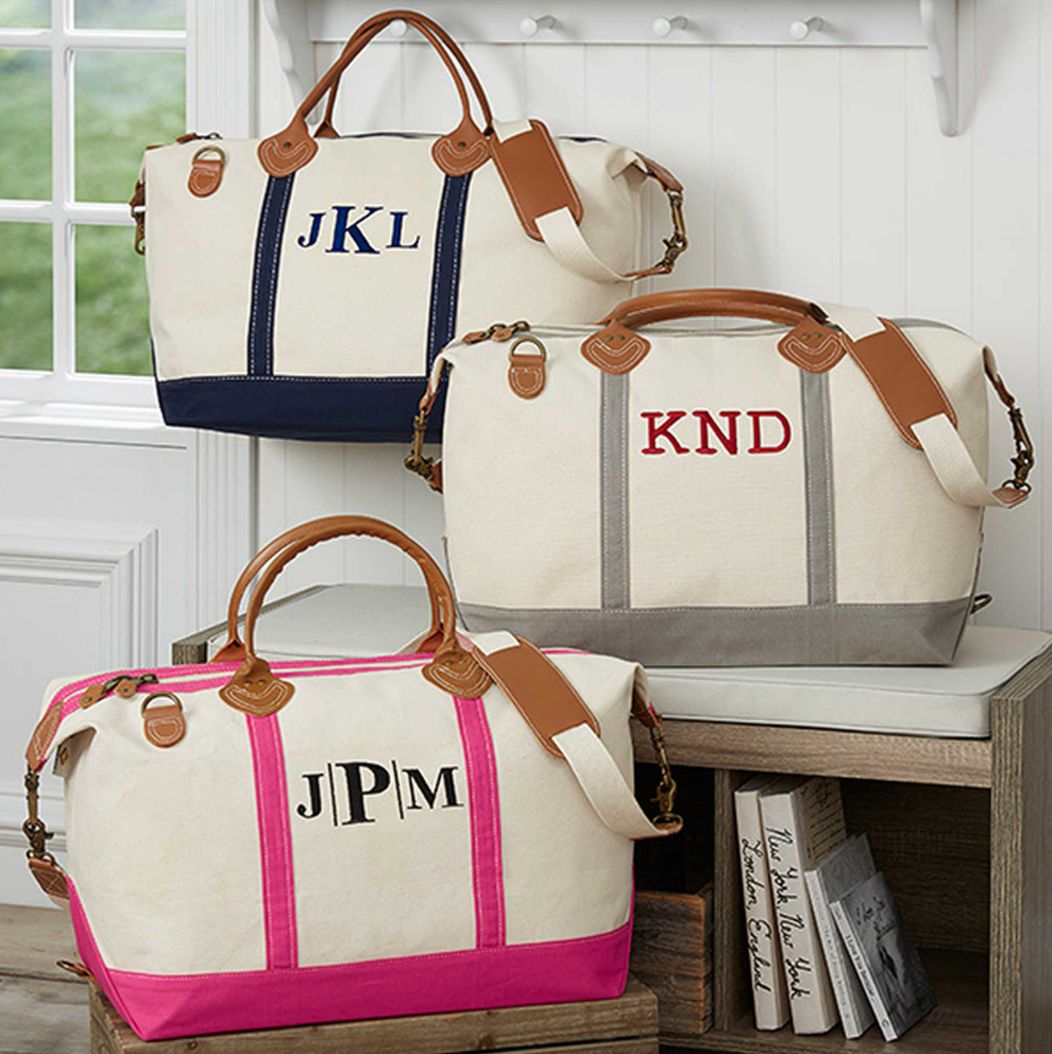 Destination weddings can invite a host of emotions: excitement, romance—and packing anxiety. Surprise your bridesmaids with a practical and personalized pre-wedding Thank You gift that'll prove extremely useful come time for your big day: a monogrammed Canvas Duffel Bag! Your bridesmaids will forever appreciate the gesture, and they'll always travel in style thanks to you.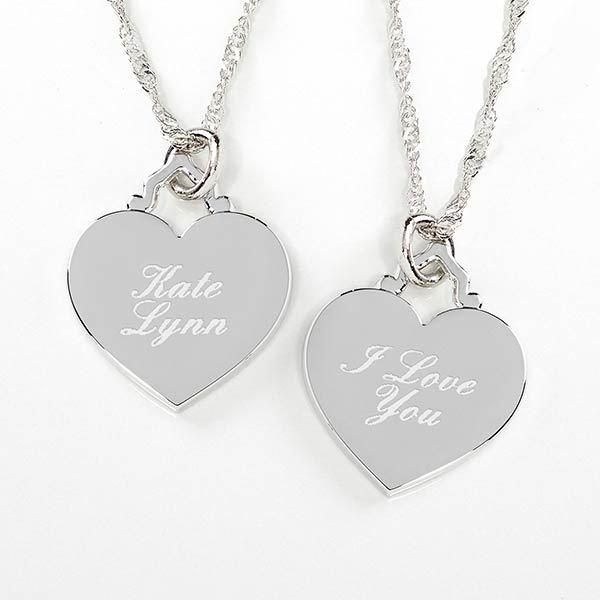 You're getting some serious bling on your big day—give your bridesmaids a wearable keepsake of their own with these Custom Message Engraved Heart Necklaces. They're a great way to add a finishing touch to your bridesmaids' wedding day looks, and with two sides to engrave, you can include a personal message or your wedding date along with their name. Bonus: it comes in a velvet bag for easy gifting!
Give your bridesmaids the gift of personalized comfort and organization with this Embroidered Pink Robe and Make-up Bag matching set. With options to add full names or initials and 14 thread colors to choose from, this is a perfect gift to hand out while you all get ready before the ceremony. You'll get great photo ops with all your besties and they'll have a memorable gift that they can use every day!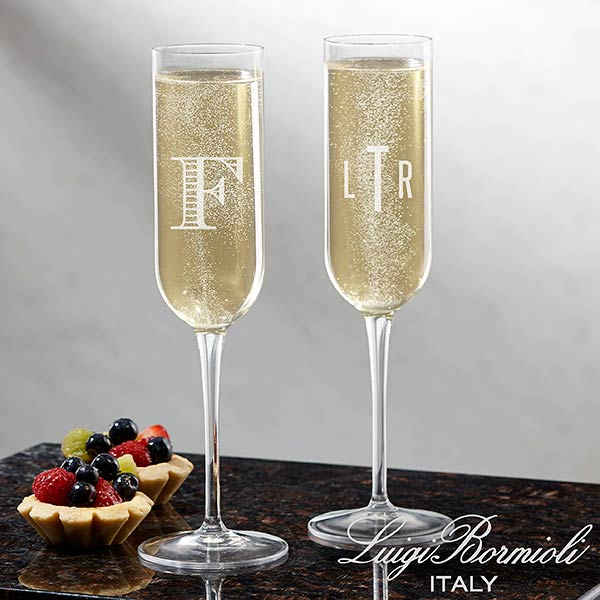 If your bridesmaids love to make a good toast, then these Monogrammed Luigi Bormioli Champagne Flutes have their names all over them—literally! Made in Italy with crystal glass and a reinforced stem, it'll withstand even the most excited cheers. If you really want to show her your thanks, pair it with a mini bottle of Champagne and let the corks pop before you walk down the aisle!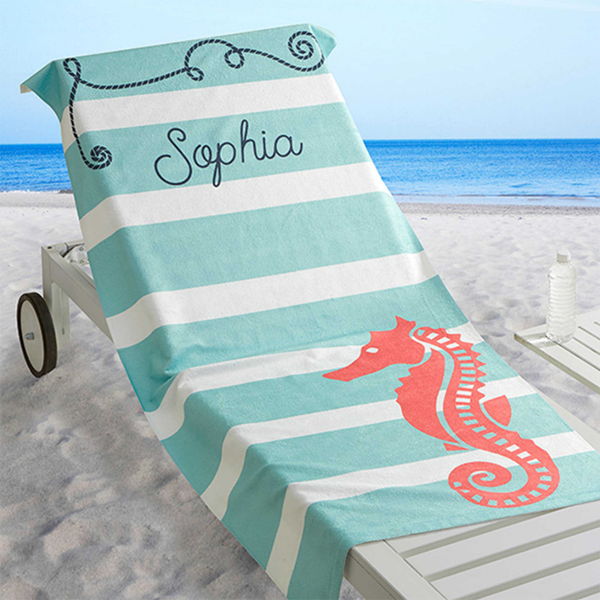 If you're planning a beachside wedding, consider gifting your closest girls with the perfect personalized seaside accessory. This fun striped Nautical Beach Towel is super-customizable—choose from a seahorse, ship's wheel, anchor or seashell, then add your bridesmaid's name for a gift that'll always make a statement during your wedding festivities and beach trips to come!
Personalized Groomsmen Gifts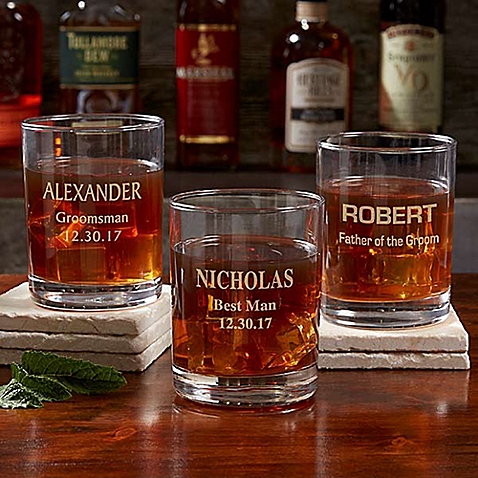 You probably added a set of rocks glasses to your registry, so it's safe to assume that your groomsmen will also appreciate one of their own. These 14oz. Whiskey Glasses from Bed Bath & Beyond are totally customizable with room for up to three lines of text—inscribe their initials with your wedding date or get creative and add an inside joke! Either way, they'll always think of you and your big day whenever they make a toast.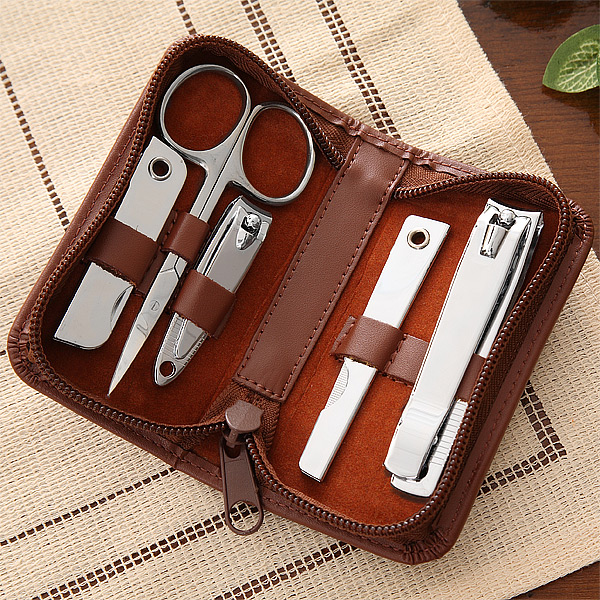 Having a destination wedding? Save your groomsmen from a hygiene faux-pas with a personalized 5-Piece Grooming Set. Each kit comes with a case made from genuine leather with a fine stitching detail and the option to engrave with a 1, 2 or 3 initial monogram. Your groomsmen will be using this travel kit for more than just your wedding day, trust us.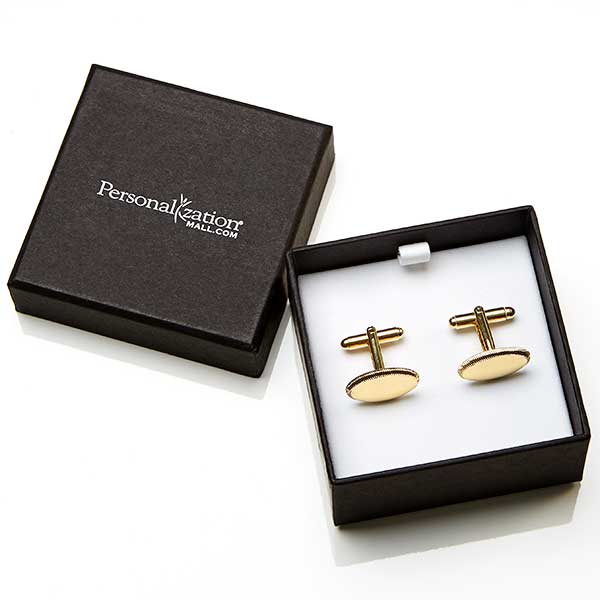 When in doubt, cufflinks make a great personalized groomsmen gift that will always be appreciated. Beyond adding a unified look to your bridal party, you're arming your best guys with personalized accessories that make any good suit look great. Plus, they come with a black leatherette jewelry box for gifting and safekeeping!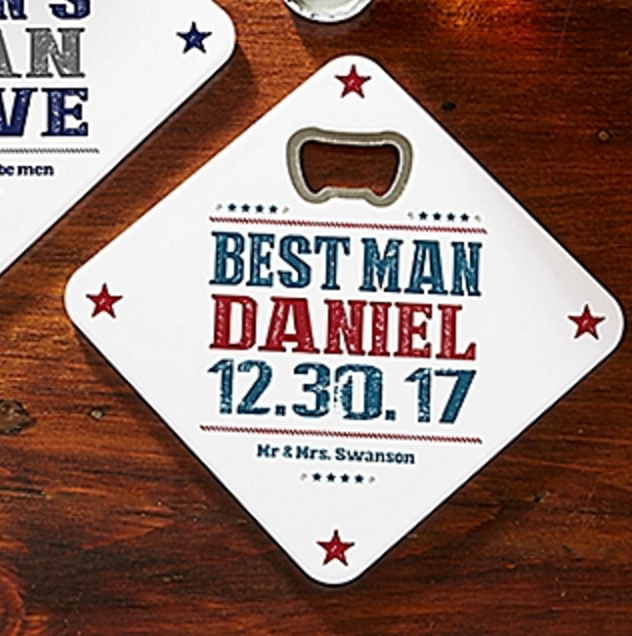 What better way to show your best guys how much they mean than with a coaster that's as versatile and handy as they are? These Beer Bottle Opener Coasters make a great customizable gift, and with 4 lines of personalization and 3 color combinations to choose from, you'll always send the right message.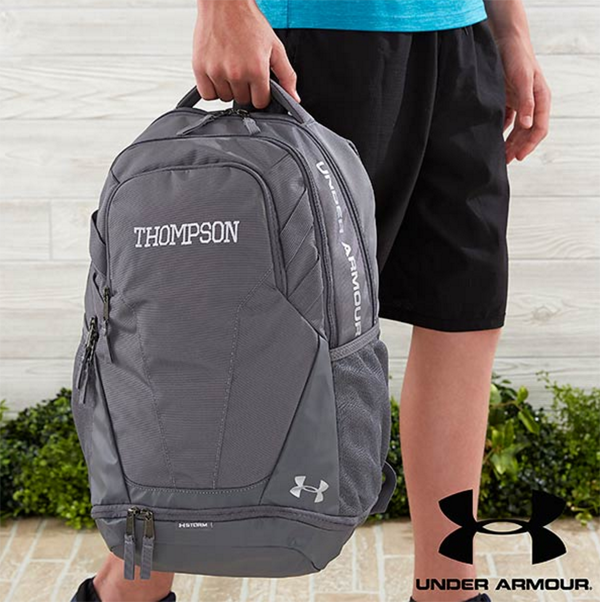 They've carried you through some of the most important moments of your life. Take a literal load off your groomsmen with a personalized Under Armour® Embroidered Graphite Backpack—it's perfect for work, the gym or anywhere in between, and with a variety of thread color options, you can be sure that each guy gets a truly tailored "Thank You".
Remember to give your wedding party time to open your gifts—with heartfelt personal messages included—prior to your walk down the aisle at the rehearsal dinner or during another private moment.
Be sure to check out our Pinterest Boards: Perfect Bridesmaid Gifts and Perfect Groomsman Gifts for more ideas. And as always, don't forget to refer your guests to RegistryFinder.com to find all your registries with a few clicks!
Disclosure: This post contains affiliate links. Some or all of the links in this blog may be affiliate links. The ideas are ours, but we may be compensated if you make a purchase by clicking on one of the links. Thanks for your support!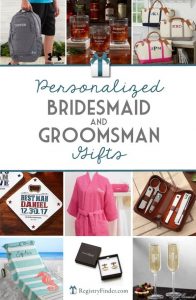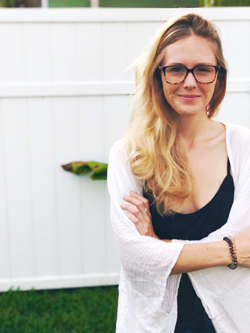 Written by Brittney Winters, who is eyeing a few of those Champagne flutes for her own personal use.
 Feature image is courtesy of Joy Lyn Photography– offering wedding and newborn lifestyle photography in Chicago, IL.