All the tips and tricks you need to achieve the perfect look and feel at your intimate exchange of vows.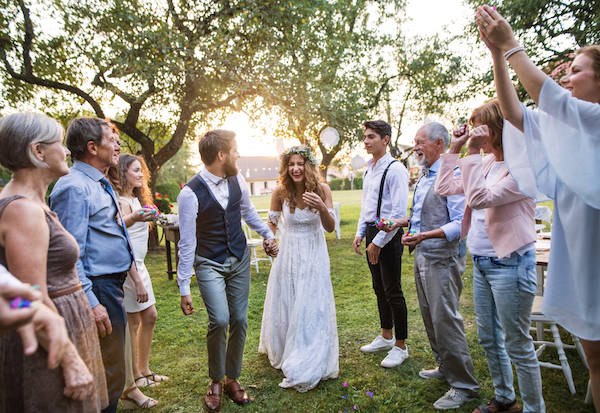 Is there anything not romantic about an at-home wedding? The intimacy of bringing people together in a place where so many memories have been made and so much love exchanged combine in such a special way that is so hard to describe, but so easy to feel. If you've been to one, you know what I'm talking about.
I've attended a few backyard weddings, and each one was unique in its own way. The fact that we were quite literally welcomed into someone's home to celebrate one of life's most special moments was not lost on us. The best at-home weddings make you feel like it's the only place in the world.
If you're planning an at-home wedding, first of all: congratulations! Whether it's because your aunt's country cottage is practically begging for a soiree, you're saving money on a formal venue, or you've always wanted to gather your closest friends and family in the backyard, there's plenty to get inspired by.
Here are some tips and tricks to transform any familiar locale into a whimsical wedding wonderland:

Get People Involved
The only thing people love more than weddings is helping to plan them. Since they're casual by nature (no pun intended!), a backyard wedding is a great opportunity to include a few DIY touches. Get friends together to assemble party favors or style flower arrangements, and put your strongest relatives in charge of hauling your rentals. They'll be happy you asked and ready to oblige!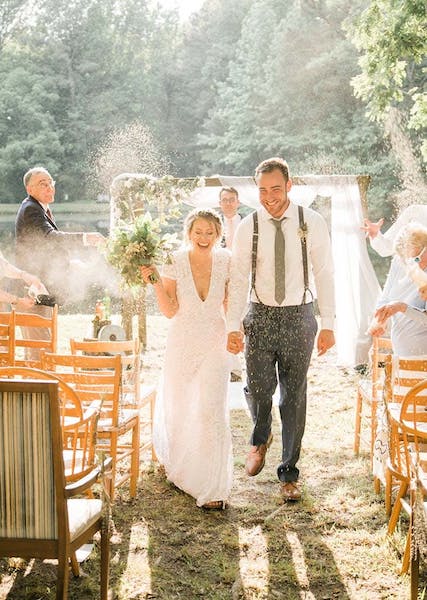 Embrace The Understated
An at-home wedding comes with its own set of rules- that includes the attire of you, your groom, and your guests. Don't be afraid to eschew the traditional ball gown and get dressed up in something flowy and bohemian or sleek and simple. Cater your individual style to the look and feel of your wedding. Whether dressy or casual, apprise your guests of your chosen dress code when you send out your invites!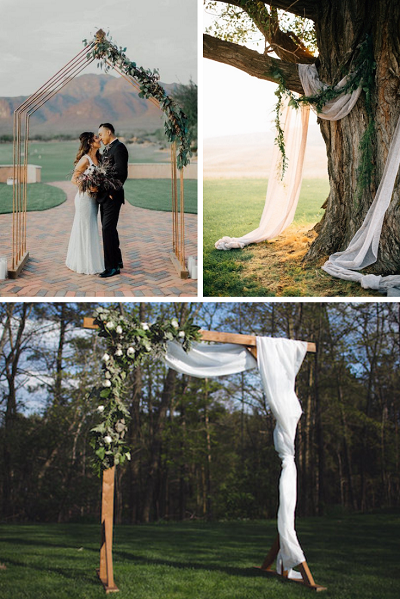 Alter Your Altar Expectations
If you happen to be getting married in a backyard with a big, sturdy tree, consider letting it serve as the backdrop to your vows, and position the rest of the celebration around it. Drape flowy swaths of fabric over low branches and add some twinkle lights for extra magic. No tree? No problem! Depending on how crafty you and your husband-to-be are, you can either DIY your own altar, or enlist a handy friend or family member to help you make one out of wood.

Use Nature As Your Decoration Inspiration
Just like a beautiful tree can be incorporated into your decorations, try playing up the elements around you and add some whimsy to the space. String lights over the dance floor and dining tables, or let them light the pathway from ceremony to reception. Grab some embroidery hoops and fabric or fake flowers from the craft store and create your own floating orbs to hang from tree branches to give areas more depth.

Expect The Unexpected
With outdoor weddings come unexpected weather changes. While you and your groom will no doubt be so full of happiness you won't care what happens, your guests may want some cover in the event of rain. If there's even a fraction of a chance you may get sprinkled on, grab some clear umbrellas so your guests can stay dry without missing a thing!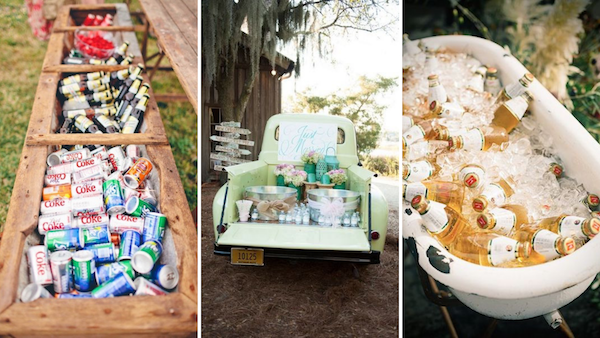 Set Up A Self-Serve Drink Station
The informality of a backyard wedding lends itself perfectly to a self-serve hydration station. You might want to have one or two bartenders on hand to make any simple mixed drinks if you're serving them, but for beer, wine, and soft drinks, let your guests grab 'em and hit the dance floor! Use a fancy old bathtub, the bed of a vintage pickup truck, a metal canoe, or anything else you can think of as a trough.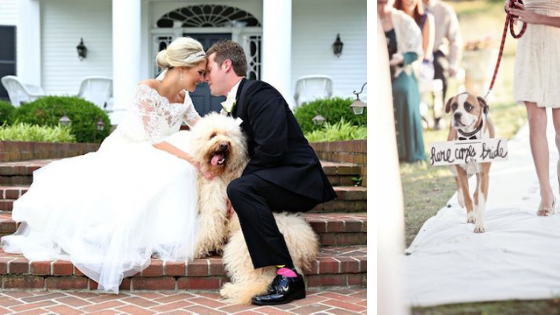 Invite Your Pets
Since there are (we're assuming) no venue restrictions, you can include whoever you want, including your furry friends. If you have a dog, consider making them an honorary member of your bridal party. Once they've worn themselves out, you won't have to worry about letting them snuggle up on a nearby couch, or under the table of a generous guest.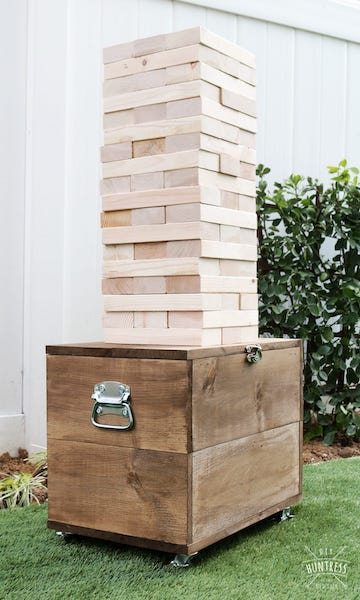 Play Games!
While every backyard wedding I've attended has been unique, the one thing they've all had in common is games. From corn hole and ring toss to giant Jenga and beer pong, set up fun stations for your guests to mingle and get some friendly competition in. Your imagination is the only limit!
Parking & Port-A-Potties
Don't forget to think about guest convenience as you plan your at-home wedding. While it's nice to host your favorite people in a place that's near to you, the house's plumbing may not agree with the volume of visitors. Keep your wedding completely outdoors and provide your guests with pop-up restrooms complete with full sinks, mirrors, and hand towels.
When it comes to parking, encourage your guests to carpool or Uber to the venue so you won't crowd any neighborhood streets or aggravate neighbors. If there's a nearby parking lot, you can offer a shuttle service to alleviate any congestion.
Now that you've gotten inspired, check out our Pinterest board full of more great ideas to make your at-home wedding the celebration you've always dreamed of. From the DIY activities that bring all your closest pals and family together to the fun and games that are sure to create lasting memories, I know you'll find the perfect way to bring it all together with these tips!