There is truly nothing more amazing than a mom's strength. Whether you have a natural birth (medicated or not!) or a c-section, your body is made to do amazing things. No matter how easy or difficult your birth story is, you are guaranteed to feel discomfort and even some pain while you recover from birthing your little one.
Many women go into labor knowing the delivery is the difficult part but are unaware of how hard those postpartum days can be. After I delivered my first child, I remember being so shocked about how I felt – mentally, emotionally, and physically. (I had NO CLUE that contractions continued even after the baby was born!) I wish I had talked to more moms and asked what I would need during my "4th trimester" – those first few weeks postpartum.
Moms need to remember that prioritizing self-care is so important, especially in the early newborn stages. Knowing what I know now, I can tell you that it would have been so beneficial to register and stock up on products that would help ease my postpartum journey and transition into motherhood. If you're a first-time mom, we're here to help! We've done the research and collected all of the essential items you'll need post-labor.
Post-Delivery Recovery Essentials
Frida Mom knows what they're doing when it comes to baby products, and they also have the BEST postpartum products for moms. I've included some of them throughout this post, starting with my favorite: "padsicles," Frida's ice-pack maxi-pad. No freezer is required for these little blessings; you just crack it, shake it, and put it in. Each padsicle has a very soft top layer so that they are comfortable and can also be used as cold therapy if you have a c-section incision.
Pro Tip: Layer your padsicle with Tucks Medicated Cooling Pads to maximize the cool relief.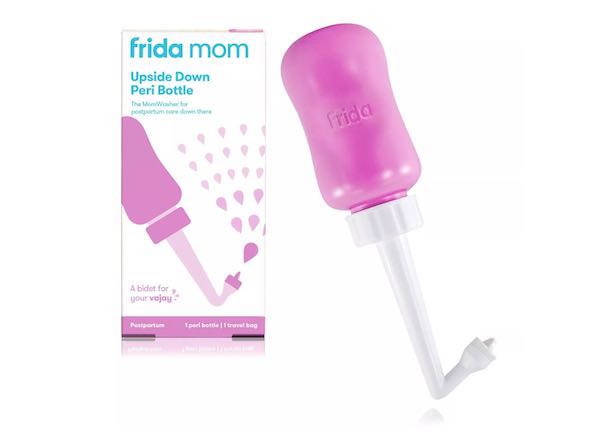 Unlike the bottles they give you at the hospital, Frida created an upside-down Peri bottle with a narrow angled stream that points right where Mom needs it. You can fill it with either cold or warm water and use it to wash your incision scar or vaginal area.
Pro tip: add a little bit of witch hazel for maximum relief.
The perineal spray will be your best friend after giving birth. If you require stitches or experience extreme discomfort, you'll want this at-home anesthetic to relieve pain. It cools and provides comfort for your pain, similar to the one they give you at the hospital. However, Earth Mama Herbal Perineal Spray is a more natural version made explicitly for your postpartum healing.
Whether you deliver vaginally or c-section, it is very common to bleed or have discharge after giving birth. Maxi-pads are crucial during your first few weeks postpartum because your body needs to cleanse itself, and you cannot use a tampon, especially if you delivered vaginally.
After you give birth, your nurse may recommend you do a sitz bath. A sitz bath is a small bowl that sits over the toilet to help relieve soreness and swelling and is especially beneficial if you end up having hemorrhoids.
Pro Tip: To make your sitz bath even more effective, add a couple of tablespoons of Lasinoh Sitz Bath Salts, which have lavender oil, frankincense, and aloe, and soak for 5-15 minutes at least once a day.
Breastfeeding Essentials
When your milk first comes in, it can come in heavy. Some women experience extreme breast hardness and soreness a couple of days after giving birth. The Lansinoh Breast Therapy Packs are amazing. Use them warm before you feed because the heat encourages let-down and softens clogged ducts. Or use them frozen after you finish nursing or pumping. Put the frozen ones inside your bra to help relieve engorgement and slow milk production between feedings.
Pro Tip: Register for two sets – one for the freezer and one to heat up!
Breastfeeding is one of the hardest parts of entering motherhood and can cause pain and discomfort. I love Frida's Nipple Balm and Saline Spray specifically because of the easy application of the balm and the instant cooling of the spray.
Check out this post for all of my favorite Breastfeeding Essentials!
Postpartum Clothing Essentials
Nothing about postpartum life is glamorous, especially leaving the hospital in diapers that match your baby's. However, Frida is back with another fantastic product: their disposable underwear created for postpartum mamas. They keep your shrinking belly under control and provide extra support. They even come in a design specifically for c-section mamas.
Kindred Bravely 2-in-1 nursing and pumping bras are, hands down, the BEST nursing bra on the market and come in a wide range of sizes for all women. I was so happy to have this with me at the hospital for frequent feedings and pumping to help my milk come in.
One of my aunts gifted me these super soft nursing pajamas from Old Navy, and they ended up being all I wore the first week home with the baby. This is one area you should treat yourself- buy some quality nursing pajamas that will make you feel comfortable and secure.
Other Essentials
Staying on top of medications and vitamins can be difficult with everything going on; however, staying consistent with taking your prenatal, Tylenol, and stool softer will help those first few days after birth. Be sure to pack your stool softer in your hospital bag because you'll want to take it as soon as that baby is out.
I did not learn about this supplement until my second child, but it quickly became a favorite. AfterEase is an herbal supplement that helps your uterus to relax and controls painful postpartum contractions. I just put a couple of drops in my water before feeding my son and can attest that the contractions were not nearly as painful.
Gifts For New Mamas
If you're unsure where to start or what exactly you'll need, this Frida Mom Labor and Delivery and Postpartum Recovery Kit is an excellent addition to your registry. It comes with everything you need for those first few postpartum days, and if there are products you like and use frequently, you can order them individually. Though not glamorous, this makes a great gift because even though baby showers are all about the baby, we know moms need some TLC too.
Put together some of the items listed above and make that special mom a gift basket just for her so all the essential perinatal supplies are easily accessible when she needs them. It's not glamorous, but that mama will thank you when it comes time to use it!
Postpartum Meals and Help
If you know a new mama, the best advice I can give is to reach out and check on them. Motherhood can be hard and exhausting, but having friends reach out, offer to clean up, cook a meal, or just be a listening ear can make all the difference. One of my close friends stopped by when I had my baby. She brought me a meal and told me to sit and snuggle my baby while she did my dishes. It was such a blessing! Of course, I cried because it truly was exactly what I needed.
Your Postpartum Journey
Moms are superheroes even when they don't feel like one. The first weeks (and months!) with a new baby are a raw, emotional, and sacred time. Remember that it's okay to cry, ask for help, and take time for yourself. Know all your feelings are valid, but focus on the truth that you are the best mom in the world for your baby.
The baby will have plenty, be sure to think of yourself and add things you need to your registry. Need additional help with your baby registry? We've got awesome checklists to get you started. And be sure to check out our baby blogs for more registry information and helpful advice for life with a newborn.
Written by Olivia Read, who looked forward to her "me time," being a relaxing sitz bath and fresh "padsicle" during her first week postpartum.