It was January 3rd, I was 39 weeks pregnant with my second child, and I was still stuck in the "holiday hangover" phase when I walked into what would be my last prenatal appointment.
When my doctor announced that what I thought were Braxton Hicks contractions were in fact, real contractions, and that I was already progressing, I was surprised. When she said she thought my daughter would arrive within the next 24 hours, I was shocked!
So I did what any other expectant mom about to enter active labor would do: I went through the closest Chick fil A drive through, drove over to my nail salon with a lemonade in hand, and practically begged them to squeeze me in for a pedicure (it didn't take much begging; when you're 9 months pregnant, people generally give you whatever you want).
Since this was my second pregnancy, I knew the value of self-care before the baby arrived: it felt like a "now or never" moment to squeeze in some "me" time!
Chances are that if you're in your final month of pregnancy, like I am now with my third daughter, you've probably done all that you can to prepare for baby. So what's left to do? It's time to give yourself some attention now, Mama!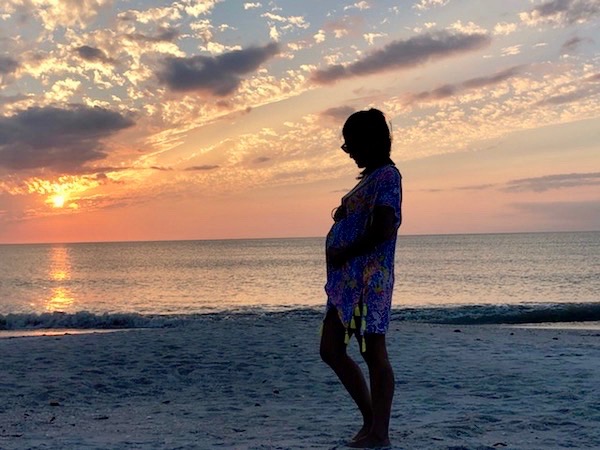 The Importance of Self-Care
With only a few short weeks of your pregnancy to go, I want to encourage you to shift your focus from preparing for baby to preparing yourself.
Your life is about to get turned upside down (in mostly amazing ways), so taking time to treat yourself, indulge in some pampering, and enjoy time with friends is so beneficial at this stage in pregnancy. There are also some things you can do now to make sure the self-care continues once baby arrives!
Not Another To-Do List
I'm expecting my third daughter in less than a month, and while I would never claim to have it all figured out, I feel like I've identified what I like to do for myself and within my home to make the transition as smooth as possible. So unlike our other "Ask a Real Mom" posts (which you can catch up on here), I'm the only "real mom" sharing advice today, and every piece of it comes right from my heart.
Far from wanting to burden you with more "to-do's," I hope this list encourages you to take a deep breath, savor these last few weeks of pregnancy, and sets you up to continue enjoying your new baby!
Eight Ways to Get Ready for Baby (that have nothing to do with the baby):
#1: Go on Dates
I'm not just talking about dates with your partner (although you should totally plan some date nights before baby arrives). Plan "dates" with your friends, and savor your time together before your schedule is ruled by a baby.
I'll always remember two of my closest girlfriends planning a pre-baby brunch to just sit and enjoy each other's company before my first daughter arrived!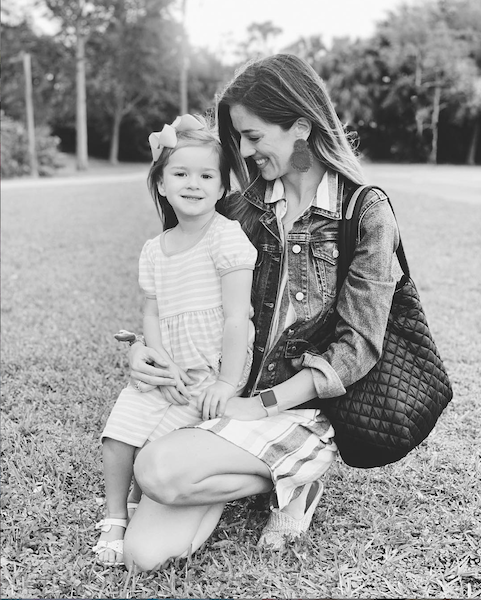 Another special person you'll want to plan a date with? Your older child (or children)! Plan some one-on-one time with your little one(s) before they become a big sis or bro: it can be as simple as getting an ice cream cone or going to the movies!
#2: Get Your Groom On
You'll also want to make a "date" with your favorite pampering professionals before the due date arrives. Schedule a manicure/pedicure and haircut and color, and any kind of waxing that you usually do about two weeks before your due date. I have a dream that with one of my pregnancies, I'll get a blow out the day I go into labor-I'll let you know if it happens this time!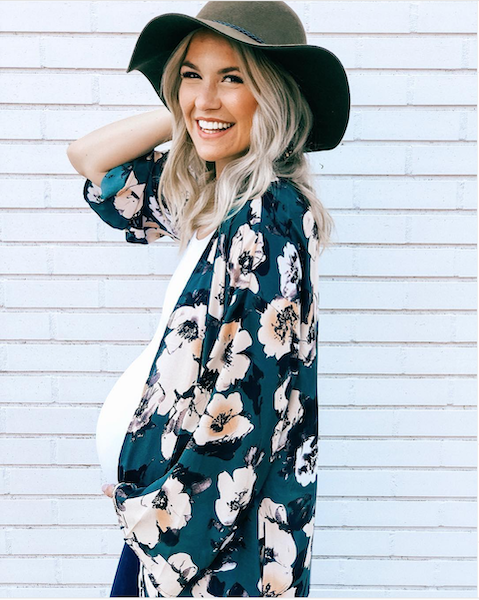 This is also a great time to invest in some products you can use to pamper yourself at home once baby arrives. A face mask, hair conditioning treatment, and exfoliating tool are all luxurious ways to end a long day with a newborn. My favorite source for finding new products in these categories is the Amazon Best Sellers list (you can check out the best sellers in the categories mentioned above by clicking the links)! Amazon updates the list hourly (!) to show their most popular products, and it's fun to try them out!
#3: Prepare for "Hibernation"
If you're an extrovert like me, the realization that you'll be spending lots of time at home with your baby might be hitting you hard. Make it a little easier by downloading some good books to your Kindle (it's much easier to hold a device with one hand during feedings). Some of my most recent favorites have come from Reese Witherspoon's Book Club! I guarantee that a riveting page-turner makes a day at home go by a lot faster!
Another idea: research a few series you can "binge watch" once baby arrives! Amazon Prime Video has so many great original series that will keep you laughing or on the edge of your seat during those long days. My personal recommendation: The Marvelous Mrs. Maisel!
#4: Shop for Postpartum Clothes
With my first, I was shocked at how different my body felt in those first few weeks after giving birth. I didn't expect to get right back into my pre-pregnancy jeans, but I also didn't expect to feel so uncomfortable in my own skin.
One way to boost your confidence is to shop for some cute and comfy pajamas, loungewear, and robes you can wear in those first few weeks around the house. As small as it seems, having new clothes to look forward to after my hospital stay really helped me feel better!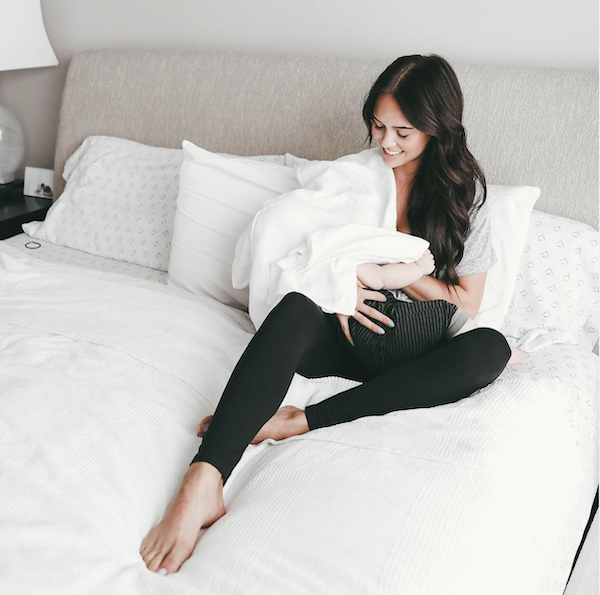 These Blanqi leggings are, in my opinion, a postpartum must-have. I love the high waist and light compression, and I think you will too! My postpartum "uniform" is a pair of these plus a long top or cardigan.
#5: Fill Your Freezer
Cooking is nearly impossible during the newborn phase, so put in the work now to make life easier later by cooking some simple, one dish freezer meals-and freeze them in disposable containers!
If cooking an entire recipe seems overwhelming at this point, and I totally get that, fill the freezer with things like a bag of frozen shrimp, meatballs, or shredded rotisserie chicken. You'll easily be able to thaw and use those meal starters to make stir fries, enchiladas, and pasta. Think beyond dinner and freeze breakfast burritos and muffins, too! Your future self (and family) will thank you!
#6: Declutter Your Space
I don't know about you, but a clear space helps me maintain a clear mind: I tend to feel stressed when I'm surrounded by clutter. You don't need to go completely Marie Kondo, but taking some time to organize now will help you feel calmer later. Clear your countertops and coffee table of any knick knacks and decor, because they're about to be overrun by bottles and burp cloths!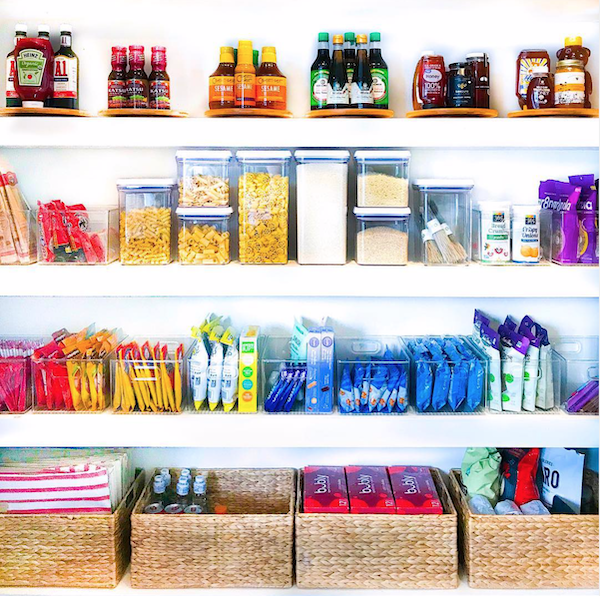 Also, you'll find that once baby arrives, you'll want to be able to find the items you need quickly and efficiently, so if you're feeling energetic, go ahead and organize your bathroom cabinets, linen closet, and pantry. Pick up some cute containers (I just discovered this brand and I'm basically ready to spend a million dollars on bins), a label maker (I just ordered this one because you can design and print from your computer!), and a book to inspire you (I'm a huge fan of The Home Edit!)
#7: Stock up on Household Essentials
One additional benefit of organizing and decluttering is discovering which items you might need to replace or stock up on. Now is the time to load up on those essential items like paper towels, toilet paper, pantry staples, and paper plates (trust me on this-I'm not a "paper plate person" at any other time than when we have a new baby in the house!). This might be a good time to look into a "Subscribe and Save" program to have those essential items delivered regularly after baby arrives (and shopping trips become much more challenging).
#8: Budget for Extra Help
Speaking of challenges, you're about to need a lot of help around the house, so budget for things like a biweekly cleaning service, meal and grocery delivery, babysitting, and mother's helpers if you have older kids at home. While these might seem like "luxuries" now, they will quickly become "essentials" in a few weeks!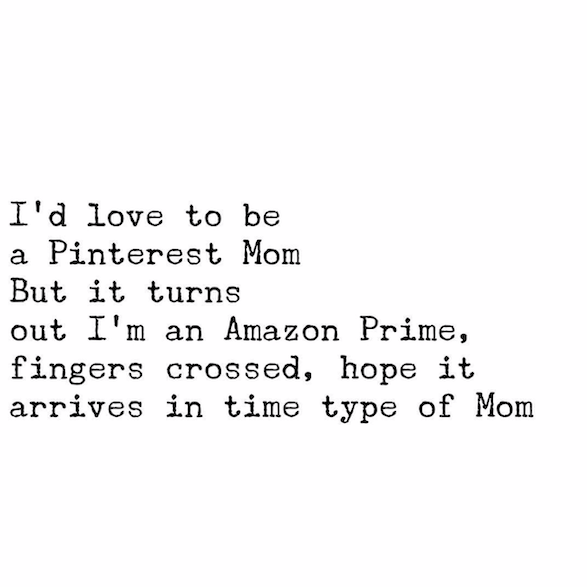 It might not be baby time yet, but it's Prime Time now!
Another essential that's totally worth the investment: an Amazon Prime membership. If you haven't already noticed, I'm a Prime member and have been for years, and the perks are perfect for new parents: fast and free shipping on millions of products, exclusive deals and offers, Prime original movies and TV shows, plus access to Amazon Music and over 2 million free songs (including lullabies).
It's all about you…for the next few weeks!
So live it up, Mama! Indulging in some self-care will make this "waiting" phase much more enjoyable. May these last few weeks of your pregnancy be filled with rest, relaxation, and much-needed "me time!"