Like so many tasks involved with planning a wedding, putting together a registry that serves your needs without confusing your guests requires a fine balance.
From deciding what to add and how many of them you need, to choosing color schemes and styles, there's plenty to consider as you build the wedding registry of your dreams—not to mention making sure you've included enough gifts at enough price points! (More on that later!)
Before my husband and I did our Macy's Registry consultation, we had no idea what to expect, or what the "rules" were around what we should or shouldn't add to our list. With the help of our consultant Karen, we were able to determine which items served our current and future needs together. One thing we didn't think to consider until that day? Single items versus a set. Luckily, we got great guidance from Karen throughout the entire process, and learned a few things along the way.
Below, we've put together a handy guide to determining whether the gift in question should be added individually or as a group.
We'll include all the major categories like kitchen essentials, linens, and entertaining, plus tips to help you decide which option to choose once you're ready to put together your own registry.
Once you've finished reading, you'll be ready to register like a pro!
Cookware
Register for a set if you need all the basics and then some. Unless you're starting a collection from scratch, you're most likely better off choosing your pots and pans individually. This 10-piece Calphalon set is a great starter that includes everything you need to cook the essentials.

Register for individual items if you've got the majority if your cookware covered already, but you're looking for some specific pieces to finish the set. Think about specialty cooking projects you may have planned for the future. Consider items like a griddle, a roaster, or a wok.
Flatware
 Register for flatware sets if you plan on entertaining frequently. A flatware set includes multiple (4 or more) place settings. While a large collection of flatware can be cumbersome for the occasional host, having several place settings on hand makes setting the party table a cinch. Macy's has a huge selection of options in gold, silver, and copper, with a variety of styles to fit any household.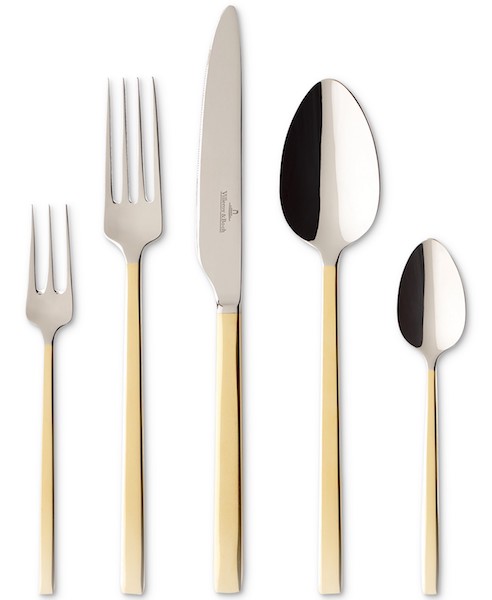 Register for individual place settings if you have a small kitchen or are limited on kitchen storage—especially if you don't have dinner guests too often. Registering for individual settings usually means you'll get a 5-piece place setting for one person, so just be sure to add as many as you think you'll need!
Dinnerware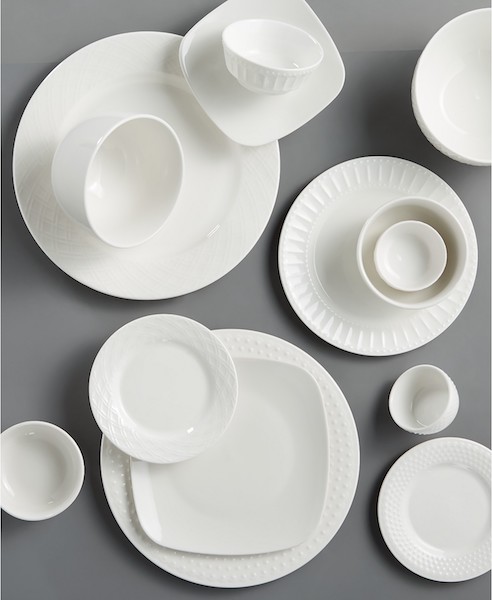 Register for a set if you want to keep your breakfast, lunch, and dinner services simple and matched. From the dinner plates to the dipping bowls, this 42-piece set (which includes six place settings) has you covered, leaving nothing to be desired. Plus, it comes in a modern, clean white style that will always work with whatever else is on the table.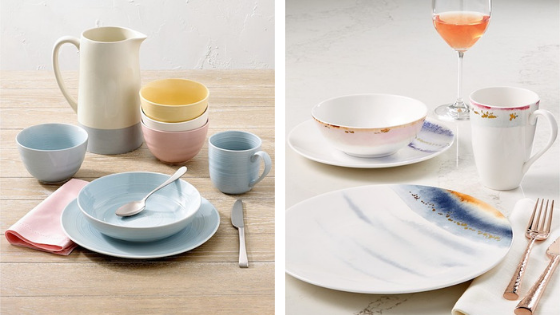 Register for individual place settings or items if you'd rather mix and match your own collection of dishes. Macy's carries plenty of styles that complement one another, and others that come in a variety of colors to combine in whatever way suits your taste. Try blending a simple, solid collection with a few patterned pieces to add a few pops of color to your tablescape.
Table Linens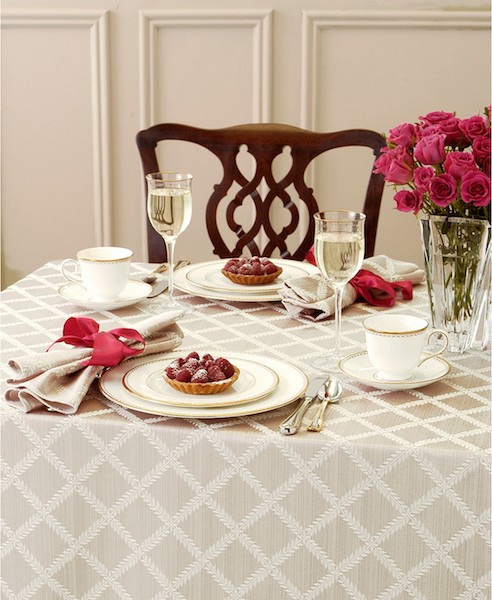 Register for a set if you frequently have guests over, you're an entertaining enthusiast, or you've just gotta have a dressed table whenever possible. A complete set of table linens (tablecloth, runner, napkins, and placemats) means you don't have to think too much about it—making more time to whip up some delicious goodies for your guests!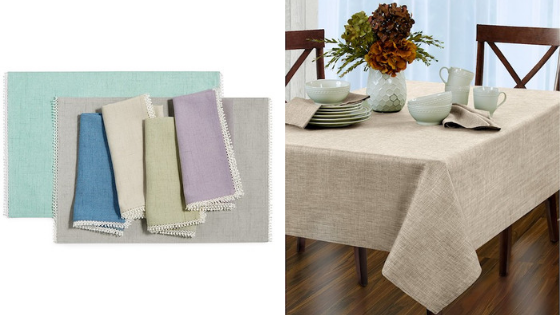 Register for individual items if you prefer to keep your table settings on the more sparse side. Macy's carries plenty of napkin and placemat options that come in a variety of complementary colors, so you can mix and match the perfect combination.
Bar Accessories

Register for a set if you don't have a home bar set up, or if what you do have of one consists of a mish-mash of styles that you've collected over the years. Your wedding registry is an opportunity to put your grown-up foot forward! Macy's carries styles that range from the classic to the ultra-modern, and everything in between.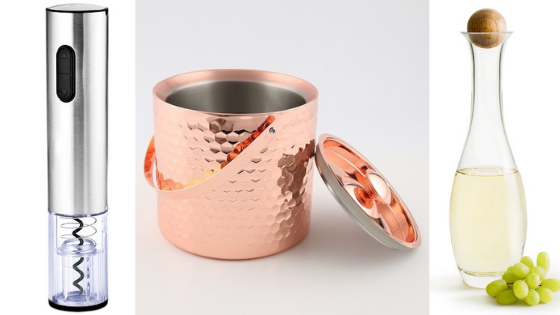 Register for individual items if you've got a good thing going with your home bar, and you're missing a few pieces that will take it to the next level. Up your mixologist game with a wine decanter, an electric corkscrew, or an ice bucket, just for starters.
Wine Glasses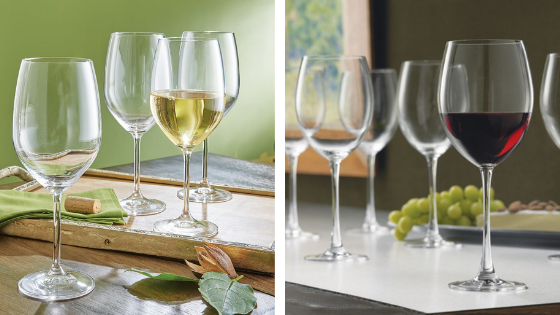 Register for a set if you drink wine a few nights a week—give or take. This particular piece of advice comes from experience: while my husband and I don't have a large number of guests over at any one time, we do enjoy a nice glass of wine with dinner. As Murphy's Law goes, anything that can go wrong, will. Just register for the set.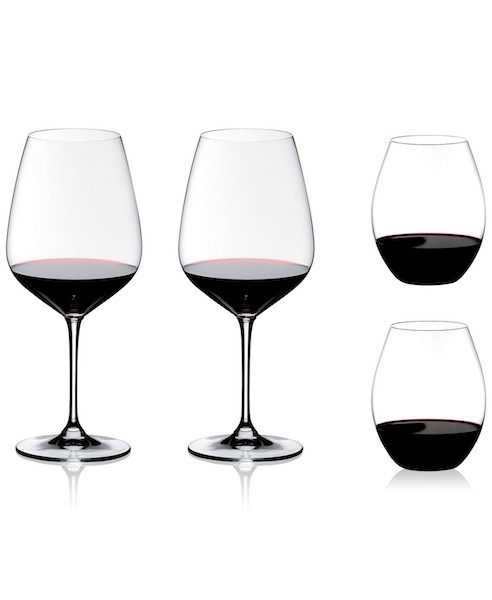 Register for individual items if you've already gone through the trouble of buying a full set of wine glasses, and have additionally experienced the emotional pain of breaking one (or a few) of them since purchasing them. Like I said, Murphy's Law. You'll be happy to have a few extras on hand.
Bonus Tip
Here's one more thing to consider when deciding between the complete set and individual items: make sure you have a variety of items at a variety of price points. For example: let's say you love this All-Clad cookware, but can't imagine someone spending that much money on a wedding gift. Instead of registering for the entire 14-piece set, add the individual pots to your registry. This strategy would also work well with dinnerware and flatware.
So, what did I say? Don't you feel more confident about how to build your Macy's wedding registry? Figuring out which items to choose as a set versus as individuals can become a bit of a headache if you over complicate it. Just keep it simple and keep our tips in mind when the time comes to register!
For more wedding registry tips, be sure to check out the RegistryFinder.com blog, and visit the Ask Cheryl column to solve any tricky wedding etiquette conundrums!