I've always loved beautiful dinnerware, serving pieces, and crystal. Maybe that's because my grandmother, who collected china and crocheted her own placemats, taught me how to properly set a table before I learned how to read! So when the time came for me to create my wedding registry and select place settings and table accessories, I was a combination of excited and overwhelmed. Where do I begin? How do I put a cohesive "look" together? And what do I even want my "look" to be?
Looking back, I honestly wish I could have a do-over on my registry. Like many brides, I felt the need to be "practical," and registered for basic pieces that, in retrospect, are rather plain.
So I consider this blog post my virtual do-over, and a gift to brides creating their registries: I've combed through Macy's extensive dining collection to put together five different table setting styles, ranging from rustic to modern. Because Macy's offers the best brands AND deals, it's the perfect place to find looks in every style and price point!
I hope you'll see a table you love, and start adding items to your registry! And if you were married long ago, consider this permission for a do-over!
Table #1: Rustic Warmth
There's something I love about the combination of warm woods and bright whites. I can imagine gathering around a table set with these beautiful pieces and enjoying a comforting meal and lively conversation. If you and your fiancé favor a more casual, relaxed vibe, then a rustic table might be right for you!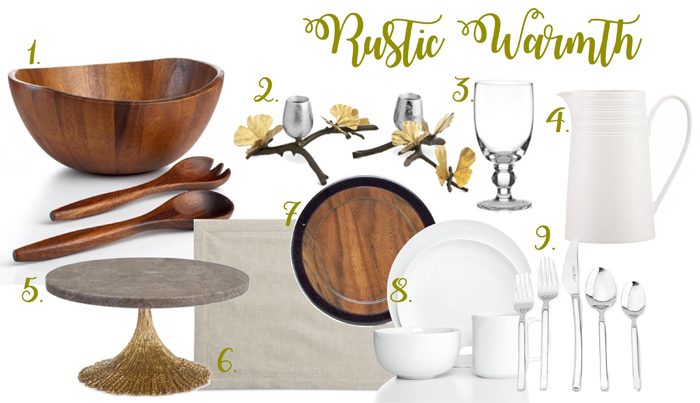 Table #2: Timeless Classics
Do you love to entertain elegantly? Do you tend to favor the classics rather than the latest trends? If so, go with a timeless table: think neutral shades like white and gold, and lots and lots of crystal! Each chic piece is a future family heirloom!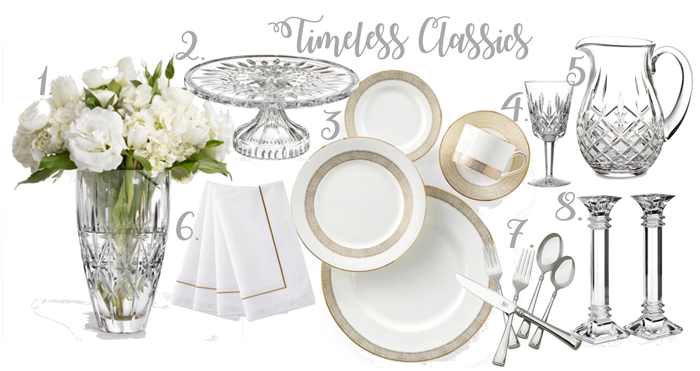 Table #3: Modern Elegance
If sleek and sophisticated describe your style, then this modern table is for you! I love the mix of black and white, with some metallic and crystal thrown into the mix.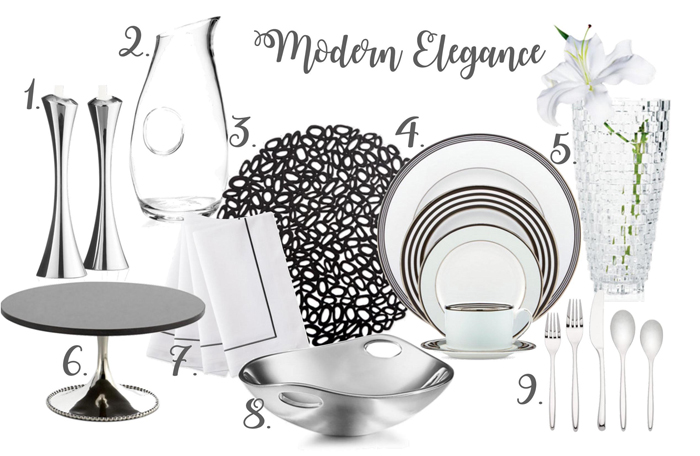 Table #4: Coastal Charm
If your dream house is a beach house, why not set a coastal table every day, no matter where you currently live? These gorgeous pieces evoke the ocean in both color and texture: look closely for coral, sea urchins, shells, and even a wavy texture on the flatware!
Table #5: Bold and Bright
As the wineglass says, "Stay Fancy," with these gorgeous pieces that are sure to be conversation starters at your next dinner party! I love the idea of mixing patterns and colors to create a table that sets the stage for a fun evening!
Ready to set your table in style? Macy's is your go-to spot to get started! There are so many reasons to love Macy's, but one of my favorites is their Registry Advisor program. When you set up a Macy's registry, you get one-on-one help from your very own registry expert, who can help you create a registry that's perfect for your life and style. Book an appointment online or visit your local store for more details!
One more thing: grab RegistryFinder's super helpful wedding registry checklist and head to Macy's to start building that registry!