Tailgating is one of my favorite activities. Ever since being introduced to the concept at six years old, I've found any excuse available to open up the trunk and eat in the car with my feet swinging over the asphalt. There's a lot at play during a tailgate. You've got the anticipation of the game itself, the parking lot community that comes together for a few fleeting hours, and the unique spread of food and drinks that can only be consumed in this type of environment.
Aside from ensuring you have all your utensils and condiments in order, it's just as important to have all the gear that turns a good tailgate into a great one. For you sports-loving couples getting ready to tie the knot, now is a great time to figure out your must-haves and add them to your wedding registry.
Even if you're just marrying into a (insert choice of sport here) family, you can at least make up for your lack of team allegiance with all the right tailgating equipment. Start with our top 12 items below!
Every tailgate needs at least one cooler just to keep all your beverages cold. This retro-inspired Coleman cooler can hold up to 85 cans and support up to 250 pounds — doubling as a seat! Looking for a second option for your food items? This collapsible cooler won't take up any extra space when you're done with its contents.
If you're going to tailgate, you'd better plan on bringing more than deli sandwiches and potato chips. A portable grill is a must-add for your wedding registry, and you can't go wrong with a trusty, collapsible Coleman to fire up perfect burgers and hot dogs before the big game.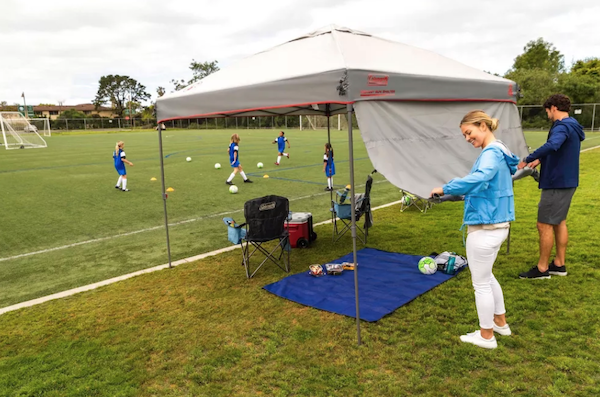 I promise, this isn't a Coleman-sponsored post. The brand is just really good at making outdoors-friendly products that will keep working for you for the long term. Their Instant Canopy sets up in three minutes, so you can enjoy your tailgate instead of fussing around with snap-together parts and recruiting your guests in the awkward dance of tailgate tent setup.
Anyone can have a custom koozie made as a wedding favor, but swap the cloth version for stainless steel if you want to tailgate like a pro. This heavy-duty RTIC model keeps your drink cold without numbing your hands. Because you need full function of your fingers when it's time to eat — and carry your beer pong team to victory.
Listen, I don't know how it happened, but somehow cornhole has become the official gameday activity. But I'm not mad at it — it's one of those games that is deceptively addicting and fun for people of all ages. This collapsible set makes it ultra-portable and ready for your next tailgating adventure.
A table is in order if you really want to pull off a fail-proof tailgate. Whether you need an extra surface for food prep, service, or dining, it's always good to have on hand. And this particular option from REI tucks into a slim stow-away bag, so you're always prepared — even when you don't think you need it.
You won't find me sitting (for too long) when it's tailgate time — that's what the game is for! But, when you need a break from grilling or cornhole, it's good to have a reliable seat. A foldable chair equipped with a flip-up side table and built-in cupholder makes it easy to take a load off.
If you've ever been to a tailgate without a speaker, you know how much good music can make a difference in putting everyone in a great mood for gameday. This portable JBL speaker is perfect for the job, offering waterproof technology to keep your party going regardless of the weather.
Were you expecting something a bit more… collapsible in this category? I would never let you compromise the integrity of your grilling tools, especially where they matter most: at a tailgate. That being said, this set is pared down to the essentials, and they all fit into a sleek carrying case, so they're always on hand.
There are utensil caddies, and then there's this utensil caddy. I mean, it literally has a place for you to put everything, even a roll of paper towels for those extra-messy tailgate foods. If you're a sucker for organization and order like I am, this is going on your wedding registry immediately.
I love making a big batched cocktail or mocktail when throwing a party, and a tailgate is no exception! A 3-gallon acrylic drink dispenser makes it easy to serve up any beverage to a large group without worrying about going missing in action to make refills.
Whether it's a tailgate or you're hosting another outdoor dining event, keeping pesky insects away is always a challenge. These small tabletop fans help to prevent unwelcome guests with soft blades that won't hurt any interfering hands. You won't want to tailgate without these!
Game-day Fun
Now that we've gotten that out of the way, you can focus on your game-day outfits, face paint, and whatever else you do to get into fan mode. Happy tailgating, and may your favorite team win — unless they're playing mine.
Featured Image via Coppola Food & Wine Feast