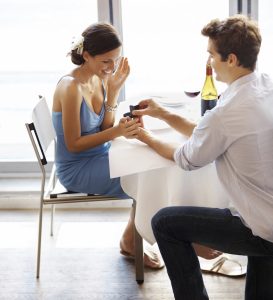 Congratulations! You just got engaged! So what do you do now? Here are my top 10 tips that will help you successfully navigate—and truly enjoy—this exciting time in your life.
Don't post on social media first! Wait until you have personally told the people you care about most. Make those phone calls—first to your parents, then to your siblings. Grandparents and best friends are next, and then other close friends and family. Only then should you show off your ring on Instagram.
Get ready for the questions. Everyone will be excited for you and will naturally want to know all the details. Craft some good catchall responses to these types of questions:

When are you getting married? Have you set a date? We're thinking of a spring wedding. Or: We've decided on a one-year engagement to give us time to plan all the details.
How did he propose? Develop your story. You'll be telling it over and over again.
Am I invited? Important tip: Don't commit to inviting someone that may not make the guest list. In the early stages of sharing your news, you haven't had time to determine whom you will and won't be able to include, so unless you're 100% sure someone makes the cut, don't commit. Be polite but vague, something like: We haven't finalized our wedding plans, but I think we may be keeping it fairly small.
Am I in the wedding? Important tip: Don't ask someone to be in your wedding party until you know the details and associated costs. Wait until you have a good idea where your wedding will be and what costs your wedding party will be expected to pay. Figure out what type of wedding you want first; for example, do you want a destination wedding? This will likely add additional expenses for your wedding party. When inviting your attendants, discuss the cost up front before they commit. If they can't afford it, let them decline gracefully and tell them you understand.

Meet the parents. We will assume that you have already met each other's parents, but have your parents met one another? If not, now is the time to make that happen. Traditionally, the parents of the groom reach out to the parents of the bride and arrange to meet or at least talk over the phone. This is the first step in laying the foundation for a good relationship between the parents. They may be working together in the planning of wedding or pre-wedding events.
Insure your ring. If your fiancé proposed with a traditional diamond ring or another expensive bauble, make sure to protect the investment with insurance. You can add it to your current homeowner's or renter's insurance. Don't have insurance? Now is the time to take that step.
Draft the guest list and set the budget. Get an idea of the size of your wedding by making a first draft of the guest list. Next, discuss and set your budget. These two factors are the foundation and determine the type of wedding you chose to have.
Pick the date. The time of year you chose is key to your wedding planning. The most popular wedding months are (in this order):

June
September
August
May
October
July

If you're picking a popular time of year, you will want to plan well in advance to make sure you're able to secure your preferred venue on the date you choose. The best method is to pick a season, month or selection of possible dates; pick your venue; and book an available date at that venue.

Research wedding apps and websites, and consider hiring a wedding planner. Everyone needs help. If your budget allows, a wise investment comes in the form of an expert to guide you through the process. If not, there are great apps and websites that help keep you organized every step of the way.
Take your marriage seriously. Don't take this the wrong way, but now is the time for premarital counseling. All couples should seek premarital counseling whether or not your religion requires it. This is a good time to discuss the difficult issues that will face you in your life together. Counseling will help make your bond stronger as you learn how to work out problems together and disagree productively. It's never too soon to discuss plans for children, how you will handle your finances and boundaries for in-laws.
Don't share everything (or anything) on social media. I know you're excited, but holding back on how much you post about your wedding plans can actually make your life easier. It will reduce the unsolicited advice, number of questions, hurt feelings and self-invited guests.
Don't let wedding planning take over your relationship. Make time to date each other and keep the romance alive. Set aside date nights where you focus only on each other and not the wedding. Wedding planning can be very stressful. Take a deep breath and remember that the commitment is much more important than the wedding. This is a time to build your relationship up—not let the stress tear it down.
Most of all, don't forget to have fun! It's easy to get caught up in the hustle and bustle of wedding planning. But keep in mind that this is a magical—and finite—time in your relationship. So take the time to pause and enjoy it, and don't sweat the small stuff.