Just engaged? Congratulations! Make sure you follow these 10 tips before tying the knot.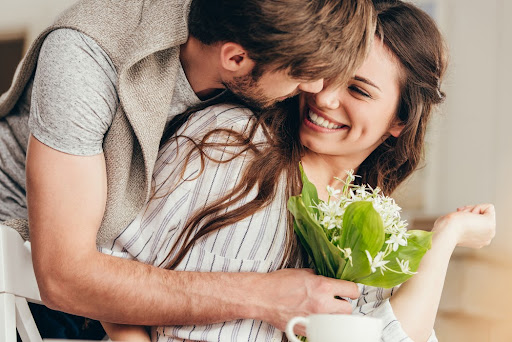 It doesn't matter how prepared you may have been for the big question — getting engaged can turn your brain into straight-up mush. To help you navigate this exciting time, we've put together a list of 10 tips for newly engaged couples.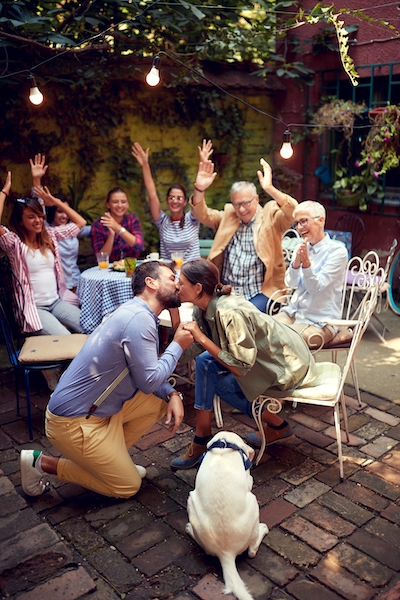 1. Share the news in-person before posting to social media.
This should go without saying, but just in case your brain is extra mushy right after the proposal: don't share on social media before telling your loved ones! Sure, it's an exciting moment you'll want to share instantly, but when it comes to your parents, grandparents, siblings, and other close relatives, being able to deliver the news over the phone or in-person preserves the magic. Plus, once it's out there on Instagram, anyone can stumble upon and share your big news before you have the chance, and no one wants that!
2. Insure your ring.
If your new jewels sport valuable gems, it's a good idea to insure your engagement ring. That said, your fiance may have already taken that step, since many jewelers offer insurance with the purchase of the ring itself. If that's not the case, most annual insurance rates range from around $1 to $2 for every $100 spent, depending on a few regional factors. You can also add it to your current homeowner's or renter's insurance plan, so there are plenty of ways to make sure you and your ring are covered.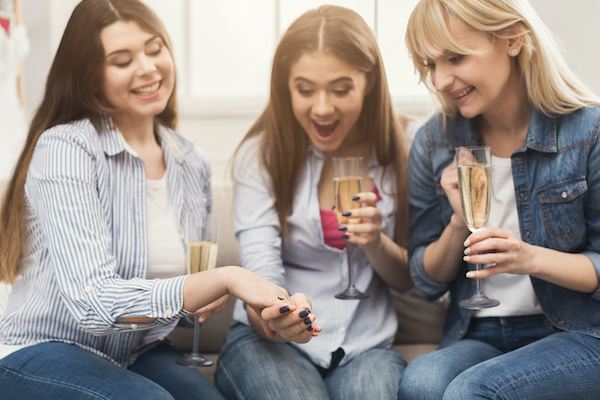 3. Prepare for all the questions.
Everyone will be excited for you and will naturally want to know all the details. Here are some good catchall responses to common questions:
When are you getting married? Have you set a date? "We're thinking of a spring wedding." Or: "We've decided on a one-year engagement to give us time to plan all the details."
How did s/he propose? Develop your story. You'll be telling it over and over again.
Am I invited? Don't commit to inviting someone that may not make the guest list. In the early stages of sharing your news, you haven't had time to determine whom you will and won't be able to include, so unless you're 100% sure someone will make the cut, don't commit. Be polite but vague, something like: "We haven't finalized our wedding plans, but I think we may be keeping it fairly small."
Am I in the wedding? Don't ask someone to be in your wedding party until you know the details and associated costs. Wait until you have a good idea where your wedding will be and what costs your wedding party will be expected to pay. Figure out what type of wedding you want first; for example, do you want a destination wedding? This will likely result in additional expenses for your wedding party. When inviting your attendants, discuss the cost up front before they commit. If they can't afford it, let them decline gracefully and tell them you understand.
4. Get ready to compromise.
It may sound obvious, but this goes beyond the expected compromises that come with spending your life with another person — this tip is more concerned with your actual wedding than your marriage. As much as you'd like to believe that everyone is going to fall in line with your vision for your big day, the truth is that your parents, fiance, and future in-laws have all been envisioning your wedding day too. Rather than preparing to defend your choices and put your foot down, it's a smart idea to be open to compromise. Believe me, your wedding day is important, but it's the first day of the rest of your life together — you'll have plenty of future opportunities to be stubborn.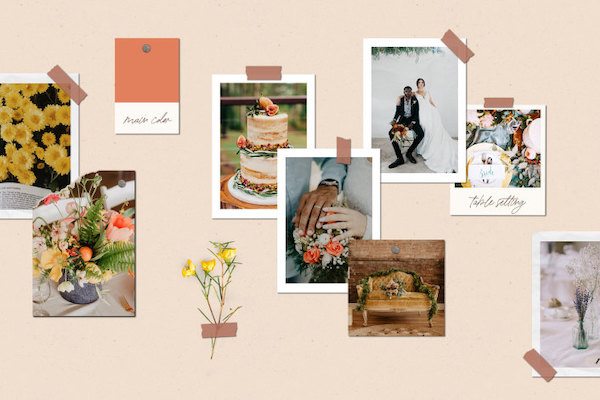 5. Revisit and edit your wedding inspiration.
Before I got engaged, my wedding Pinterest board was a mess of rustic, woodsy inspiration that I was sure would be the template for my big day. But once it came time to truly start planning, I realized that I had been pinning for someone else's wedding — so I scrapped the board and started over. Turns out, my true wedding direction was more industrial and minimalist than I'd realized. So, don't worry if your tastes suddenly change when wedding planning gets real — it forces you to envision your big day with more clarity than ever.
6. Set a budget, create your guest list, and pick a date.
It's not fun, but setting a budget is one of the most important factors that will drive your wedding planning. Sit down with your partner and be realistic — consider your current finances, your future plans, and whether any family members will be helping you pay for your wedding. Determine a budget you're all comfortable with, accounting for unexpected expenses you may incur during planning.
Your budget will have a big influence on the size of your guest list — it affects seating, catering, and venue size. Depending on your plans, you'll also want to ask your parents and future in-laws to set aside an agreed-upon number of invitations for their friends.
The time of year you chose is key to your wedding planning. The most popular wedding months are (in this order):
June
September
August
May
October
July
If you're picking a popular time of year, you will want to plan well in advance to make sure you're able to secure your preferred venue on the date you choose. The best method is to pick a season, month or selection of possible dates; pick your venue; and book an available date at that venue.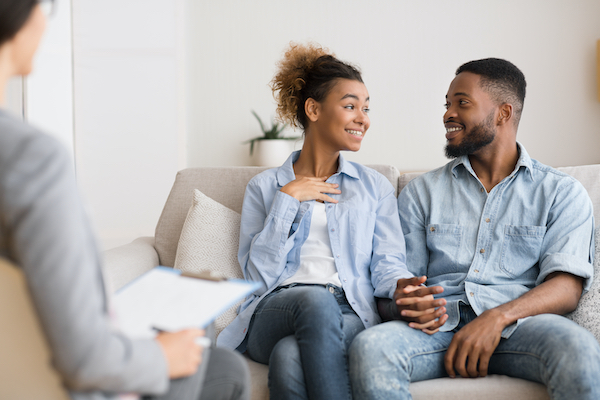 7. Consider premarital counseling.
Great marriages aren't the result of couples that don't fight — they're the result of couples who know how to disagree respectfully. No matter how well you get along with your spouse, it's a great idea to see a marriage counselor before saying "I do." It can help you navigate any challenging situations you'll face in your life together, as well as give you the tools to work out problems when they arise and consider important decisions like having children, finances, and boundaries for in-laws.
8. Stay grounded.
I like to think that I'm a relatively easy going person. I also admit that despite my being easygoing, I had my moments of being a bridezilla, being stubborn, and being completely anxious about the most minor details in the months leading up to my wedding. While it's easy to get caught up in what you think others' expectations might be, take a deep breath and remember that your wedding day is about you and your partner, and as long as the two of you are happy, everything else will be fine.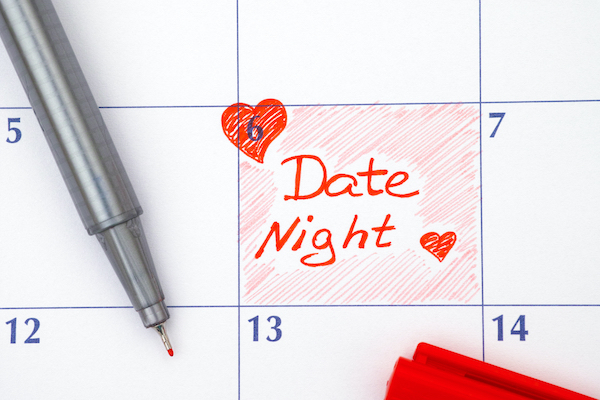 9. Plan date nights.
Engagement isn't simply a means to marriage —it's a chapter in your relationship that should be celebrated! It really is such a sweet time. Embrace every moment of being engaged, because it'll never happen again once you're married. Take time out of wedding planning and everything else going on in your lives to go on dates as fiance and fiancee.
10. Build out your wedding registry.
Your wedding registry is a great opportunity to establish your style together as a couple while adding needed items to your home. Before you send out your wedding invitations, it's a good idea to get your wedding registry started (if not completed) so guests can search for and purchase gifts once they RSVP. Not sure what to add? Check out our Wedding Registry Checklist for all our must-haves!
Being engaged is such a fun, unique time for any couple.
Embrace every moment and make time for each other as you make your way toward your wedding day. As always, visit the Give It blog for more wedding planning tips, like our favorite wedding planning tools, getting fit for your wedding, and embracing the unexpected. Happy planning!