Whether you live near the ocean or only dream about it, a tropical bridal shower theme is the perfect fit for a summer celebration! And while Pinterest is filled with ideas, today we're bringing you behind the scenes of a real bridal shower, so that you can feel inspired and empowered to recreate these ideas yourself!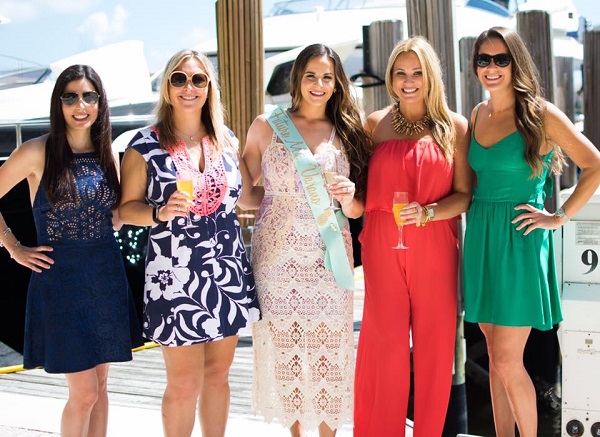 The Vision: "Tropical Chic"
The bride described her shower as "tropical chic," and says, "This was the perfect theme for me because I love the beach, and the fun colors and the pineapples were just a cute touch!" Thanks to Pinterest, the hostesses were able to find lots of inspiration!
Setting the Scene (or Table)
When it was time to bring the "Tropical Chic" vision to life, the hostesses turned to everyone's favorite source for handmade and customizable goods: Etsy! We've linked to all the vendors and sources throughout this post so that you can order the same items to recreate your own tropical bash!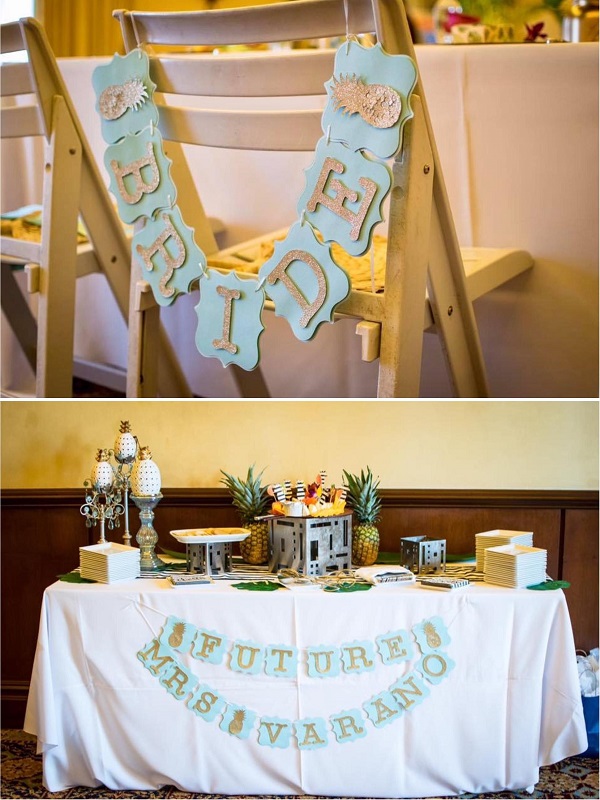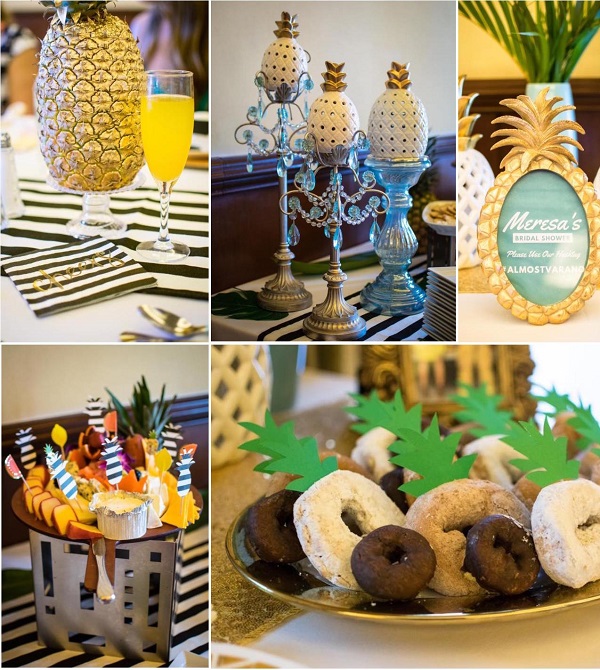 The "Pineapple" of my Eye
The bride loves pineapples, and the hostesses sprinkled them throughout! I love the creativity of placing pineapples on a pedestal (they do wear crowns, after all)—spray painting them gold and elevating them adds dimension and shine! I'm also a little bit obsessed with these adorable pineapple toppers, seen here adorning appetizers and donuts. So cute!
Fun and Games
We all know that bridal shower games can be cringe-worthy (ever been wrapped in toilet paper?), so I love that these hostesses chose fun games with zero embarrassment factor, including a cute "Say What" game in which guests guessed who said it first and a "What's in your Purse" game.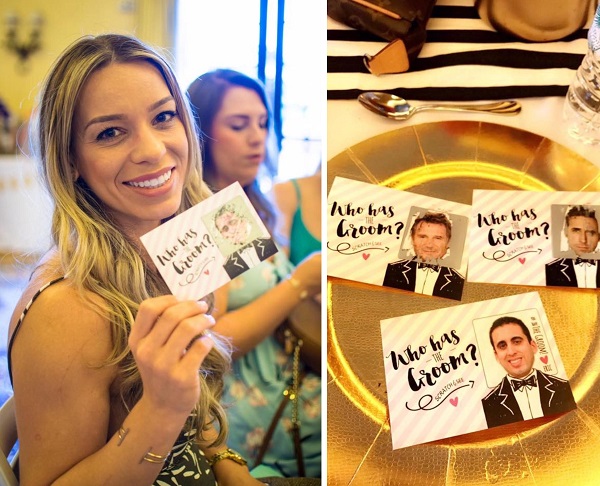 Here's one I've never seen before: a scratch-off to see "Who Has the Groom?"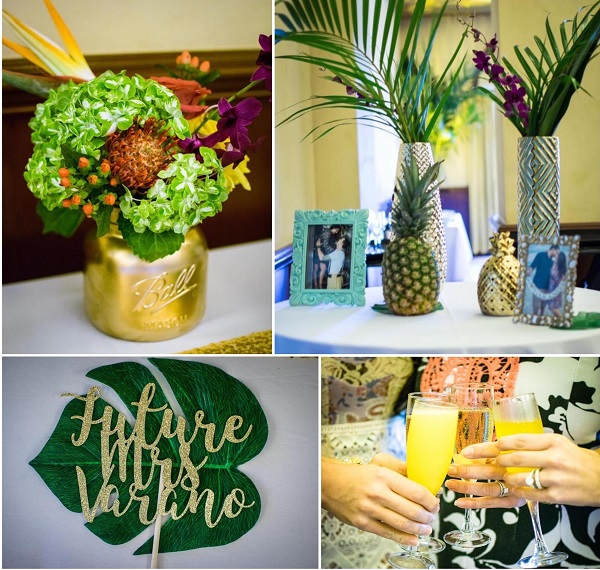 Not only do these pictures make me want to throw a tropical party—they make me want to a book a flight to the islands!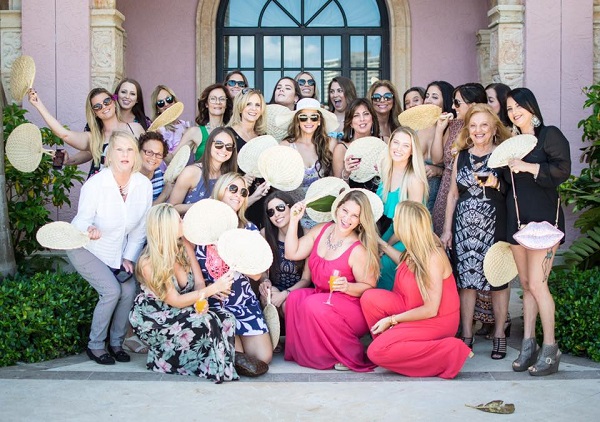 Looking for more bridal shower inspiration?
You've come to the right place! The RegistryFinder GiveIt blog is filled with ideas for planning the perfect bridal shower, from the best planning hacks and shortcuts to fun games and theme ideas for every season of the year!
Be sure to direct all of your shower guests to RegistryFinder.com to easily access all of the bride's registries in one place—you can even print it on the invitation!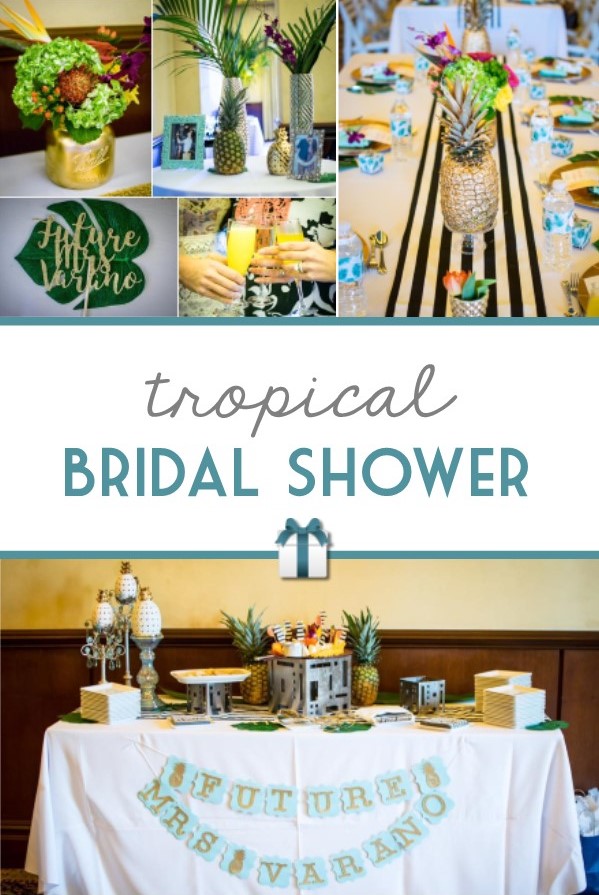 Vendors:
Venue: Boca Resort
Photography: Jacquie Sandoval Photography
Event Design – Jenna Reed
Flowers – Tamara's Flower Garden, Delray Beach, Florida