Choosing a color palette is the perfect starting point for planning your dream wedding—here are our current winter favorites!
When I was planning my wedding, I lived in a state of ignorant bliss: Pinterest wasn't a "thing," Instagram was ad-free, and Martha Stewart was the only recognizable influencer in the wedding world. Life was simpler, but I'll admit: there are quite a few things about my wedding I wish I could go back and re-do now that I've seen all the inspiration available on social media and wedding blogs!
One of those things is the color palette for my wedding. In the early-mid 2000's, brides usually picked one or two colors as their theme. I remember attending a few "pink and green," weddings, and a few that were inspired by the couples' college colors; at my own wedding, you could say my color palette was 50 shades of pink.
Today, brides aren't just choosing one or two colors; we're seeing gorgeous spectrums of color that couples use to inspire each aspect of their day. With the help of The Black Tux, we're showing you 3 of our most inspiring winter wedding color palettes, and offering you ideas on how to bring those colors to life on your big day!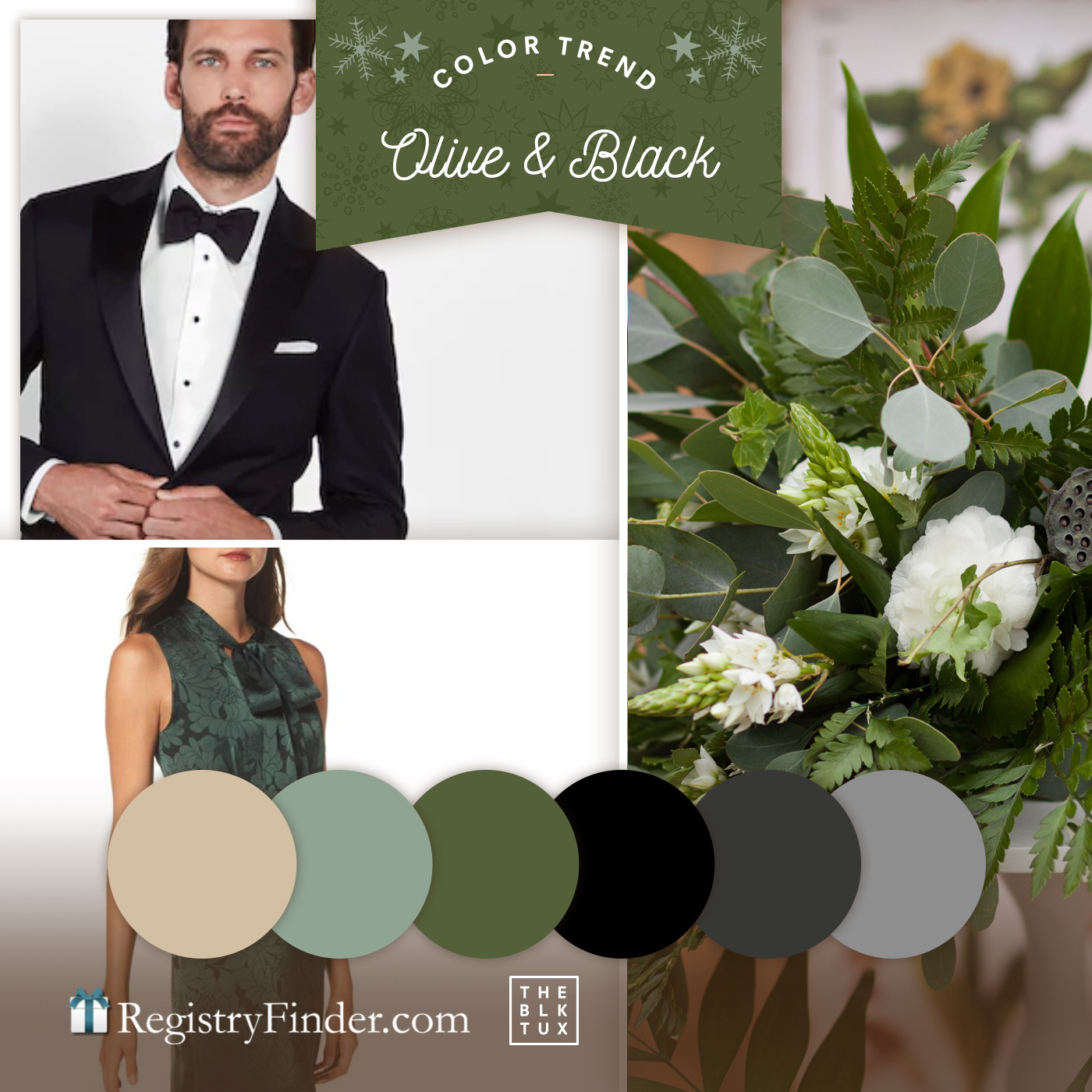 Color Trend #1: Olive and Black
Earthy, organic, and totally on-trend, the olive and black palette is perfect for the understated couple. Pair classic black tuxes with dark green bridesmaid dresses, and keep your flowers natural and soft. Flip the formula when it comes to the bouquets: While greenery is often used as "filler," let eucalyptus and fern center stage in the arrangements, and use simple white blooms scattered throughout.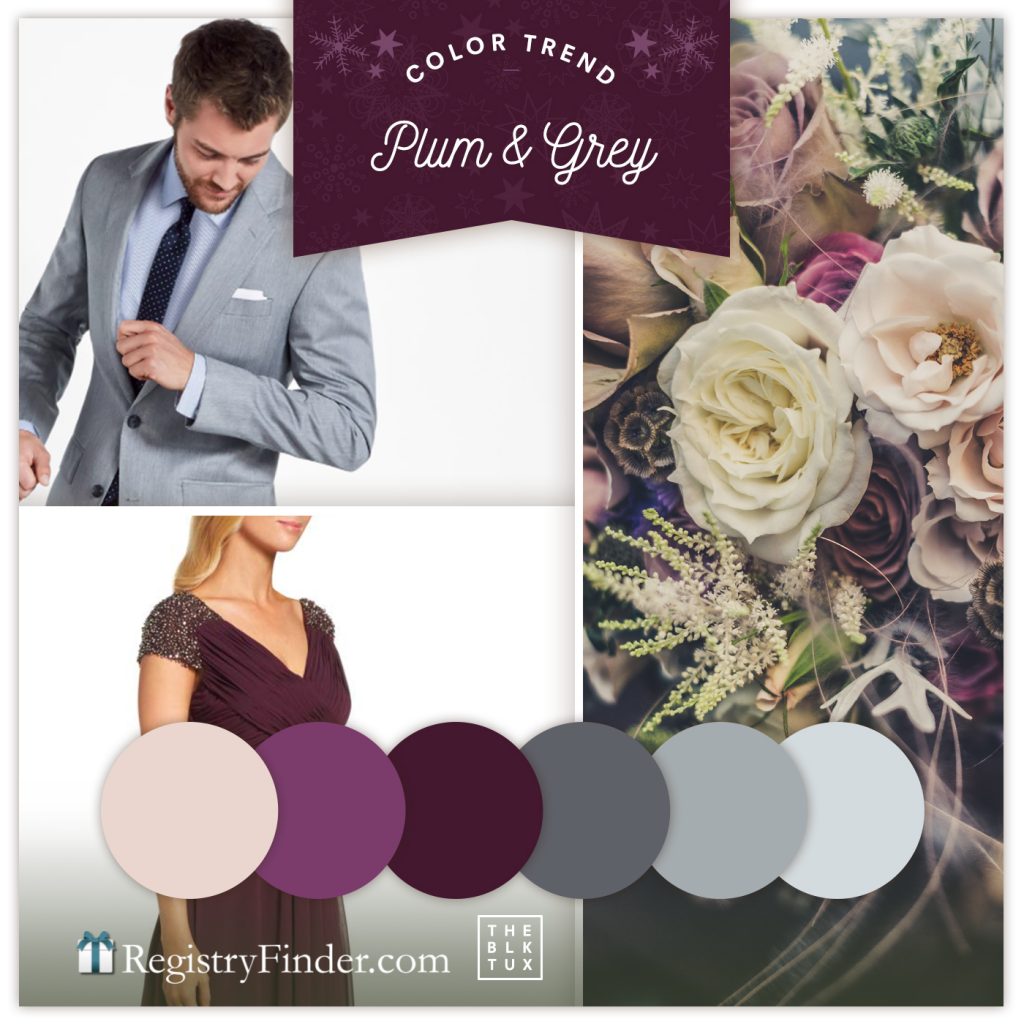 Color Trend #2: Plum and Grey
One of the boldest color choices you can make at your wedding is with the men's suits: go beyond basic black and dress your guys in cool gray—it's unique and a great way to bring your color palette to life! Your bridesmaids could wear different shades of purples and even blush, and you can reflect that color spectrum in the bouquets. I love how the bouquet above blends roses in romantic shades of lavender, cream, and pink!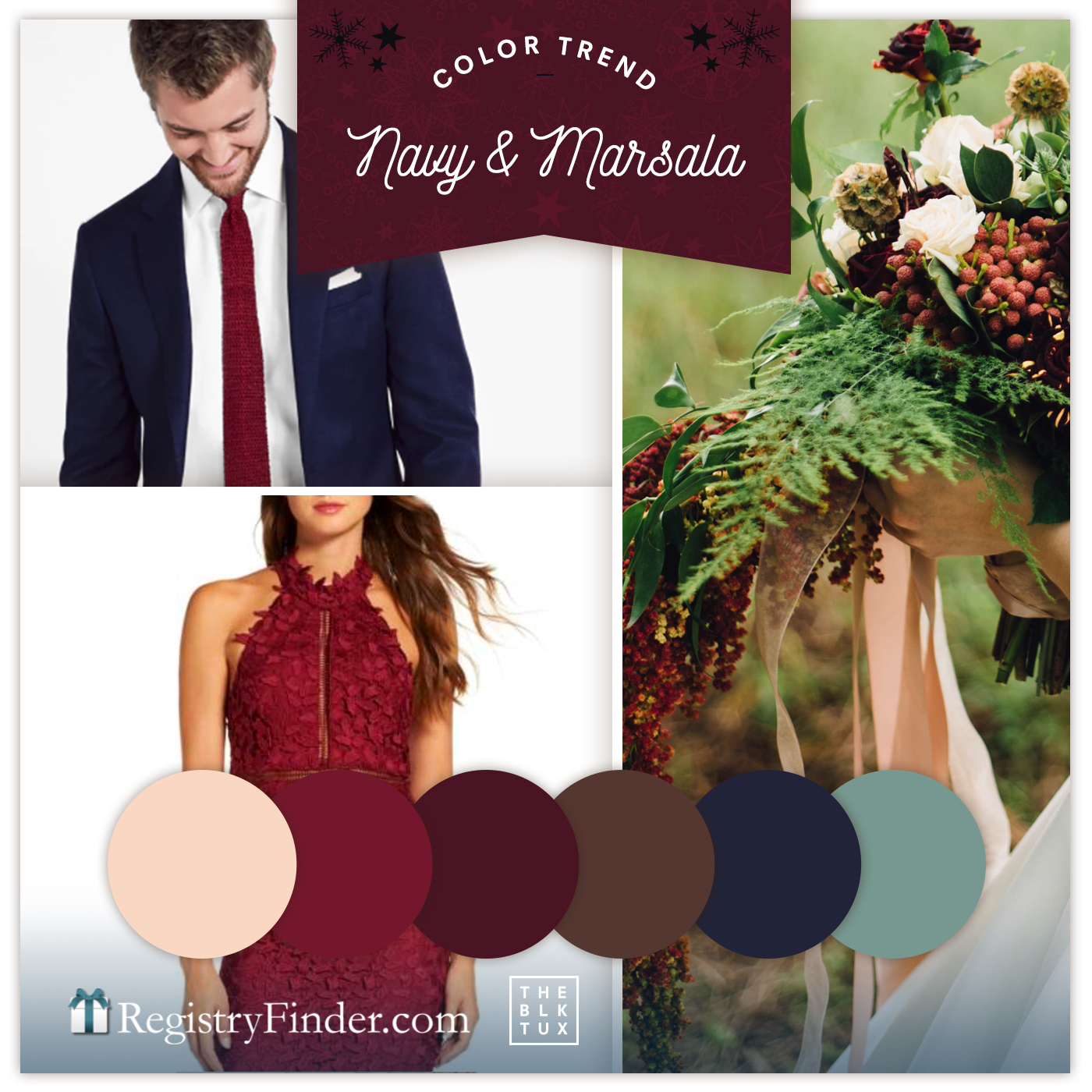 Color Trend #3: Navy and Marsala
I saved my favorite colors for last: I love the preppy, classic feel of combining navy and this deep marsala red! Try accenting navy suits with bold red ties to match your bridesmaids' dresses. Deep red berries, dark red roses, ferns, and succulents beautifully display this gorgeous palette.
Feeling Inspired?
With so much wedding inspiration at your fingertips, it's much easier to collect ideas than it is to execute them. The color palette is a practical way to get started: once you have your colors squared away, you'll be able to articulate your vision, clarify your style decisions, and clearly communicate with your vendors. For more wedding inspiration (and the revolutionary suit and tux rentals), hop on over to The Black Tux—their blog is filled with style guides and wedding advice for grooms and groomsmen!
And as always, our team at RegistryFinder.com is here to help when it comes to the wedding planning and registry tips and tricks!