Your wedding website is a great place to direct your wedding guests for so much helpful information. From venue details to local recommendations for food and lodging, crafting your site can save you tons of time as you get closer to your big day.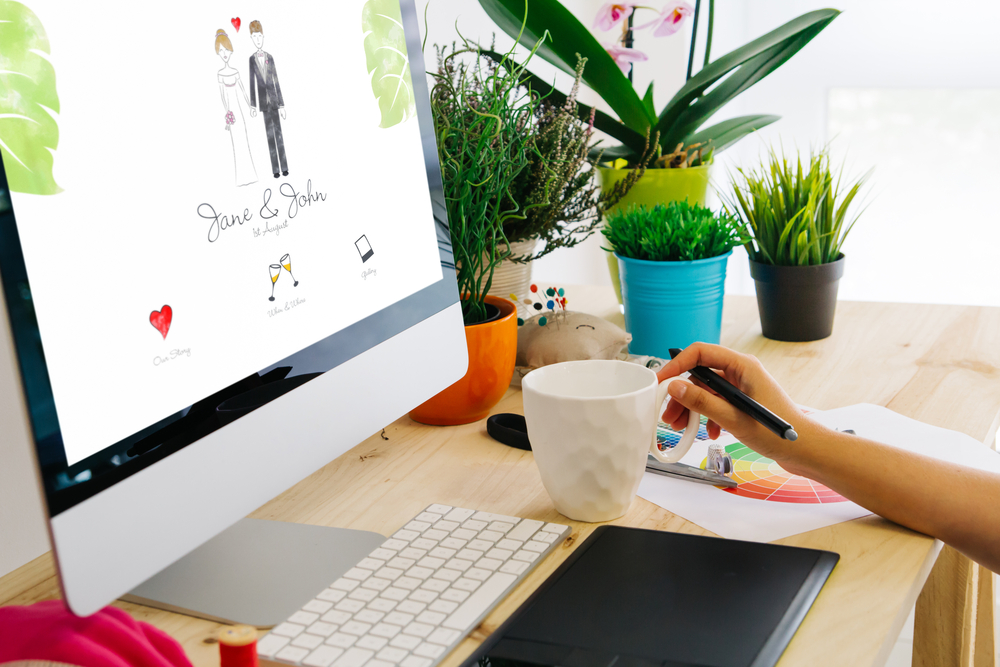 One element that every wedding website needs is a couple story — it's your chance to describe to everyone how you met, your history together, and what you love about each other. Of course, writing your story can feel easier said than done. With so much ground to cover, where do you start? And what do you include?
Below, we'll cover all the components that make up a great couple story, along with helpful tips for each one, so you can craft yours with confidence.
Consider Perspective
Your wedding website is a hub for all your guests. That means everyone from your closest friends to your more distant relatives will be reading your couple story. Keep everyone in mind as you develop your story and decide on your overall tone. You don't have to keep things formal or buttoned-up, but a good rule of thumb is to keep your language G-rated and family friendly.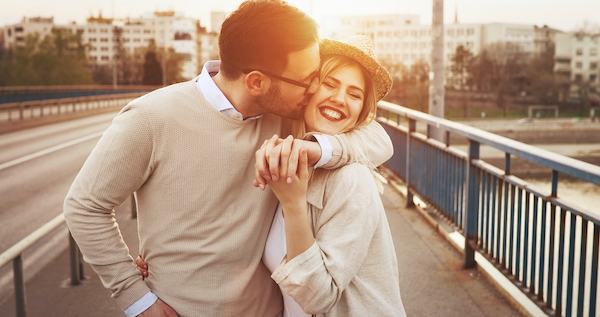 Introduce Yourselves
Before you jump in and start telling your story, start with a brief introduction of yourselves as individuals. Keep it brief, including details like your full names, hometowns, occupations, and hobbies. You can add this section in a list format to make it easy to read and distinguish it from your full couple story.
Be Chronological
When you're ready to put your story down in words, it's important to stay chronological and write your journey as it happened. Keep in mind, you shouldn't include too many details or write a long-winded story that people will have a hard time following.
To keep readers engaged, you can even consider adding small headings to the different sections of your story — each of which should be about 3-4 sentences to keep the momentum going. Here are a few basic elements to consider:
Set the stage
Start by giving a short background into your meeting. Were you both in school? Did you work at the same company? Were you set up by a mutual friend? Or maybe you were on the same dating app and saw each other's photos long before "swiping right." Remember to keep it short and sweet — this is just the beginning of your story!
Your first date
Here's where your journey to marriage really began — even if you didn't realize it at the time. Talking about your first date is a fun opportunity to inject some humor and hindsight into your story. That said, leave out any embarrassing details or inside jokes that you and your spouse will only understand, and keep it to the basics. Where did you go? What were your first impressions? Did you have any idea your first date would lead to a lifetime of love?
Notable milestones
An easy way to keep your story on track and free of too many minor details is to keep your focus on major relationship milestones. Think about your first kiss, when you met each other's parents, when you moved in together, or when you adopted your first pet together.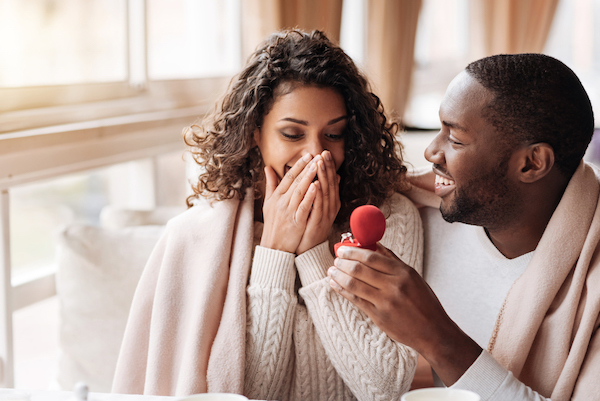 Engagement story
It's no surprise that everyone will be asking you about your engagement story — if they haven't already — so you should absolutely be sure to give the short version in your couple story. Add some fun details like how the proposal was planned, whether the surprise was nearly ruined, and where the big question was popped. This all leads up to your final section…
Wedding date
Everyone knows that a successful proposal leads to a beautiful wedding, but even though it's obvious that's what's next, it's a great way to wrap up your couple story and get your guests excited for the big event. Keep it simple, for example: Brittney and Grant have been busy planning their big day, and can't wait to celebrate their love with their friends and family on June 2. See you there!
Add Photos
Any good story is made even better when there are pictures to help tell it, so don't shy away from sprinkling photos into your couple story. The milestone section and proposal story are no-brainers, but you can also consider adding photos of yourselves as young children, when you first met, or with each other's families. Just like the overall tone of your story, make sure that the photos you choose are family-friendly.
Review Your Story Together
Before you hit "publish" on your couple story, make sure you and your spouse take the time to read and review it together. Even if you both participated in the writing process, it's good to take a step back and revisit what you've written to make sure you're telling your story in a way that feels right for the two of you. As you read, consider it through the eyes of your more sensitive family members and change any details that might be seen as inappropriate.
When you're ready, add your story and photos to your wedding website, and don't forget to include the website link on your save the dates so your guests can always stay in the loop!