Jon and I live in Ohio, quite a distance from both sides of our families. So when we pack up to go home for a week or even for a quick weekend trip in the summer, the packing lists are long. I've made and remade the list so many times so that it reflects all of our son's current (and constantly changing) needs: bottles, diapers, favorite toys, pack and play, formula, the like.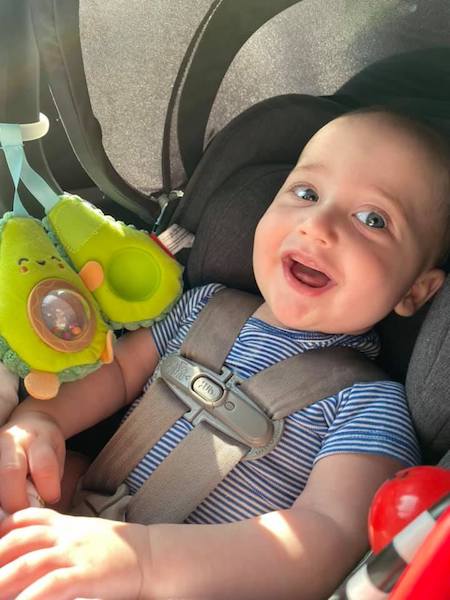 I'm so thankful that our boy has 2 sets of fantastic grandparents who are basically professionals. Jon's parents raised 7 boys and now have 11 grandchildren (half of whom live out of state), so they've got the works when it comes to kid stuff: bouncer chair, high chair, pack and play, car seats, toys, books, just about everything you could think of.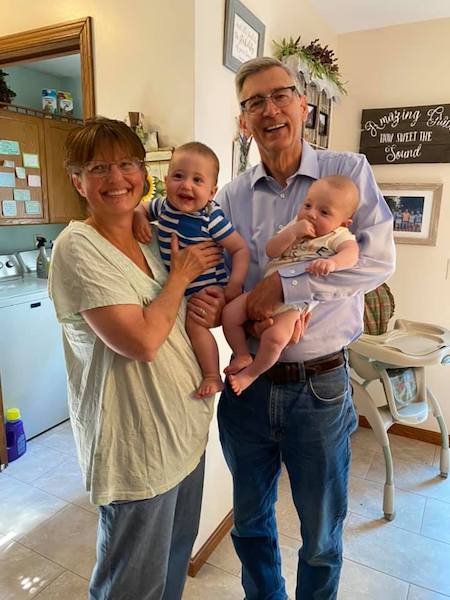 And my mom and dad were beyond thrilled when we announced we were bringing their first grandchild into the world last fall so they stocked up on the essentials–which for us are a pack and play and a stroller. Since we have to fly to visit my family in Florida, it's so nice for them to have the bigger bulkier items, especially now that our son is older and more mobile.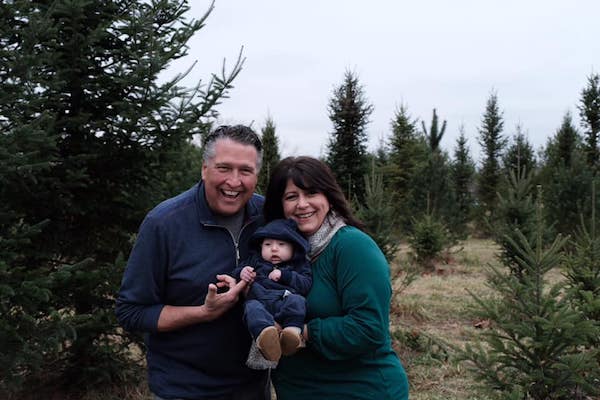 Maybe your parents or in laws live right down the street. Maybe you have to travel even further to visit family and consider packing even more of what you need. No matter what position you're in, our Real Moms and Grandmas are here to lend their expertise.
For Sleeping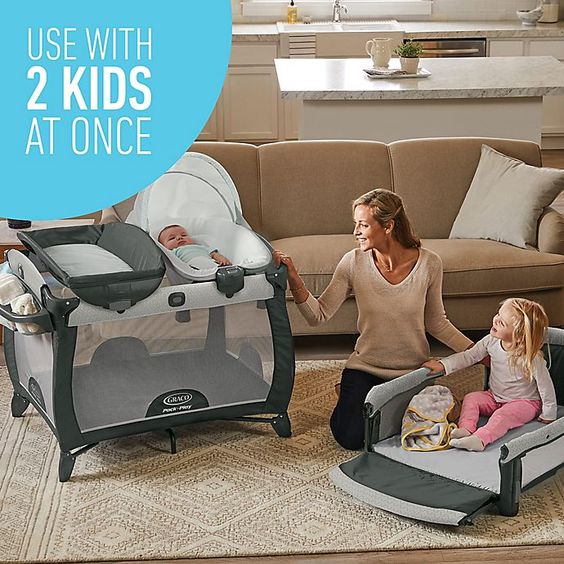 I've already mentioned this twice above, but a pack and play or travel bassinet was the top recommended item by our Real Moms and Grandmas. Even if it's just to lay them down for a nap, it's so nice to have a dedicated space for baby to sleep in when they're not at home. We especially love this one from Graco that takes those grandkids from newborn to toddler and can even accommodate two kids at once, using the bassinet and toddler bed attachments. And even though pack and plays do fold up and travel rather well, it's nice to not have to worry about packing another big item in the car.
Real Moms Kelly B., Brigitte F. and Sara H. all suggested grandparents get their own sound machine. While it's ideal to have one similar to the one you have at home since baby will be used to it, we never leave home without our travel sound machine. It's small enough to fit in the diaper bag and actually has a big clip to fit on the car seat or stroller if baby needs to take a nap on the go.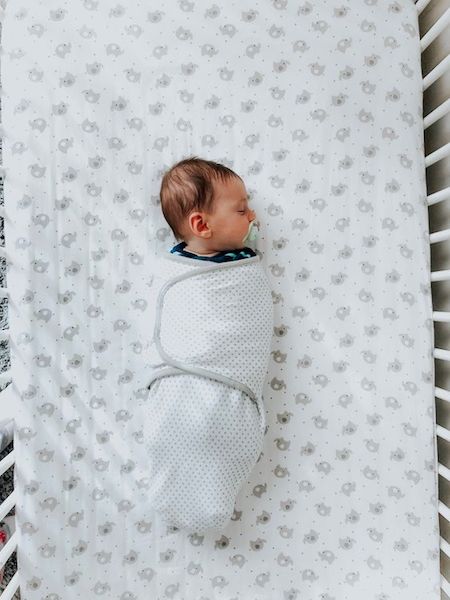 Real Mom Sara H. says while it's not a 100% necessity, it's so nice for grandparents to have an extra sleep sack at their house, especially when baby is little and needs to be swaddled to sleep.
For Changing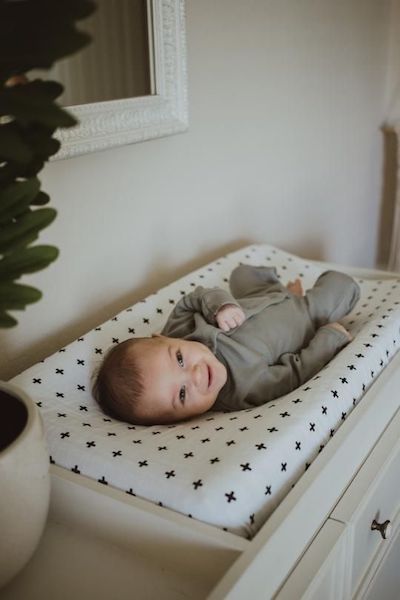 Real Mom and Grandma Becky M. says it's nice to have a changing pad or changing station at her house for when the grandkids come to visit. This one by SkipHop doesn't require a cover and is easy to wipe clean after any messes. For something more portable, we also love this SkipHop fold changing mat that is easy to store or slip out of sight when not in use. It also has space to hold a small container of wipes and a few diapers and still keep a slim profile.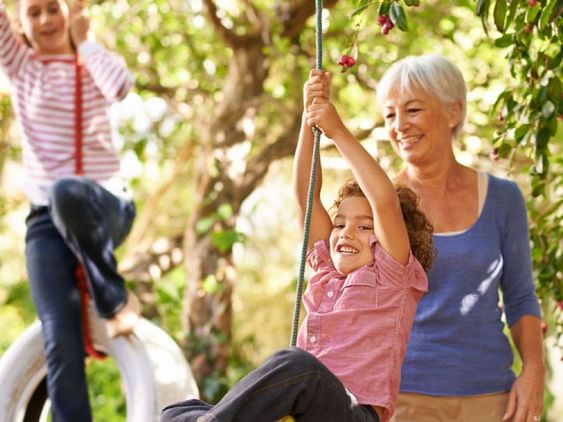 Real Mom and Grandma Sheila K. says she keeps a stash of older clothes that her grandsons can run around and get dirty in or ruin and still have a clean pair of clothes to go home in. My mother in law does the same thing. There is a huge supply of extra kid clothes and shoes for all the adventures that Grandma and Grandpa Moss take the big kids on–from wading through the creek in the backyard to running around their favorite neighborhood park. If you've got older grandkids, keep their clothes as hand-me-downs for the younger one as the years go by.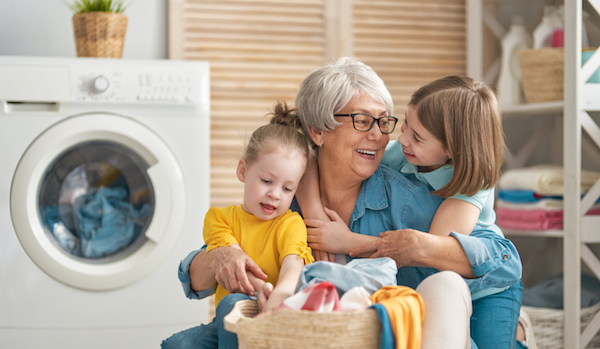 Something my mom always has (and Real Mom and Grandma Susan D. suggests it too) is baby detergent.  It's great for if the original set of clothes accidentally become play clothes or if baby has a blow out on the way over. (That happened on our last road trip to Florida and my mom saved the day!)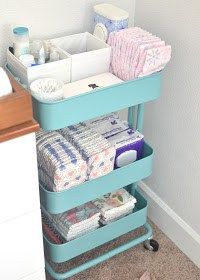 Just about every Real Mom and Grandma suggested grandparents keep diapers and wipes on hand. Consider creating a little changing station with the portable changing mat, diapers, wipes and a few changes of clothes and pajamas in a spare room if there's space. You just never know when an emergency is going to strike and this is especially nice if grandparents are planning to keep the kiddos overnight.
For Eating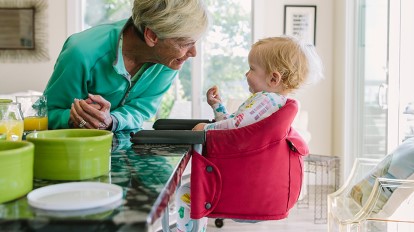 As my son has gotten older and especially as we've introduced self feeding for solid foods, I've realized that a high chair is essential no matter where we go. My mother in law always keeps one in her kitchen and it's so convenient to have right there.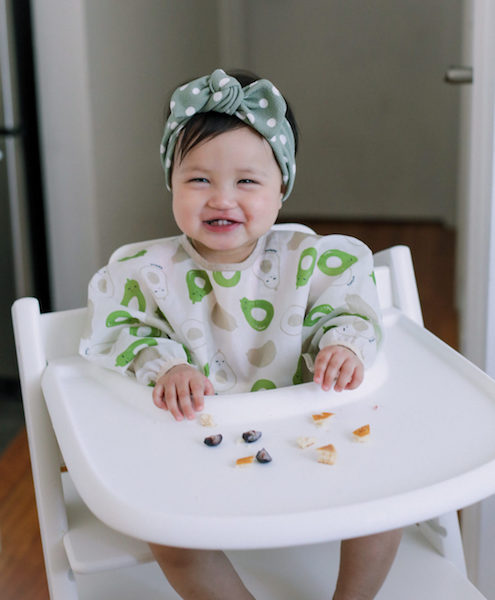 Real Mom Kelly B. says her mom keeps favorite baby snacks and finger foods in stock in her kitchen and suggests adding a plastic, wipeable bib to the grandparent kitchen.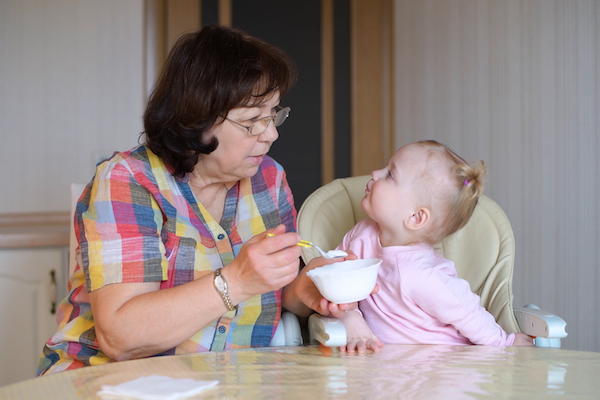 Real Mom and Grandma Cindy K. has plastic plates and sippy cups available for her grandkids to use when they're in need of a snack or drink.
For Playing
Real Mom and Grandma Cindy K. also likes to keep special toys at her house for her grandkids. Real Mom and Grandma Susan D. agrees. She has fort building blocks and foam swords always around for her four grandsons.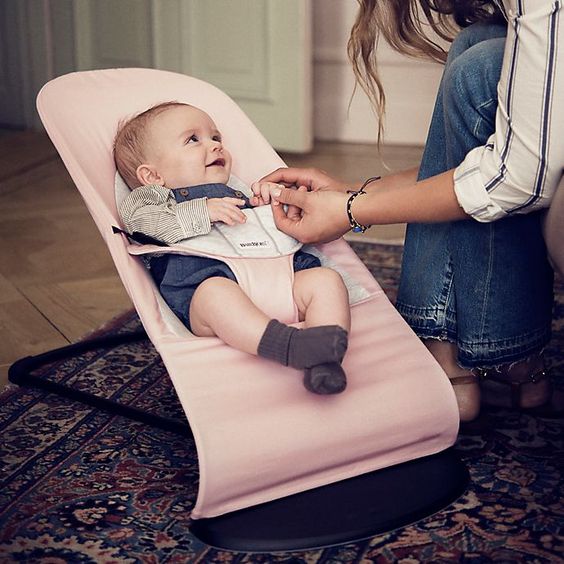 Real Mom Natalie M. says it's nice to have a place for baby to just sit and play at her mom's house. A bouncy seat (Real Mom Christina P. recommends the Baby Bjorn bouncer) or a walker is great for independent play, especially as baby gets a little older.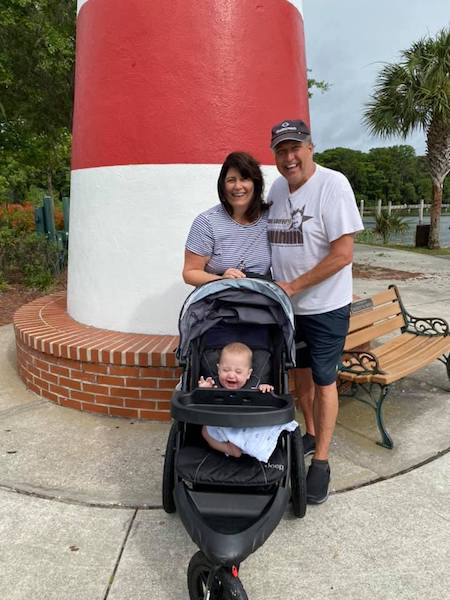 Real Mom and Grandma Donna B. has a stroller at her house so she can easily take her grandkids for walks through the neighborhood. Like I said earlier, I'm so glad my parents have a jogging stroller at their house so we don't have to fly with ours from Ohio to Florida. The bigger wheels make it perfect for trips to the beach when we're home too!
For Everything Else
"Essential: Grandma needs a shirt and pants that wash easily, a great sense of humor, and a huge pocket full of 20 second hugs. Oh, and a lot of good books and 21,357 boxes of Mac 'n' Cheese." Real Mom and Grandma, Judy S.
"Grandmas need to be prepared for anything!" Real Mom and Grandma, Donna F.
"[We want to] make life easy for the parents when we have grandkids so they don't have to bring the kitchen sink." Real Mom and Grandma, Susan M.
No matter what grandparents stock up on, grandmas agree the most essential thing is for grandkids to be able to come and stay stress free. With all the essentials in place, they're free to enjoy the hundreds of hours running around outside, building forts, playing dress up and snuggling up. And there truly is no more fun place for a kid than their grandparents' home!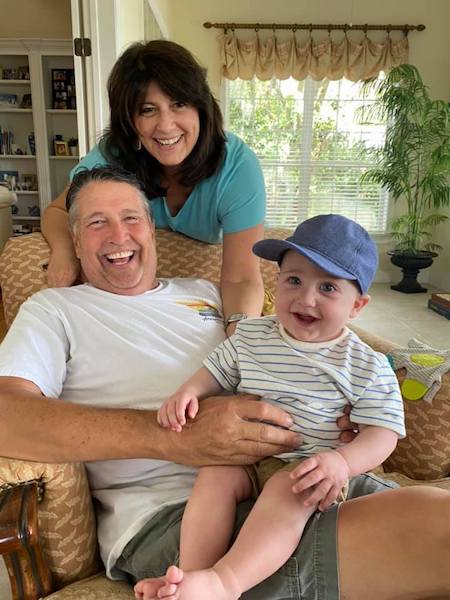 Want to add a few extra items to your registry so you can help your parents or in-laws get ready for grandbaby? You can do so right from your computer or phone if you've got a Buy Buy Baby registry. If you don't, it's just as simple to start one right where you are. We think what our Real Moms and Grandmas have suggested as grandparent essentials are also essential registry items for your own home so you can start by adding a few of the items listed above! Once it's all set, you can send your friends and family to find all your registries in one spot at RegistryFinder.com.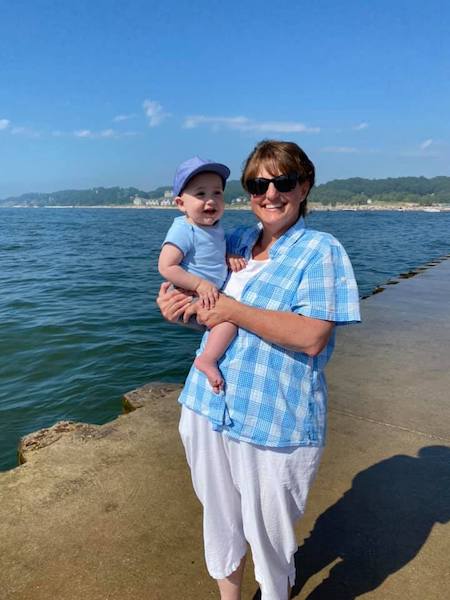 Loved the tips in this post? Our Real Moms are some of our favorite experts and we've got them answering more of your most asked questions over on our GiveIt Blog.