With hundreds of customizable designs to choose from, VistaPrint is your one-stop-shop shop for all your wedding printing needs!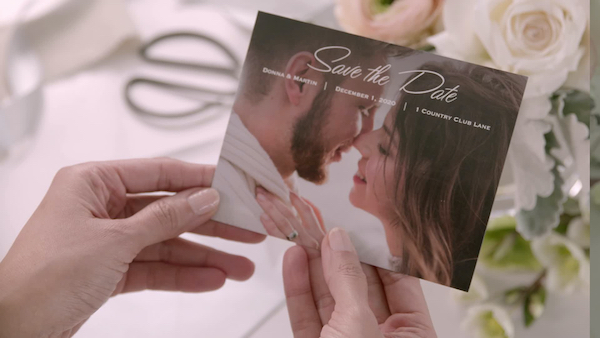 Once you've decided on a wedding date and locked in your venue, it's time to let your guests know what to expect with a save the date. A save the date isn't an actual wedding invitation — it's more of a heads up for guests to mark their calendars and literally save the date so they don't make any conflicting plans.
Save the dates are especially helpful when you're expecting any out-of-town guests who may need to consider travel and lodging accommodations on top of setting aside time for the actual wedding day. However, you can absolutely send out save the dates even if all your guests live nearby — there's no rule that says you can't.
Plus, who wouldn't want to gear up the excitement for their big day? We've partnered with our friends at VistaPrint to help make sense of the process, including a list of tips and general guidelines for creating and sending out your own save the dates. With hundreds of customizable templates to choose from on VistaPrint, you can set the tone for your wedding day through that first piece of mail.
Tip #1: Only send save the dates to wedding guests
This might be obvious to some, but save-the-dates can be a little confusing at first. While they're not a formal invitation to your wedding, they also aren't a general announcement. A save the date indicates to the recipient that they should expect an invitation in the coming months, and they'll plan accordingly, so don't send one to anybody who isn't on your guest list. Be sure to fine-tune and finalize your guest list before save the dates go out.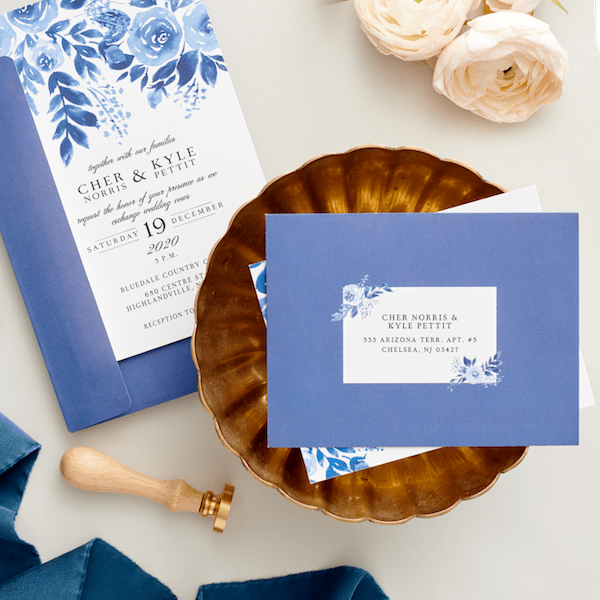 Tip #2: Address envelopes accordingly
Speaking of your guest list, it's good to be specific when you address save-the-date envelopes — especially for families with children. Whether you're inviting just the grown-ups of the family or intend to include the whole bunch, be sure you make that information clear as you address your envelopes. Include the names of each individual you expect to attend, so there's no confusion when your guests make their accommodation plans, then upload your guests' addresses in VistaPrint's editing studio for super-simple printing!
Tip #3: Mail out save the dates in a timely fashion
The point of a save the date is to give guests enough time to make necessary preparations to attend your wedding. For some guests, this might mean simply arranging a babysitter or car service; for others, it might require additional planning, such as making hotel or flight reservations. By sending out your save the dates four to six months before the big day, you're ensuring that more of your loved ones will be by your side.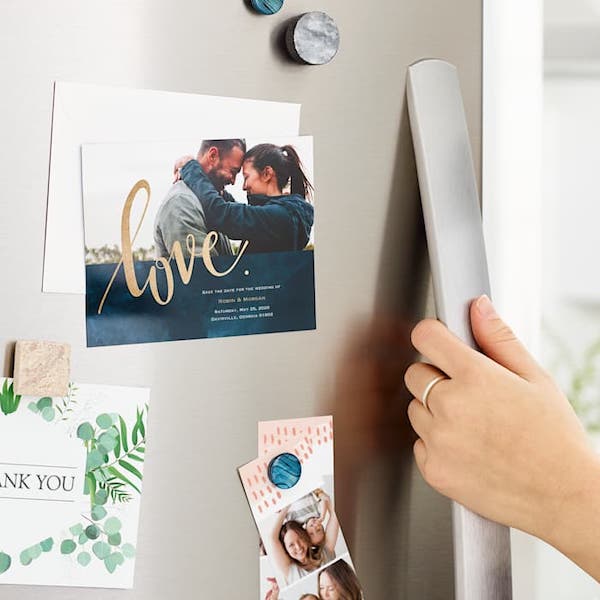 Tip #4: Pick a design that aligns with your wedding vision
VistaPrint's library of over 600 save-the-date designs (including magnetic options!) means you'll have no shortage of options to choose from once you start designing. Once you've selected a template, you can personalize every element from colors and fonts to all the wording on the page. You can even opt to use your own design or add a photo (or a few) to your save the dates, which means…
Tip #5: Plan a photo shoot ahead of time
If you're leaning toward one of VistaPrint's photo designs, it's a good idea to get a photo shoot on the calendar at least a month before you're planning on sending save the dates. Coordinate with your photographer to find out their editing turnaround time, and get your finished cards shipped from VistaPrint in as little as four business days. Just like tip #3, make sure that whatever you choose to wear for your photos lends itself to your wedding day theme and color scheme. If you're still unsure about an engagement shoot, check out this post!
Tip #6: Include all relevant information
Once it's time to input all your wedding day information, make sure you've got your ducks in a row, so guests know what to expect. Non-negotiables include your names, wedding date, and location (just the city/town, not the official venue). Many couples also add their wedding website where guests can find more details about local hotels, attractions, and your registry.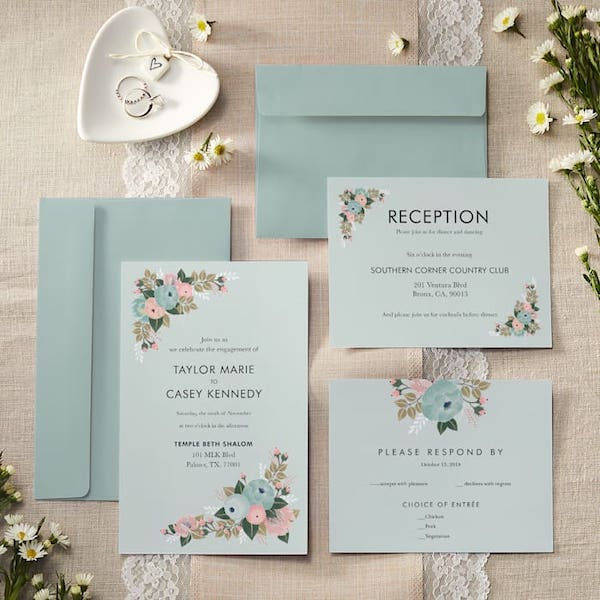 Tip #7: Use VistaPrint for all your wedding printing needs
The save the date is just the beginning of your wedding printing process. Remember, they're not official invitations, so be sure to browse VistaPrint's collection of wedding invitations, RSVP cards, reception cards, thank you cards, and any other paper goods you might need. Most design options come with a complimentary suite, so you can stay on theme no matter what you choose!
Easy, Elegant Design
While your engagement announcement sets the tone for you as a couple stepping into marriage, your save the date is a chance to introduce family and friends to your wedding style. With the help of VistaPrint, it's easy to design a save the date that reflects your love and your hopes for your big day. Plus, if you need advice or some help from one of VistaPrint's graphic design professionals, help is just a click away!