The season is almost upon us. You know the one: where you don't have to plan as many meals for your family during weekends in May and June because your schedule is filled to the brim with graduation party invites! Celebrating this milestone with friends and family is a rite of passage for high school seniors and today we want to make it even more fun!
Do you want your party to stand out from the crowd? Are you looking to mix it up when it comes to a party menu? We've got a few ideas that will bring life to your graduation party food ideas.  They're unique and fun to both put together and eat!
Breakfast
I've been to my fair share of graduation parties, but I've yet to go to one that centers around breakfast foods. It doesn't have to be a morning party to highlight everyone's favorite breakfast treats!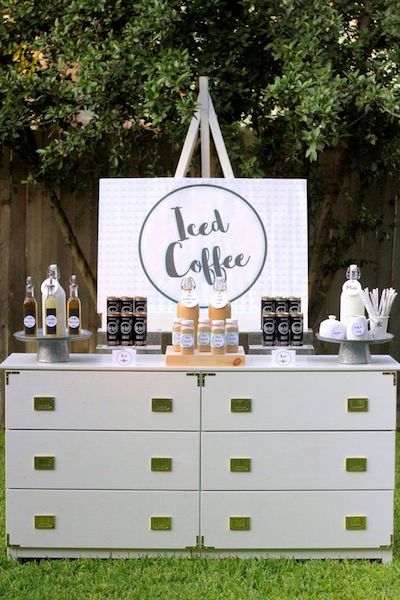 We all know that once your graduating senior heads off to college in the fall, they'll be living off of a steady diet of caffeine so why not celebrate with some?  Consider hiring a mobile coffee cart from your local coffee shop or hire your favorite barista to make handcrafted drinks for your guests. Or plan a DIY coffee bar with iced coffee, the grad's favorite syrups, and fun toppings.  We also love the idea of coffee punch to interest even the most caffeine adverse party goers. (There's ice cream involved!)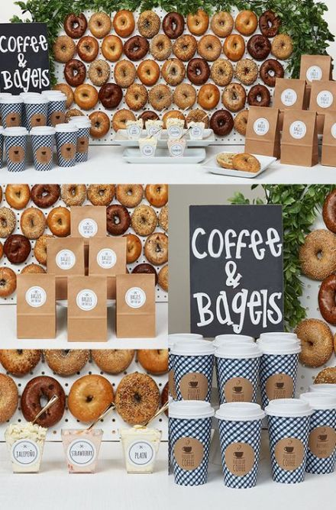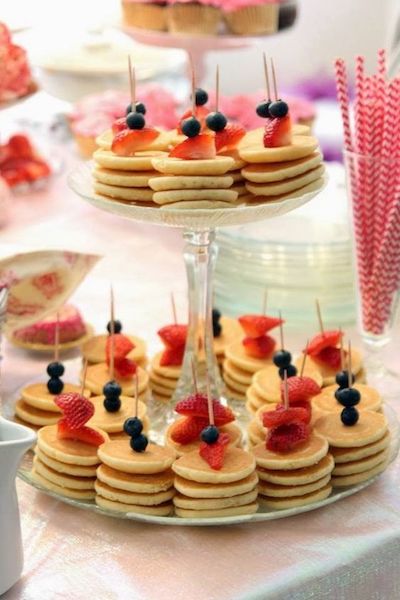 Once you've got a coffee setup, bring on all the breakfast goodies! You can go as simple or as complex as you want with this idea, which is why we love it so much. Cater in muffins and bagels from your favorite bakery and have a continental breakfast style party. Or make mini versions of your favorite hot breakfast foods, like pancakes.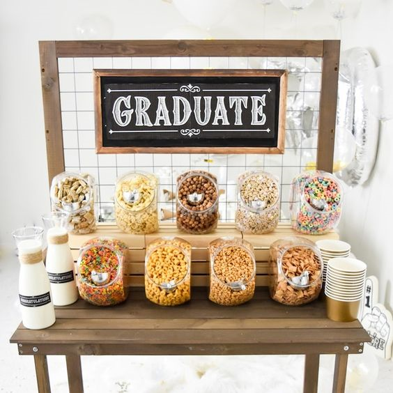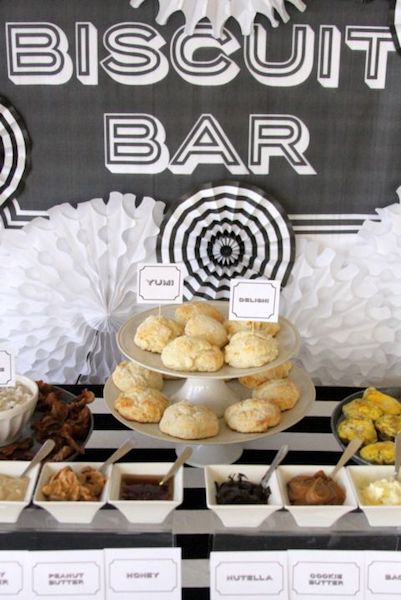 Take your breakfast party to the next level with a breakfast-themed food bar. Waffle bars, bagel bars, cereal bars, biscuit bars, and breakfast sandwich bars are on-trend and make it interactive and fun for guests. You supply the toppings and choices and they'll bring the creativity that's sure to stand out in a season full of grad parties!
Favorite Things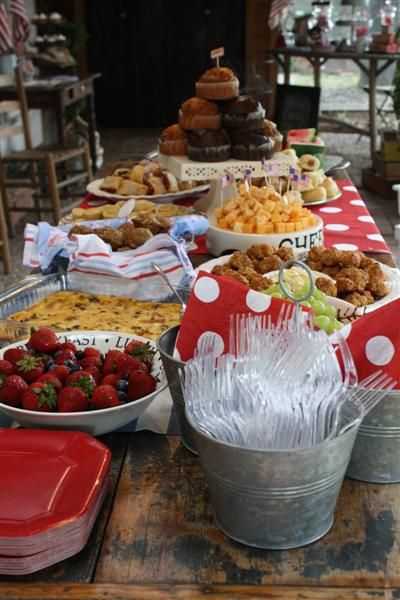 When my coworker's daughter graduated a few years ago, she threw a party full of her grad's favorite things.  That meant the menu included items like: Fruit Roll Ups, Starbursts, made to order french fries and walking tacos. Because her daughter is a fan of straight frosting, she even had "frosting shots" (frosting in little ketchup-sized cups) for her guests to enjoy. Celebrating your graduate should mean celebrating all of their favorites so this idea is a hit for us!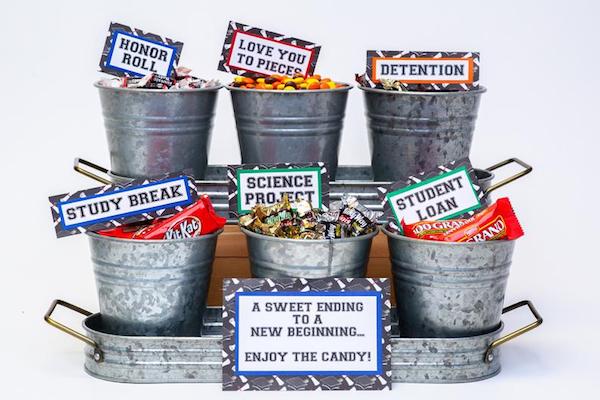 Include your grad in the menu planning, and be sure to say yes to all the fun foods…despite their lack of nutritional value. If you're not willing to let your teenager plan your entire menu, set up a "favorite things" table that showcases all of the grad's favorite candy or dessert. Provide take home bags so guests can fill up for the road as a fun favor. We love these graduation themed candy signs from Etsy seller, KDODesigns, to really add a flair to the candy table!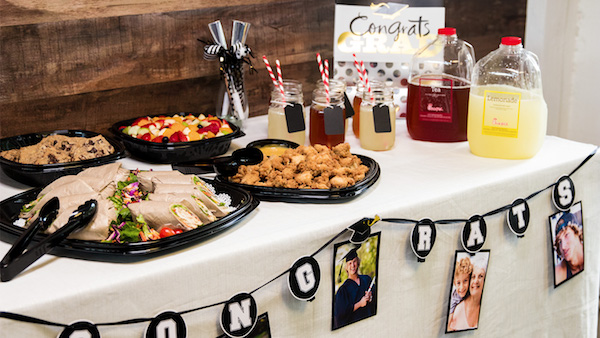 If it's in your budget, consider catering food from your grad's favorite restaurant. Who wouldn't love a Chipotle bar or Chick Fil A nuggets at a party?  Catering takes the pressure off of you so you can enjoy the day with your family and it's also a hit with guests!
Grazing Table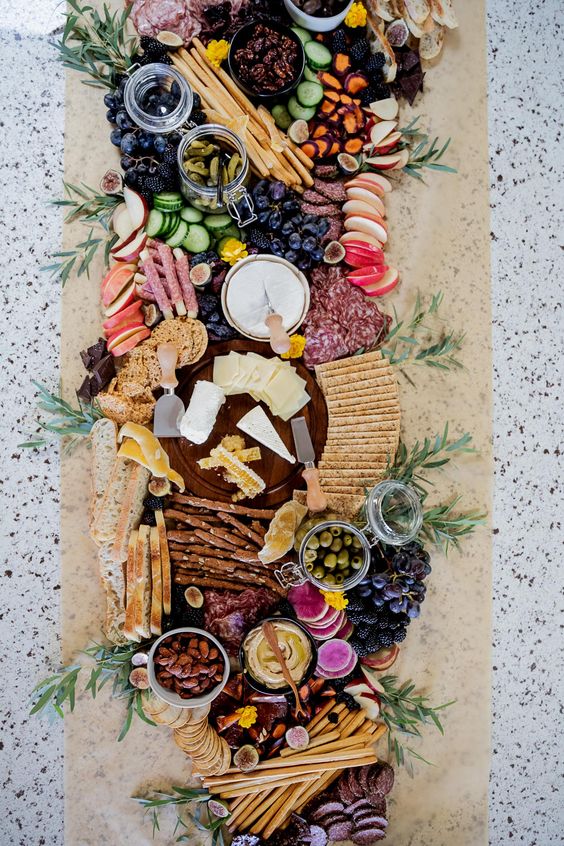 The grazing table is all the Pinterest rage these days and we are here for it. Not only is a grazing table beautiful, but the concept is so simple and requires minimal prep. Find a large table in your house, lay out some butcher paper or cellophane wrap and fill it up with any mix of delicious food. Don't want to commit to an entire table? Try laying out your ingredients on wooden cutting boards or large platters and scattering them throughout the party. It'll encourage guests to linger and chat and try a few new things!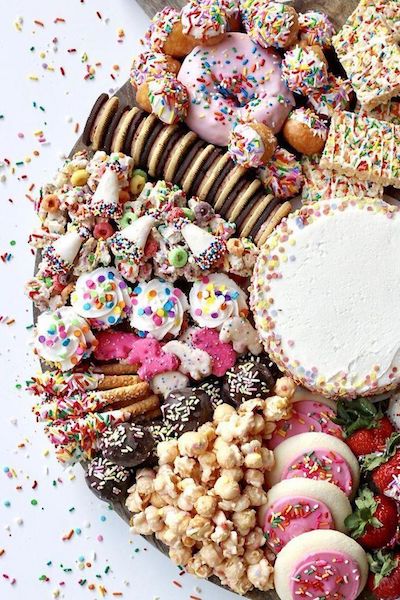 The best part of grazing tables is that they can take any shape you want them to.  Giant charcuterie table filled with meats, cheeses and nuts? Perfect! Table for dips and chips and breads? Amazing!  Desserts for days? Delicious. Any theme you choose will look great on a table filled to overflowing and as the centerpiece for your party.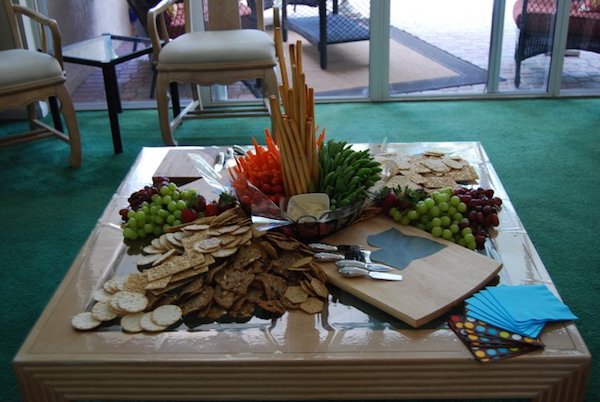 Before grazing tables became the trend they are today, my aunt made one for my graduation party. Hummus, vegetables and pita bread adorned our coffee table and made a beautiful centerpiece to my party day. That's another thing we love about the grazing table: focus on the foods you love and make them as big or as small as you want! They're versatile and striking!
Food Bars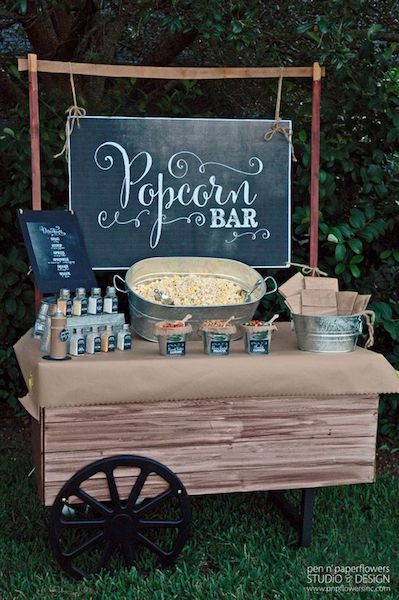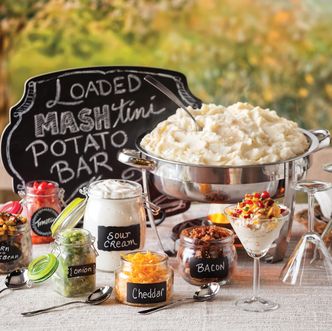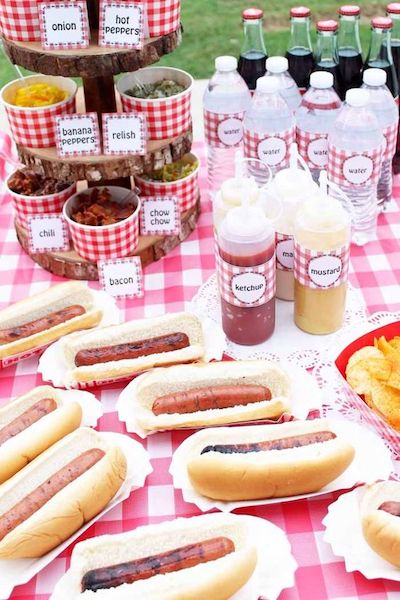 We're big fans of the food bar trend (like we've already revealed a bit in the breakfast category!).  Just like so many of the other ideas we've suggested, food bars are versatile and unique. Start with anything–popcorn, mac and cheese, hot dogs, chili, mashed potatoes–and then lay out the toppings for a fun spin on some grad party staples.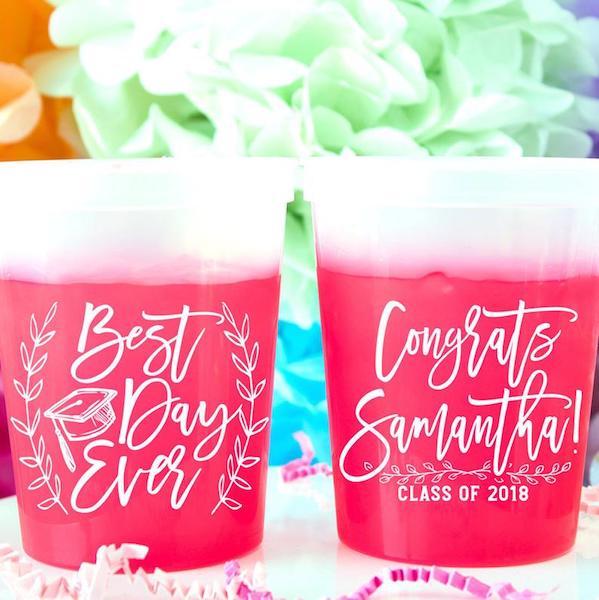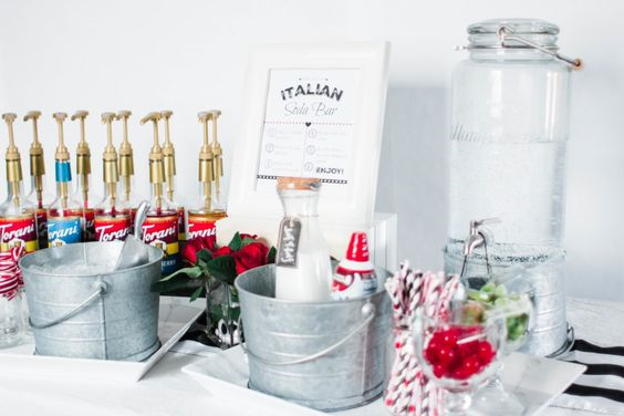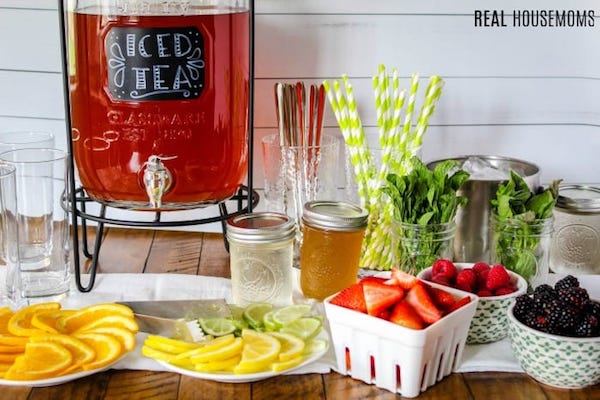 Want to simplify it even more? Choose a specific dessert bar, like cookies or root beer floats. Or a drink bar, like Italian sodas or iced tea. Serve them up in personalized stadium cups like these from Etsy seller, YippeeDaisy, so guests have a special take home too!
City Favorites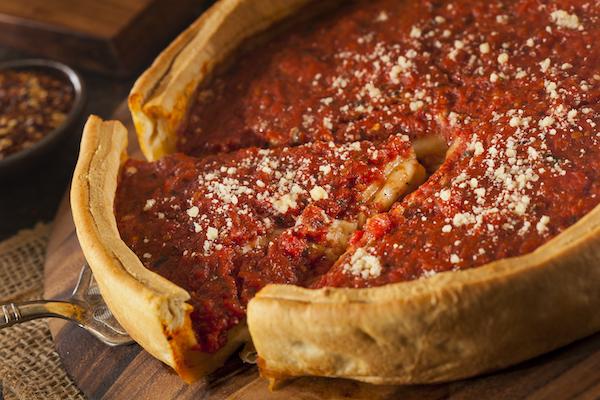 Is your grad off to a new and exciting city this fall? Celebrate their launch into a new place with foods from that city. Do some research and find out the local favorites of your grad's soon-to-be home away from home.  If it's Chicago, you'll want pizza. If it's Cincinnati, you'll want chili. If it's Nashville or Memphis, you'll want delicious barbecue. If it's Portland or Seattle, you'll want the best coffee. If it's Philadelphia, you'll want cheesesteaks.
More Graduation Party Ideas
Now you've got five great ideas for a graduation party menu, but where do you go from here?  We're so glad you asked! Our GiveIt Blog has tons of great resources and ideas for making your graduation party shine, from unique themes to great decor ideas to the gifts every grad wants this year. You'll even find ideas and lists for creating your dorm essentials checklist and your college registry!