We believe that every new baby should be celebrated and that baby showers are the perfect time for the expectant mom to relax and spend time with loved ones.
If you're pregnant with your second or third child, you're probably wondering, "Should I create a baby gift registry?" This is a hotly debated topic, and you ultimately have to make the decision that's best for you. If you're on the fence, we're going to do our best to convince you that you actually do need a baby registry for that 2nd or 3rd baby!
Without further ado, here are the top 5 reasons we think you should create a registry for your second or third baby:
There's a Big Gap
If there is a large gap between your youngest child and the new baby, this is the perfect time to create a new baby gift registry. Maybe you had previously gotten rid of all of your baby gear, thinking you wouldn't be having more children. Or maybe your stuff is worn out, old or outdated.
There's a Small Gap
Are your children going to be less than 2 years apart? Are you expecting twins this pregnancy? Now that you're going to have more than one baby in your home, you may need a few duplicates- car seat, crib, changing table and changing pad, waterproof mattress protectors, diaper pail, baby feeding and care items.
You're a Pro Now
You were a rookie the first time around. You thought you needed that wipes warmer, right? Well, now you're a pro and you've discovered a few items that would be helpful for this new baby. Put them on a registry!
Baby #2 or #3 is a Different Gender
Your first was a boy. Now you're having a girl. Maybe it's the other way around. Whatever the order, you need some pink or some blue things such as blankets, bedding, or nursery décor.
Updated Gear and Technology
The baby industry is always changing. Though you may not need the most up-to-date gadgets, occasionally there are new must-have items out there. Additionally, your child's safety is of utmost importance so always be sure that your gear is in good working condition!
Must-Have Items for Your 2nd or 3rd Baby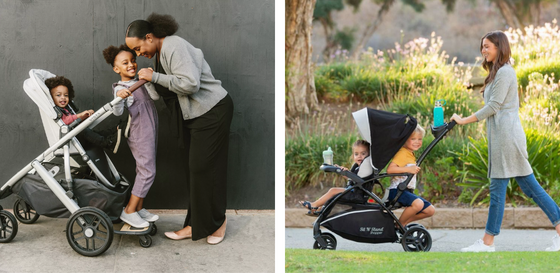 Double Stroller
It's nearly impossible to contain a toddler while pushing a new baby in a stroller. If your little ones are close in age, you'll need a double stroller. If you have an older child, and you want to give them a little fun and freedom while still keeping them close by, a sit 'n stand stroller or a ride-along board are fantastic options!
Splurge: UPPAbaby Vista V2 Stroller
Designed to accommodate your family's needs, the UPPAbaby VistaV2 allows you to choose from a variety of different seat and bassinet configurations and it carries up to 3 children. Already have a Vista? The PiggyBack Ride-Along Board is a great way for big bro or sis to go along for the ride!
Save: Baby Trend Sit 'N Stand Double Stroller
If you're looking for a double stroller (without the big price tag!) that easily accommodates any two kid combination from newborn to toddler, you'll love the Baby Trend Sit 'N Stand Double stroller.

Diaper Bag
My diaper bag had seen better days by the time I was expecting my third little love. It was my survival kit and it was time to find something new that would fit everything 3 young kids would need.
Splurge: Freshly Picked Convertible Classic Diaper Bag
Not every mom likes walking around with a diaper bag that looks like, well, a diaper bag. The Freshly Picked Classic Bag is a match made in heaven for the stylish mom who loves fashion, but needs function.
Save: Ruvalino Multifunction Diaper Bag Backpack
This bag has 4.8 stars and over 25,000 ratings! And after much research, I decided this was the bag for me! It's the perfect size to fit exactly all of the baby essentials AND things for my older kids- a very budget-friendly, yet stylish bag.

Baby Carrier

Chasing a toddler or doing household chores while trying to hold an infant is enough to drive any parent bananas! Needless to say, my baby carrier was a game-changer and allowed me to keep my newborn close while keeping my hands free.
Splurge: Ergobaby™ Omni 360 Cool Air Mesh Multi-Position Baby Carrier
A favorite of both moms and dads, the Ergobaby Omni 360 features a breathable mesh panel for airflow, grows with your child (up to 48 months old) and provides four ways to carry your precious baby, so you can carry on with your day!
Save: Infantino Flip 4-in-1 Convertible Carrier
With its adjustable seat and 4 ergonomic ways to carry your child, the Infantino Flip carrier is perfect for your infant or your toddler. With rave reviews from parents, it's a great affordable choice.

Bibs
I don't know about you, but after my kids use a bib for a few months, they're covered in impossible-to-get-out stains and "battle scars." New bibs were a must for each of my babies!
Splurge: Copper Pearl Bandana Bib
These adorable bandana bibs are more of an accessory than a feeding necessity. I'm not sure I'd want to get them stained with baby food, but they are perfect for everyday wear to catch all the drool from a teething baby. The Copper Pearl Collection features a wide variety of prints and colors so that baby can have one that matches every outfit!
Save: Tommee Tippee® Easi-Roll 2-Pack Bibs
Mealtime time messes are YUCK! Not with the Tommee Tippee Easi-Roll 2-pack. Made of silicone, these easy to clean, crumb catching bibs make meals much more enjoyable.

Nursing Tank Tops
If you're already covered on the baby gear, add something to the registry for yourself! Nursing tank tops are an essential part of a nursing mom's wardrobe and completely appropriate to add to your registry.
Splurge: Belly Brandit® Mother Tucker® Nursing Tank Top
This miracle in tank top may have a funny name, but it is seriously tucks your tummy in giving you a smooth silhouette, all while keeping the ladies easily accessible for nursing.
Save: bravado! BASICS Slimming Maternity and Nursing Cami
This nursing tank is slenderizing, functional and comfortable and keeps mommy feeling beautiful and baby feeling happy.
As I mentioned earlier, there are differing opinions about creating a baby gift registry for a 2nd or 3rd baby. When I was pregnant with my second child, I did create a baby registry (including many of the above items). However, the shower invitation did not include my registry information.
Instead, I gave the info to my baby shower host, mom and sister so that they could share it with guests. If you have other questions about a shower for a 2nd or 3rd baby, check out this article from the Huffington Post, written by our founder and etiquette expert, Cheryl Seidel. Whether you spread the word with an invitation insert or by word of mouth, please be sure to refer your guests to RegistryFinder.com!