Planning your honeymoon? How exciting! A honeymoon is easily one of the most memorable trips you'll ever take.
As exciting as it is, with so many enviable travel destinations in the world, it can be hard to decide where to go. If you need help narrowing down your options, browse our list of the top 2019 honeymoon destinations below. From Bali and Tuscany, to Greece, California wine country and more, one thing is for sure: you can't go wrong.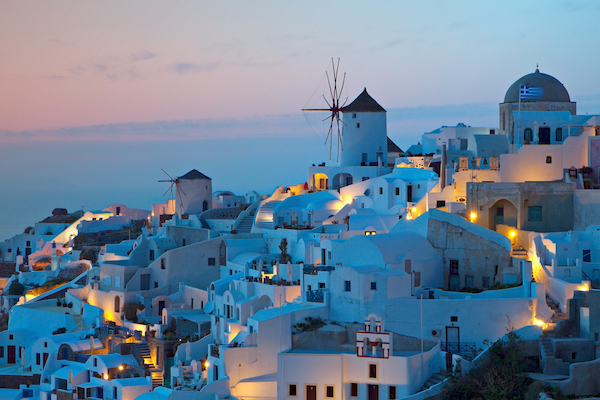 The Greek Isles
Picturesque white buildings. Cascading rocky cliffs. Sparkling, deep blue waters. Vibrant sunsets. Plates piled high with Kalamata olives, homemade feta cheese, warm pita bread paired with spicy hummus, succulent lamb gyros, fresh-caught seafood covered in flavorful olive oils and more. The Greek Isles are mesmerizing, and for couples who love a little sun, sea, history and culture—there's simply no better destination for a honeymoon. Head to Santorini, and spend your days riding donkeys to the clifftops, watching the sunset over the caldera, getting lost in the charming town of Fira, and taking in the views. In Andronis, pass the time swimming in cave-like pools you won't find anywhere else. On the lesser-known island of Folegandros, relax on white-sand beaches, which is further complemented by a dramatic backdrop of black, towering cliffs. And wherever you go, get to know the local people. Greece is a land of history, mythology, culture, family and beauty in every possible form; and the Greek people, who will treat you both as one of their own, are at the heart of it.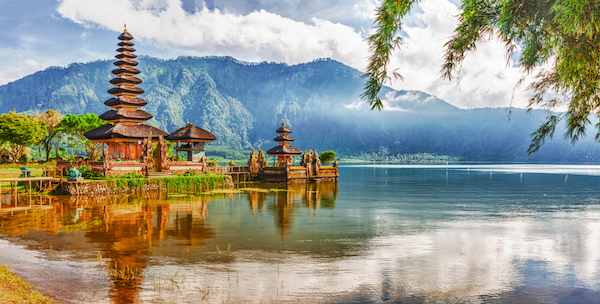 Bali, Indonesia
With its spiritual foundation, overgrown jungles, rich and diverse culture, hillside temples and diverse, magical landscapes—like serene beaches, wild waves perfect for surfing, dramatic volcanoes, towering peaks and endless rice fields—Bali is a haven for every couple. Its inherent spiritual nature (there are close to 10,000 temples!) makes it incredibly relaxing, while scuba diving, snorkeling, surfing and other water sports keep adventurers on their toes. If it's shopping you seek, browse the local shops in Seminyak. For nightlife, head to Kuta and Legian. If it's a beach escape you seek, let unspoiled landscapes with swaying palms and near-perfect waters entice you. Looking for accommodations? There's a little something for everyone, from low-key yoga retreats to luxurious properties, like the Four Seasons Resort Bali at Sayan, which puts you in Ubud, the island's spiritual core. In romantic Bali, you'll feel like the world belongs to just the two of you.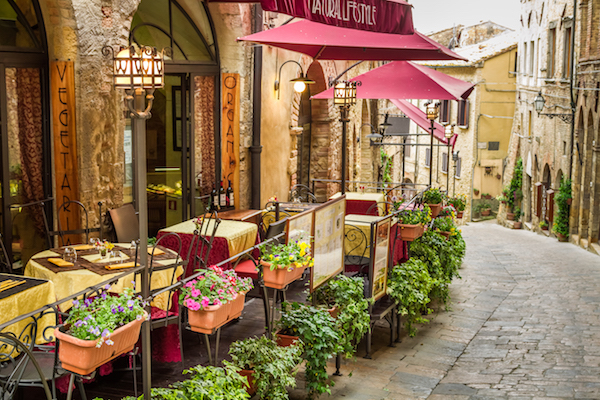 Italy
What could be more romantic than the land of romance? In Italy, catch a gondola and sail through the waterways of Venice, where you can take in charming views and the throngs of newlyweds eager to glean from the river town's mythical, romantic powers. Head to the verdant hills and dirt roads of Tuscany, where endless vineyards, cheese shops, farms and local bakeries set the stage for a weekend steeped in gastronomic indulgence—Italian wine included, of course. Head to Amalfi, the famed coastline known for its cliffside water views and secluded feel; or get the opposite in Rome, where you can immerse yourself in culture and history at the Colosseum, the Vatican, the Pantheon, Trevi Fountain, hundreds of cathedrals and more. Even on a bad day, Italy is easily one of the most whimsical countries on earth.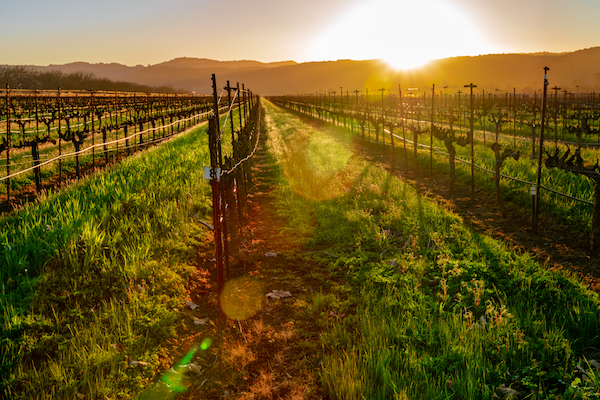 Sonoma, California
Historically considered "second" to famed Napa Valley, we would argue that today's Sonoma wine region deserves another look. While fancier, more high-brow Napa does have immaculate vineyards and food beyond compare, Sonoma—which is less than an hour south, might we add—does, too; and with it, a more "local" feel than its tourist-driven neighbor. The size of Rhode Island, in Sonoma, you can do anything. Spend your days hopping from vineyard to vineyard in the Russian River Valley, eating farm-to-table fare, going bike riding through vineyards, hitting the beach, going zip-lining in tree canopies, seeing music festivals and weekly live music shows, exploring San Francisco and so much more. Walk hand-in-hand with your love, sipping a chilled glass of Chardonnay, through its countless vineyards (don't miss the views at Hanzell Vineyards and Kendall Jackson!), and you'll need to pinch yourself to make sure it's real life.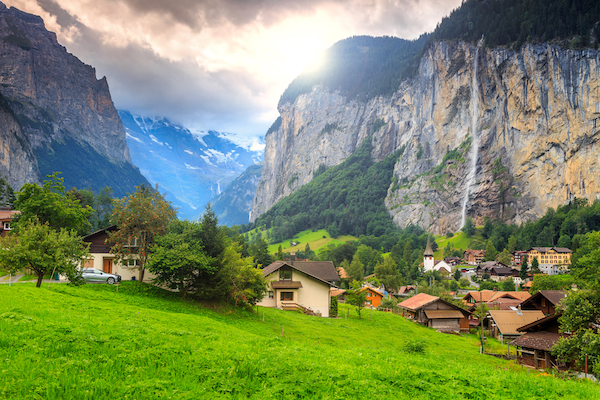 Interlaken, Switzerland
Interlaken can only be described in one word: magical. Straddling the glacier-fed Lake Thun and Lake Brienz—and capped by the snowy white peaks of Eiger, Mönch and Jungfraujoch, the latter of which is home to the highest train station in all of Europe—this part of the world is Mother Nature's backyard. Whether you go in winter or summer, there are a sea of activities to keep you entertained throughout your stay, like night sledding, mountain carting, zip-lining, biking, snowshoeing, skiing, snowboarding, winter kayaking, ice skating, hiking, paragliding, skydiving and more.
Not an adventurer? You don't have to be! If you're there in winter, grab a glass of Champagne and settle in to the apres-ski life, go shopping, buy a railway pass from Jungfrau Railways and explore nearby mountain towns (the pedestrian-only town of Wengen has picture-perfect views at every turn!) or take a helicopter to the top of Jungfraujoch, which towers 11,000+ feet above sea level, and find yourself knee-deep in the longest glacier in the alps. From its verdant valleys and clifftop waterfalls, to vats of raclette, fondue and piping-hot Gluhwein everywhere you turn, Interlaken is the dream-worthy escape couples never knew they needed.