There are pros and cons to being a 21st century, Pinterest and Instagram era bride. The pros are obvious: unending inspiration, DIY ideas galore and lots of friends to share in the fun with.
However, as you dig through your Instagram Explore tab or begin to seriously pin to your dream wedding board, you may find in you the deep desire to stand out from the crowd.
You've seen the barn wedding and the reception hall space and the grand church ceremony during so many summer wedding seasons, whether in person or digitally from afar. As a 2019 bride, you may want something more unique.
As you begin to scour local spots for ceremony and reception ideas, allow us to get your creativity brewing.
We've done our research and also crowdsourced some ideas from brides around the country to bring you our list of unique wedding venues.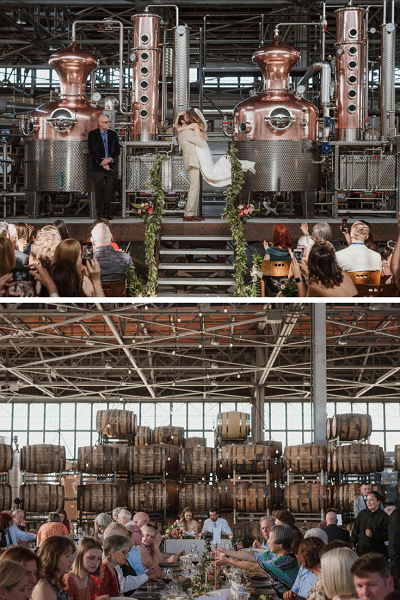 Venue #1: Distillery
If you or your groom loves craft beer, why not see if your local brewery hosts weddings? It's not uncommon and it's sure to please the guests on your lists.
Don't just think tanks and industrial looks, either, when considering a brewery wedding.
Some even have spaces like the one above that can be dressed up in lights and look like the perfect rustic backdrop for your big day.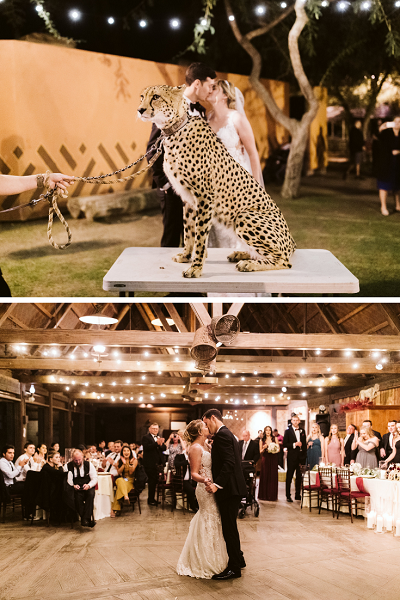 Venue #2: Zoo
It's bound to be a wild party when you plan your wedding at the zoo!
Most zoos have the capability to offer indoor and outdoor venues that can be decorated to your liking. My local zoo, Cincinnati Zoo, and Botanical Gardens, also has beautiful garden backdrops for ceremonies and receptions.
Plus, they can bring an animal or two to the party!
Imagine the fun you and your photographer will have posing for pictures with all your favorite animals!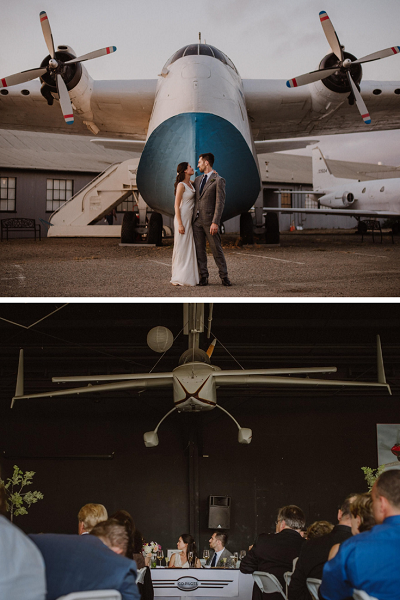 Venue #3: Airplane Hanger or Museum
For the travel and adventure loving couple, an airplane hanger may be the perfect wedding venue.
The options are endless: have your ceremony outside among the planes or transform the inside of the hanger with lights and draping to create a cozy and romantic space.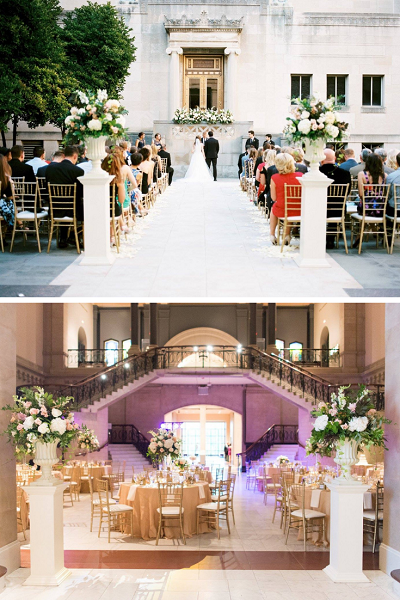 Venue #4: Art Museum
An art museum is the classic setting for a traditional wedding with a twist. Want the look and feel of a traditional church wedding while still feeling unique?
Check out the art museums in your town and get married amongst the greats.
They are usually another spot with endless options: gorgeous outdoor space for an outside ceremony and regal halls and lobbies for the perfect reception to end your day.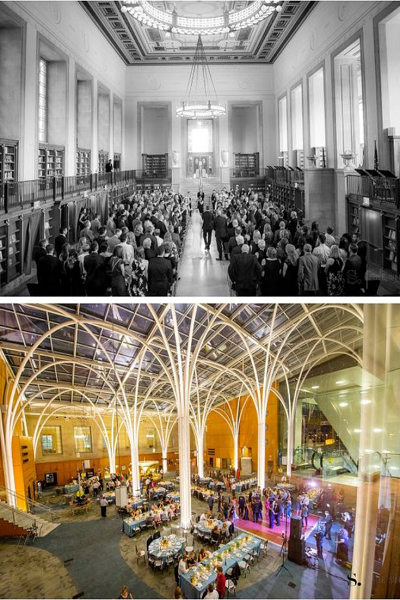 Venue #5: Library
In the same vein as art museums, public libraries offer the class and traditionalism of a typical wedding while wowing guests with a spot they never thought they'd be in to celebrate a marriage.
If you're a book lover, the theme opportunities abound and you can really play up the romances of classic literature throughout your wedding day.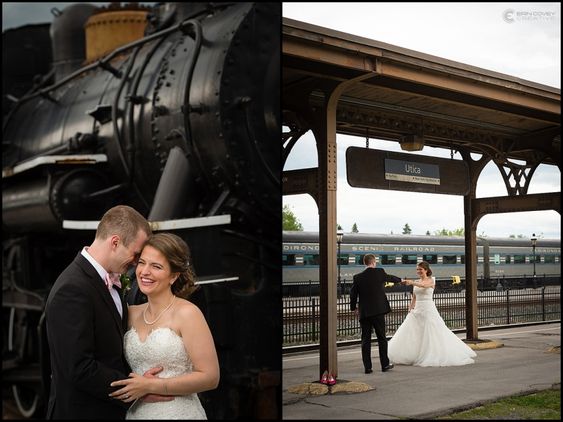 Venue #6: Train Station
All aboard for an awesome wedding at your nearest train station.
Play up the vintage undertones of train travel days gone by and work in pastel flowers, old passports, vintage suitcases and boarding cards.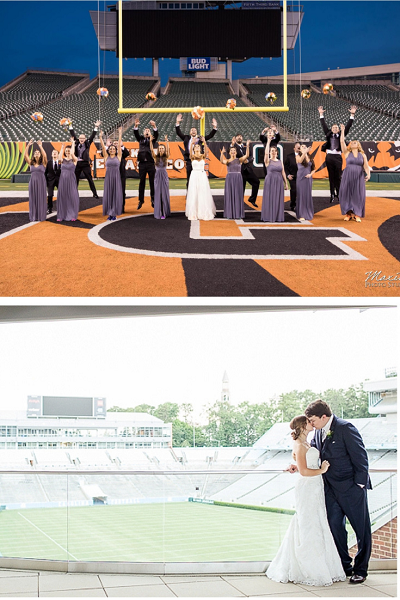 Venue #7: Stadium
Your sports-obsessed groom will be thrilled to celebrate his nuptials at a stadium!
The stadium in our hometown of Cincinnati offers banquet rooms that overlook the city's skyline as well as great views of the football field.
It combines fun and elegance in a way that perfectly will showcase both of your personalities.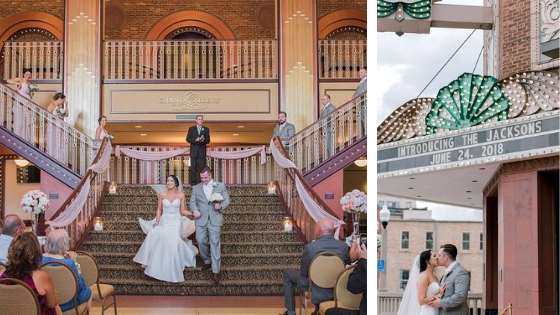 Venue #8: Theater
If sports aren't your thing, might we suggest a gorgeous ceremony and reception at a theater?
This sets the stage perfectly for an Old Hollywood or Gilded Age Glam theme wedding that can easily become black tie for guests who want to walk your red carpet in style.
Get married on the stage and then turn the room into the ultimate award show after party for your reception!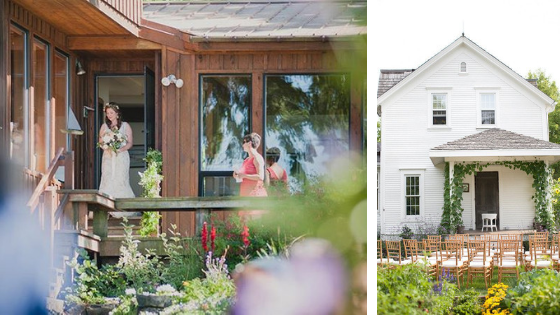 Venue #9: Childhood Home
Nothing will cue the waterworks faster in your wedding guests than a ceremony amidst the scape of your childhood home.
Rent a tent, set up chairs, book a caterer and watch as guests, who've known you for years, recount the memories that have been made in this very place where you're about to make your greatest memory.
It doesn't have to be fancy, but it will fit you and your groom in a beautiful and personal way and act as an amazing send off into the next chapter of your life together.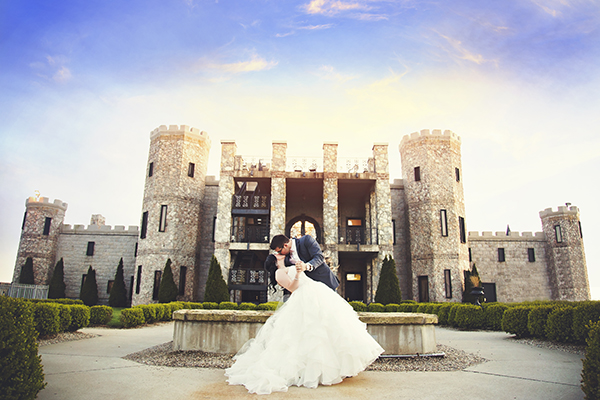 Venue #10: Castle
I mean, come on, what says romance more clearly than an age-old castle?
You'll feel like a princess in your favorite fairy tale on your wedding day when you choose this gorgeous backdrop for your wedding venue.
Consider an early fall wedding so you can have an outdoor ceremony amid the fall foliage.
Your Day is Sure to be a Memory You Hold Forever
No matter where you choose to begin your life together as husband and wife, your day is sure to be a memory you hold on to forever. May you always remember it as being surrounded by the love of people who know you best and may it be one that reflects both of you and your love story up until this point.
As you plan out your venue and your dress and your photographer, don't forget to begin your registry. For tips on where to start a registry and what to add to it, grab our Wedding Registry Checklist and check out our GiveIt Blog. When guests ask where you're registered, send them right to RegistryFinder.com where they can find all your registry information in one place.