Is it just me, or does anyone else do a little happy dance by the mailbox when they receive a gorgeously addressed envelope with a wedding invitation inside? There's nothing I love more than a beautiful wedding invitation and the anticipation of a joyful celebration!
Like any good wedding guest, I know my responsibilities: first, RSVP. Next, send a gift! Thankfully, it's easy to find where couples are registered, and once you've located the registry, all you have to do is choose a gift.
But wait.
That process isn't always as simple as it sounds!
We all want to "wow" the couple with our gift, but is it better to go with something practical?
Pricey?
Personalized?
And is it ever ok to "go rogue" and choose something the couple didn't register for?
That's where our Real Brides come in! Using Instagram, we polled around 40 brides (and a few grooms) to see which types of wedding gifts were their favorites–and we polled wedding guests too, just to see if their selection process lined up with what the couples loved.
Hopefully these results will help you the next time you find yourself scrolling through a wedding registry!
The Questions:
I started by polling the brides: were their favorite gifts the ones that get the most use, the ones that were the most expensive, or things they didn't register for, like sentimental gifts or gift cards?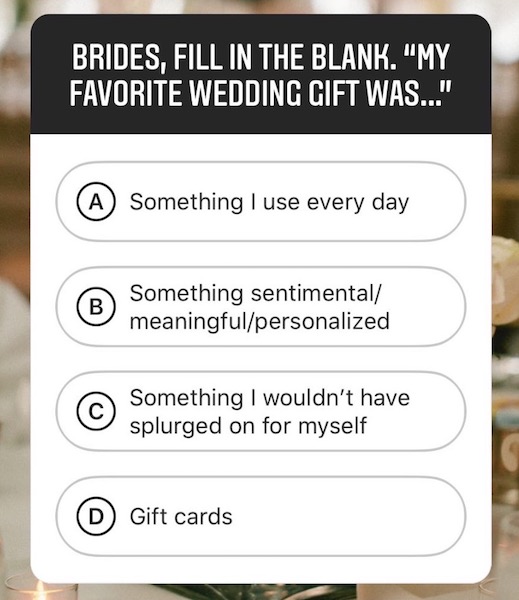 Then I turned to the guests. What makes an item something they "add to cart?" Is budget the determining factor, or do they look for an item they personally like and enjoy? Or do they ditch the registry altogether and go with something they find meaningful? Or, is a gift card the most convenient option?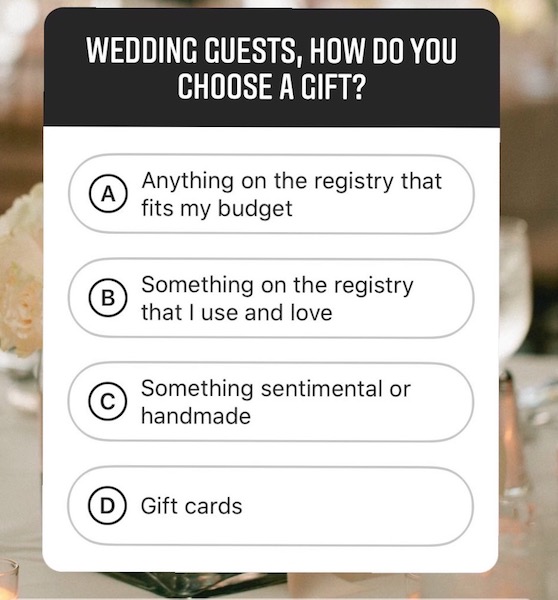 The Results:
Brides AND guests love practical gifts
30% of respondents chose the answer "something I use every day." While gift-givers might worry that some items don't look "gifty" enough (think: trash can, mop, pots), brides love receiving items that will get a lot of use.
And guests prefer to give a gift that they already use and enjoy! 60% of the guests we polled said they scan the registry for a product they already own.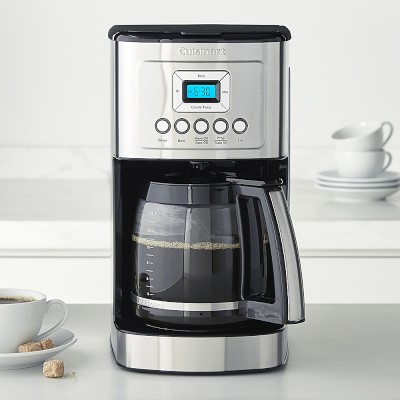 "I like to give couples their coffee maker–that way they think of me every morning!" -Andrew B.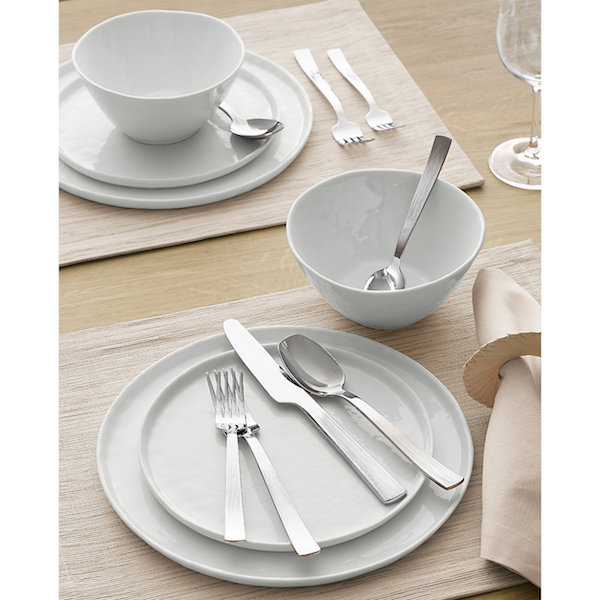 "My favorite gift is my plate set. 24 and a half years later, and I still love using them!" -Tania L.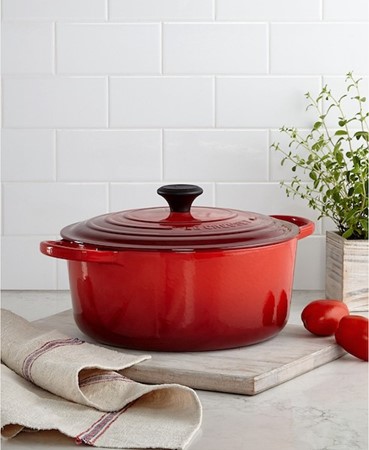 "Le Creuset Dutch oven! I love it and use it all the time!" -Toni A.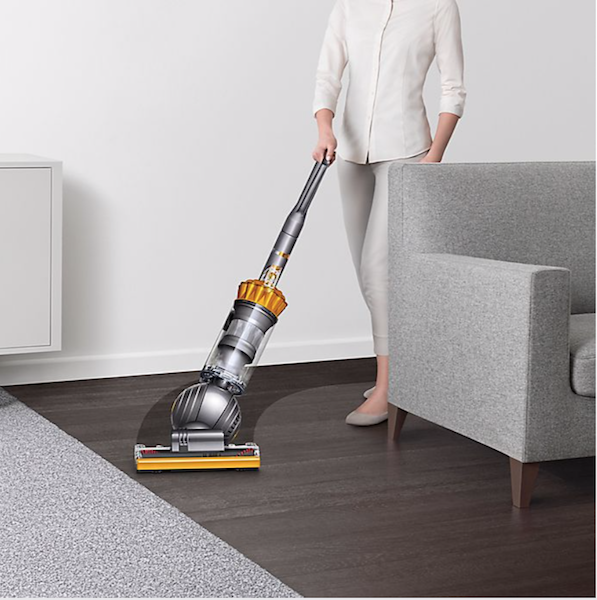 "My husband loves his Dyson vacuum!" -Rachel P.
Tied for first place: Splurges
27.5% of the guests we surveyed said that budget was their only determining factor in selecting a gift–and 30% of brides said they appreciate when guests use that budget to buy them something they might not splurge on for themselves!
Here a few of our brides' splurge-worthy favorites: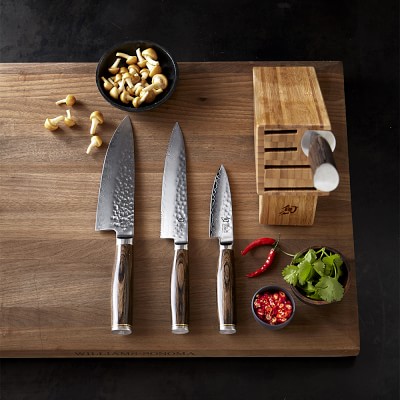 "My Shun Premier knives!" -Amber R.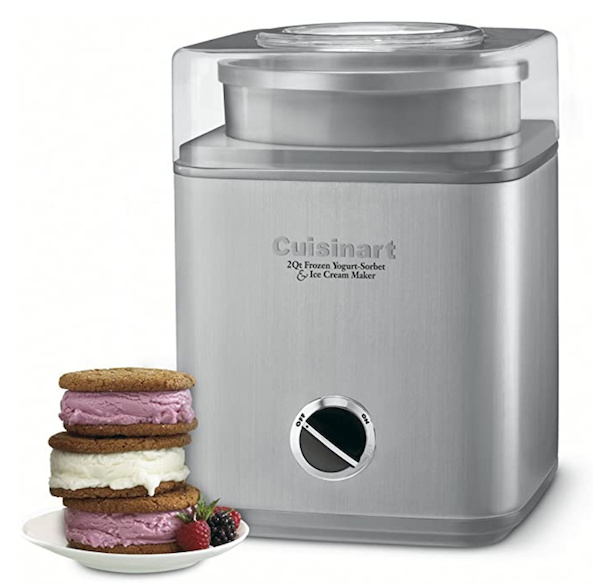 "Ice cream maker!" -Sarah K.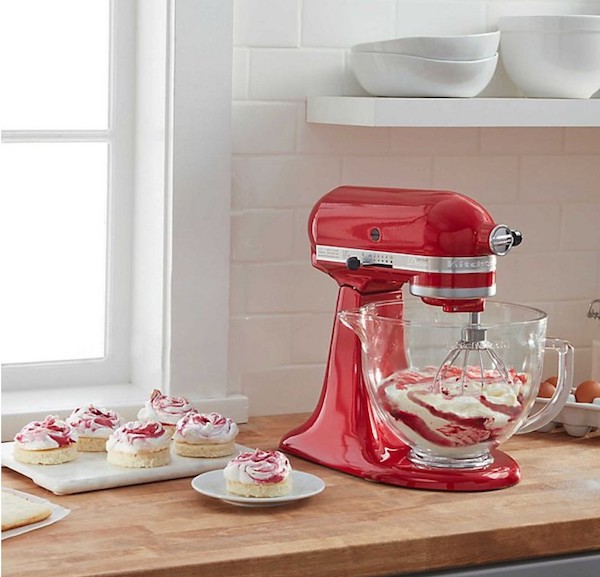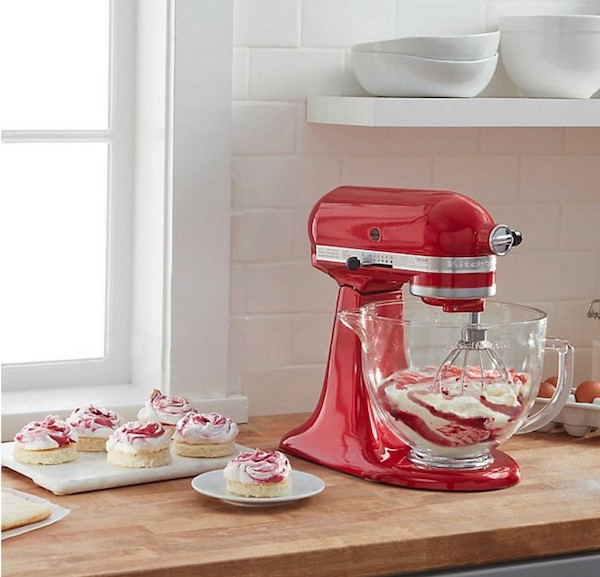 "My Kitchen Aid mixer! It's an item that's so pricey, but you will use it forever!" -Tiffany P.
"My expensive bed sheets!" -Katelin H.
Going Rogue: A Risk that's Sometimes Worth It!
Only 5% of guests said they give sentimental or handmade gifts, but 22.5% of our brides said their favorite gifts were sentimental, meaningful, or personalized (granted, they may have registered for gifts that were monogrammed).
The takeaway here: it's always safest to stick with the items on the registry, but the risk CAN be worth it if you stick to these rules for going rogue:
Only do it for couples you know very well, especially if it's a monogrammed or non-returnable item
Feel free to upgrade or tweak an existing item on the registry
If you are very passionate about a product you love, go for it–but it's best if that item can be returned later.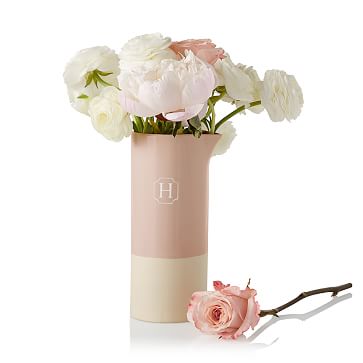 "A ceramic vase my cousin had personalized. It's beautiful and I loved having a decor piece." -Alyson R.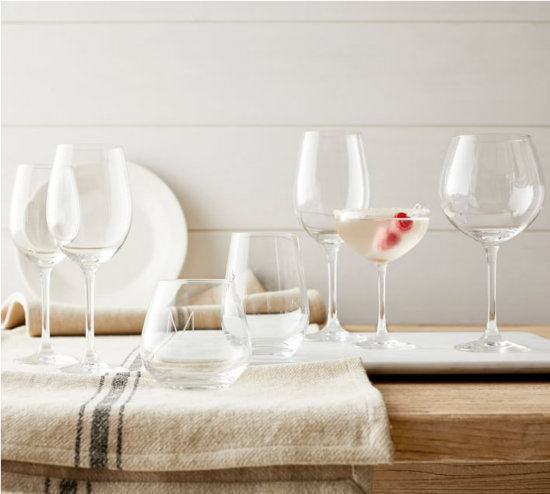 "We were gifted stemless wine glasses with a 'T' monogram and we use them all the time and love them. The funniest thing was that we didn't actually register for them (we had registered for regular wine glasses with a stem) but we are obsessed!" -Grace T.
Always an Option: Gift Cards
While 17.5% of brides like receiving gift cards, only 7.5% of guests say they like giving them–and I totally get that. Personally, I prefer giving a tangible gift I think the couple will enjoy, but I can rest assured that if I find myself giving a gift card or writing a check in a pinch, the couple will appreciate that too!
Make any Gift "The Best"
No matter what gift you choose to give, make it "the best" by including a meaningful note filled with your expressions of love and support for the newlyweds. And brides and grooms, be sure to write thank-you notes that convey your appreciation for not just the gift, but more importantly, the giver!
Looking for more registry tips and gift-giving etiquette? Be sure to subscribe to the GiveIt blog for weekly posts filled with gift ideas, party planning trends, and wedding-related advice! And as always, you can find all of your friends' registries by visiting RegistryFinder.com.