This week, we're shining a light on the couples reimagining their weddings due to COVID-19. How did they handle the unexpected turn of events on what was supposed to be their wedding day?
The RegistryFinder Team is all about celebrating, but these days, our focus has turned to offering support. As couples and their families grapple with the fallout of COVID-19, we want to provide a place where they can feel encouraged, uplifted, and supported!
Over the past few weeks, our team has given advice on re-scheduling your wedding and hosting a virtual bridal shower, and in today's edition of "Ask a Real Bride," we're creating a space for brides to share their personal wedding stories of how they've chosen to cope with the effects of coronavirus on their big day.
It's our hope that sharing their stories will help others facing the same circumstances, and strengthen our collective belief that love truly does conquer all!
Bella and Milen: Delaying their Destination Wedding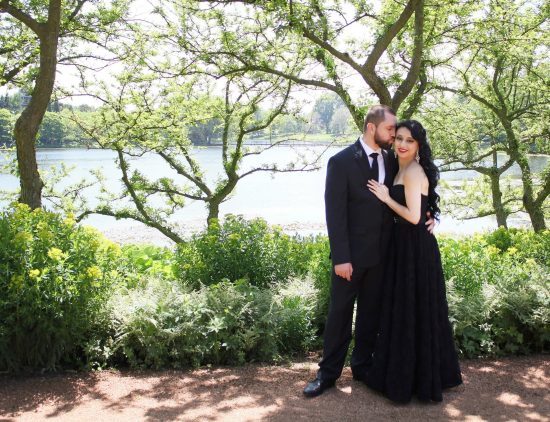 Their Story
We were scheduled to have our dream destination wedding in a castle in Italy on June 20, a date we had picked as the perfect day back in 2017 before we were even engaged. I found my dream dress, we designed gorgeous florals, picked the delicious menu, secured the best vendors—all the big things that are so excited about wedding planning. When COVID-19 emerged in China, I didn't even think it would end up impacting our wedding. Then it spread. When Italy was hit hard with an outbreak in the north, we became concerned. Not too much at first, because our venue is in Bracciano, a small town outside of Rome and considerably south of the Lombardy region.
As the situation worsened, our guests started to become worried. We really wanted to make this year work, but ultimately decided that the best decision for everyone's health and safety was to postpone one year out. We decided to go a full year because we still want a summer wedding, particularly in June. It was heartbreaking, but we knew it was the right thing to do.
We are now planning to get legally married in a small ceremony on our original date, somewhere around our hometown of Chicago. We will only include our parents and siblings if gathering restrictions are still tough, but extend the invite to a few other family members if it is safe to do so come June (we hope!).
We are now working on recreating a mini version our Italy ceremony—I still plan to wear my dress, have hair/makeup done, find a local florist who can recreate the bouquet that my Italy florist had mocked up, get my fiancé a boutonnière, possibly a small arch to stand under as we say our vows.
We found a photographer to document this Plan B ceremony, and we might get a small cake, etc. We still want this day to feel like a real wedding day, even if it isn't exactly how we imagined it would be. Our postponed date is exactly one year later, so it will be our redo wedding/one-year vow renewal.
Their Silver Lining
We get to have a small, intimate ceremony with our closest family members on our original date, AND the big, extravagant ceremony one year later with our extended family and friends. Best of both worlds.
Also, can any bride really complain about getting to be a bride two years in a row? Bonus: My fiancé now has no excuse not to learn how to dance for our first dance, since we have an extra 14 months before the big wedding.
Advice for Other Couples
I think every couple needs to weigh both the pros and cons before making the decision to postpone or not. Are you okay with having a much smaller guest list than you anticipated due to venue restrictions?
Are a significant number of your guests traveling to attend your wedding? Do you want to feel excitement leading up to your big day instead of stress on whether or not you will be able to have your wedding?
Once I knew my answers to these questions, the decision was obvious. As difficult as it is to make the decision to postpone, know that you will get your day, even if it's further away than you wanted. It's okay to be upset and angry, but you will eventually come to accept it because we have no control over the situation.
Kayley and Adam: Wedding Now, Vow Renewal Later!
Their Story
We made the decision to go ahead and postpone our wedding reception in June and get married with just our parents and siblings present on our original day! We decided that we didn't want people to be nervous to come and we want it to be a celebration!
Not a night of everyone standing 6 feet apart. We also decided that since we don't know when lockdown will end, we don't want to be scrambling to finish last minute details. We are sad all our loved ones can't watch us get married but really, we just are excited to get married! We will do a small ceremony again in December for them to see and are calling it our 6 month vow renewal.
Their Silver Lining
More time to finish the "last minute" details! And I think 2 weddings calls for 2 wedding bands (still trying to get Adam on board)!
Amanda and Kenny: A Small Wedding and Sweet Perspective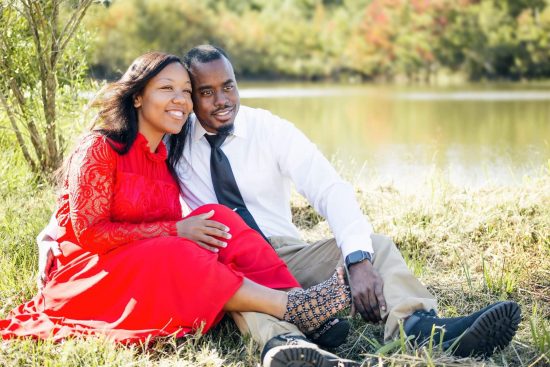 Their Story
We planned to have a big wedding surrounded by many family, friends, and coworkers. We instead had a small intimate ceremony with our parents and siblings. Several incredible and special people helped decorate and make it very special. It was beautiful!!
Once everything is clear, we'll have a reception to celebrate with the ones who weren't able to attend!!
Advice for Other Couples
If you decide to go ahead with the ceremony or decide to get married, it's okay to feel disappointed. But a wise person told me the most important people were present: me, my spouse, and God!!
They also told me that this is the best time to get married!! I have a life partner that will help me through one of the most challenging moments for our country! Imagine what an amazing story you'll get to share with your children and grandchildren!
Lisa and Kristopher: From Plan A to Plan D!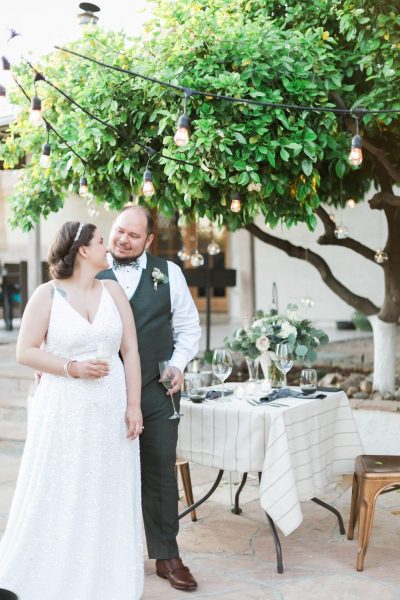 Their Story
After six incredibly stressful months finalizing wedding plans, we were finally set for our April 4th wedding. We had just finished making 130 jars of homemade marmalade and meyer lemon curd from our trees for wedding favors.
Then it hit: COVID-19 changed everything. We made the difficult decision to postpone our wedding on March 15th. That day was full of tears, frustration, back and forth, phone calls to parents, etc. We were devastated. Then I had a crazy idea to elope and within an hour we booked it: flights, hotel, and ceremony on Maui! We told our parents, who were hesitant and recommended back-up plans. Thank God we did!
Obviously Maui became just a dream and we moved on to plan C – Sedona. We live in Arizona and Sedona is the most beautiful part of the state; perfect, booked it! Nope, a few days later it was announced all restaurants are closed in the state, so what, would we go and pick up McDonald's after our ceremony?
So, sitting in the hammock in our backyard, on this incredible roller coaster of emotion, I looked at the citrus trees my (then) fiancé was picking, and I casually asked what he thought about getting married in the backyard? And after a few minutes looking at each other and around the yard, we had our PLAN D!
We asked our florist for a bouquet and boutonniere, which they ended providing to us out of the goodness of their hearts.
We scheduled our photographer for a mini session to cover the at home ceremony, and when our coordinator for our big day said she was ordained, we were set.
We reached out to a chef friend who had been laid off, and she was so excited to come over and prepare the most amazing wedding dinner for two!
We spruced up the yard, hung some string lights and hanging tealights in the trees, and grabbed some fabric from Hobby Lobby because we couldn't find a tablecloth. I ordered a dress from ASOS, Kristopher wore two of the pieces of his perfect wedding 3-piece suit, and it was magical.
We were able to share photos with family and friends the next day, but that night, it was just us, our love, and our commitments. To be honest, it was perfect.
Their Silver Lining
We get to have 2 weddings! We have decided that 04/04/20 will be our "marriage day", and 10/11/20 will be our wedding day. We get to have the best of both worlds, an intimate ceremony celebrating us and our love against all odds, and a huge celebration with family and friends.
Advice for Other Couples
I have a ton of advice.
1) Join a group. I joined a Facebook group called "four weddings and a virus" on a whim and it has been lifesaving. Everyone in your life will try to relate or console, but just like this pandemic, they haven't experienced these emotions before.
Find other brides! The camaraderie out there right now is amazing. DON'T JUDGE OTHERS; every bride/groom is on their own whirlwind ride, make your own decisions and support others in theirs.
2) Don't binge eat. I fell hard off the wedding body wagon and I am struggling to get back on for our postponed wedding.
3) Be as flexible as possible, and when you can't flex anymore ask for help. 4) It's okay to be sad. I stressed for so long preparing, planning, crafting for my wedding. I was devastated, and I think that is okay.
The weather was perfect for our backyard wedding, and that made me sad, and it's okay. My mother sent me handmade masks with my wedding card, and that was sad. But it's okay. Just as long as you don't stay sad. You have found the right partner to spend the rest of your life with – don't forget that.
Amanda and Chris: Backyard Bliss and a Car Parade!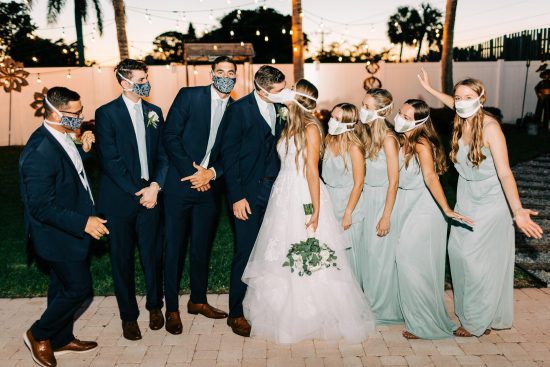 Their Story
Chris and I spent about a year and a half planning our wedding ceremony and reception. We anticipated celebrating our marriage with about 200 family members and friends on April 25th, but our plans drastically changed when COVID-19 arrived. With much thought and prayer we decided to move up our wedding date to April 3rd due to the uncertainty of everything.
So, in two weeks we planned a small backyard ceremony with our parents and bridal party (consisting of our siblings and two cousins). Even though it wasn't our original plan, we were still able to celebrate with others from afar by sharing the ceremony on Facebook live. Our friends and family surprised us with a car parade with people throwing rice out the sunroof, holding up congratulation signs and champagne flutes, and honking of course.
It was the most perfect day!
Their Silver Lining
The silver lining of all the chaos was that we still got married, and much earlier than planned! Also, the planning was a lot simpler for just having our family there. We didn't have to make extra decor or a seating chart.
Advice for Other Couples
Our advice for other couples going through the same situation is do what is best for you and at the end of the day you are still marrying your best friend!
Thank you, Real Brides!
In a world filled with difficult news, you've given us a reason to smile! If you are in a similar situation, we hope their stories fill you with hope and inspiration. And to reiterate one of our bride's wise words: don't be afraid to reach out and ask for help. Whether it's from your family, friends, or even an online community, you are not alone! If you'd like to share your story, fill out this form. It may just help others weather this storm.
On a Personal Note
And on a personal note, I had the privilege of participating in Chris and Amanda's car parade (Chris is my cousin, and I was the one drinking champagne–no surprises there!). As a family member who was looking forward to celebrating this special couple, tears filled my eyes as I waved from the passenger seat.
Tears of disappointment for the couple and our family who wouldn't get to celebrate them the way we imagined, but even more, tears of joy for this brave, lovely couple!
So brides and grooms, imagine me in my minivan, sipping champagne and raising a toast to your courage and your love story! We're all rooting for you! Cheers!
-Written by Christina Peterson, who in no way endorses champagne consumption in a moving vehicle.