The Pandemic has definitely changed the way we celebrate baby showers. But does that mean it's ok for the mom-to-be to host a virtual baby shower for herself?
Hi Cheryl-

My daughter lives in Florida with her hubby and their adorable, active 3-year old son. They are expecting their 2nd son in mid-October.

My daughter wants to have a virtual baby shower because she has no family living near her. I've never attended or participated in a virtual baby shower.

Besides playing baby shower games, how can her sister and I creatively assist her with the shower? I feel bad that my daughter is potentially going to host, decorate, etc., her own baby shower.

Of course, these are the times- especially when friends and family live in other states, and COVID is alive and well. Any suggestions would be welcome. Please help!

An Old Fashion Mom,

Ayesha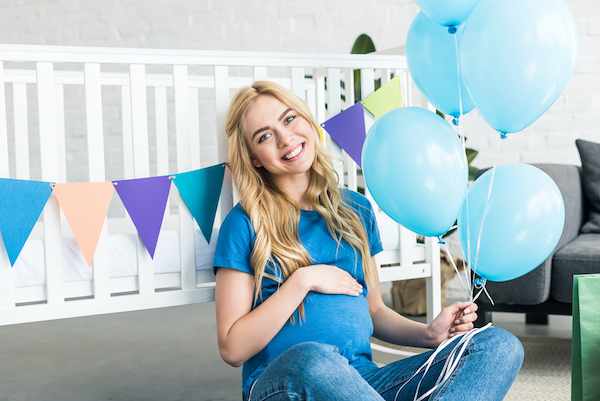 Hi Ayesha,
These are indeed confusing times. During the height of Covid distancing, many people had virtual baby showers because gatherings were very restricted. Plus, everyone wants to be careful with a pregnant mom and not expose her to Covid.
Usually, a baby shower is hosted by friends or family that live near the expectant parents. But now that we have become accustomed to virtual meetings, that may be changing.
I agree with you that your daughter should not host her own baby shower. That is one etiquette rule that should not be broken. Traditionally, an aunt, cousin, or friend hosts a baby shower; and etiquette considered the mama-to-be's mother too close a relative to be the host. However, that "rule" has loosened, and it's now common for a mother or sister to host.
From reading your email, it sounds like your daughter wants you and her sister to plan the virtual baby shower, and that would be fine.
We have some very helpful tips and ideas for planning a virtual baby shower on our blog. One specifically titled, How to Host a Virtual Baby Shower, along with Our Favorite Virtual Baby Shower Games.
Virtual showers are obviously quite different from in-person showers, but like any "party," take some thought and pre-planning, especially if you want to have gifts opened during the virtual time together. But they are fun because at least loved ones can see and talk to each other.
Make a plan with your daughters to divide the responsibilities. The mom-to-be should probably only have the responsibility of decorating her background. You or another co-host should be responsible for everything else, most specifically sending the invitations. Email invitations are perfectly acceptable for a virtual baby shower.
I hope our blog articles are helpful and you have a lovely virtual event!
---
If you have questions or comments about gift giving or wedding etiquette, please comment below or email [email protected].
Emails in this column are received from readers. Emails may be edited for spelling and grammar, or to remove sensitive information, however, we are careful not to alter the intent or content of the question.