When you create your wedding registry, you're also creating a vision for the life you plan to live together. For those who have a sense of adventure and love the outdoors, the traditional gifts of china and crystal might not match the vision of the everyday life you would like to create with your future spouse.
And, that's okay.
There's a whole world of registries beyond houseware and table linens out there. And an adventurous life together starts with an adventurous wedding registry.
You can expand your wedding registry list to include less traditional items—from outdoor gear, sports equipment, and barbecues to the latest outdoor technologies.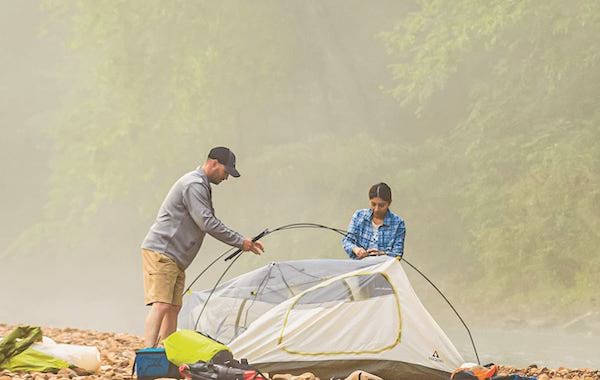 What should you include in your adventurous wedding registry?
Everyone's #RelationshipGoals are different. Sit down with your soon-to-be spouse and ask yourselves a few questions, starting with what big adventures you both see for your future, working your way down to ways you can honor your time together daily in small adventurous ways.
Here are a few questions to think about:
What are the big adventures you see for yourself as a couple in the future?
What are the small adventures you see for yourself as a couple in the future?
What are the day-to-day (or typical weekend) activities you currently love to do together or would love to do if you had the right equipment/gear?
| | | |
| --- | --- | --- |
| BIG ADVENTURES | SMALL ADVENTURES | DAILY ACTIVITIES |
| Visiting each of the U.S. National Parks | Running a marathon together | Biking or hiking |
| Climbing Mount Kilimanjaro | Skiing/Snowboarding | Outdoor patio grilling |
| Sailing the Greek Islands | Paddleboarding in the ocean | Playing outdoor games |
| Floating in the Dead Sea | Camping under the stars | Splashing in the pool, lake, or ocean |
| Chasing the Northern Lights | Kayaking in the river | Birdwatching out the kitchen window |
| Going on a Safari | Boating/fishing in the lake | Watching the sunset while sitting by the outdoor firepit |
Next, categorize and list the items that you could add to your wedding registry for the adventures you have planned. Make sure that you list activities and items that you would enjoy together.
Your registry should include items that:
Reflect your relationship
Reflect your lifestyle
Are made to last
Make your life easier
Help you create new memories for years to come
Once you have your list mapped out, it's time to add some adventurous items to your wedding registry.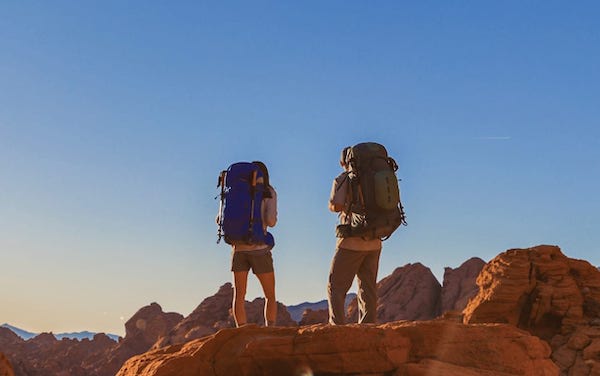 Where should you create your adventurous wedding registry?
Two stores are top of mind when thinking of outdoor adventures: Cabela's and Bass Pro Shops.
Both offer a complete list of unique items for outdoor lovers of fishing, camping, boating, grilling, and adventure seekers.
Since the two companies united, they've merged the "best of the best" shopping experience for all outdoor enthusiasts.
This means more selection as the companies together represent the best in fishing with Bass Pro Shops, the best in hunting with Cabela's, and the best in boating with Tracker Boats and White River Marine brands.
And thanks to their partnership with MyRegistry, you now have a one-stop-shop for creating a wedding registry as unique as your relationship.
MyRegistry's Univeral Wedding Registry allows you to sync all your store registries onto one beautiful gift list.
You even have the option to add cash gift funds for experiences, travel, and more (hello, honeymoon)!
Wedding Registry Perks
Who doesn't love perks? Am I right?
Here are just a few perks that are included when you create a wedding registry for Cabela's or Bass Pro Shops with MyRegistry.
The app
You can manage your registry and wish list on your smartphone with the app. This allows you to efficiently add gifts, track thank-you notes and more.
Shop from anywhere
Gift-givers can shop online, on the mobile app, over the phone, or in-store.
Gift delivery
Cabela's and Bass Pro Shops offer free 2-day delivery and curbside pickup so that you can start your next adventure your way.
Sharing is caring
With a Universal Wedding Registry, everyone benefits. Couples share exactly what they want, and gift-givers have the convenience of a single, shoppable destination. Once a universal registry has been created, it can easily be shared with friends and family via eCard, customized URL, or social media.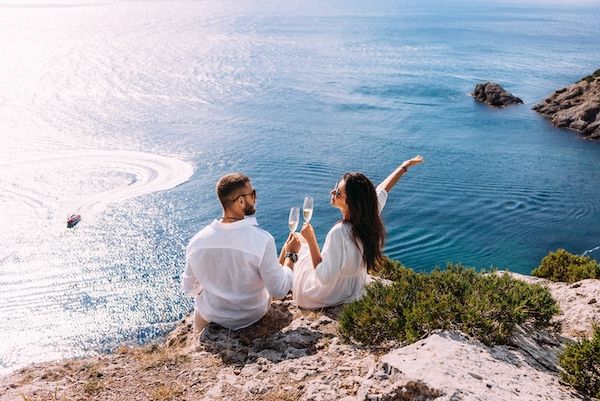 Cheers to your adventurous life
Remember, your wedding registry should include items that will support the life you plan to share together.
For even more wedding registry ideas from Cabela's and Bass Pro Shops be sure to read our blog posts: 14 Wedding Gifts to Fuel Your Adventurous Side and Gifts We Love for the Outdoor Enthusiast.