Brides tell me all the time that they feel their to-do list is never-ending. From the guest list to the song list, brides seem overwhelmed with planning the details of their big day, which leads me to wonder: is there anything couples can skip?
Save the Dates: Send or Skip?
When I was engaged, I decided to skip save the dates–which seemed very odd to my mother-in-law-to-be. I saw it as an "extra" we could cut out of the budget, but to her, it was a beloved tradition. Nine years later, we've moved past the issue, but I still think about it every time I receive a save the date. This piece of correspondence lands in a "gray area" of wedding etiquette: they aren't required, and there are no hard and fast rules about them. So what considerations should guide a bride's decision for whether or not to send a save the date?
Advice from Real Brides (and Guests!)
Our real brides are here with answers! I polled around 50 brides and wedding guests for their perspective on save the dates. Hopefully their answers will help you decide if a save the date is something you should send or can skip!
The Survey Says: Save the Dates are Popular!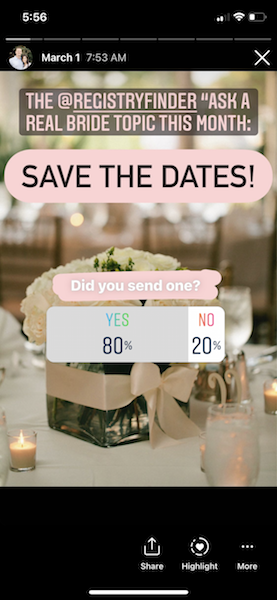 My Instagram research reveals that 80% of couples sent a save the date for their weddings, so if you decide to send one, you'll be in good company!
So why are so many couples deciding to send them? Our next question reveals the answer!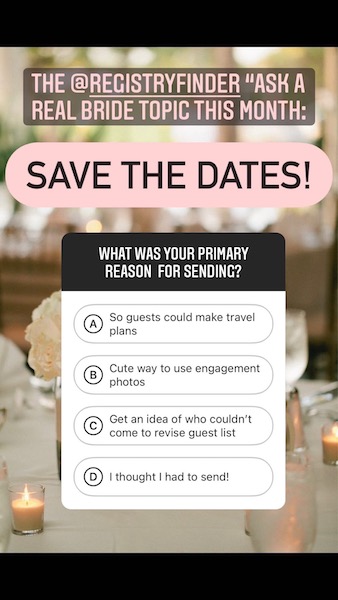 The winner: "A"
78% of brides sent a save the date so that guests could make travel arrangements. If you're having a destination wedding, or inviting lots of out-of-town guests, a save the date is incredibly helpful.
16% of brides said the save the dates were a fun way to use their engagement photos–a good point, as you spend a lot of time and money capturing those images, and it's fun to share them!
"C," received just 2% of the vote–if you're thinking that a save the date might help you revise the guest list, think again (more on that later!)
Other reasons for sending:
A few brides messaged me directly with a few more motivations for sending save the dates: getting married on a weekday and having a long engagement!
"So people could literally save the date–we got married on a Friday!" –Jess W.
"We had a year and a half engagement and we didn't want people to forget, so we sent a magnet save the date!" –Nikki M.
"Our engagement was going to be over a year and family kept asking for the date!" –Alyson R.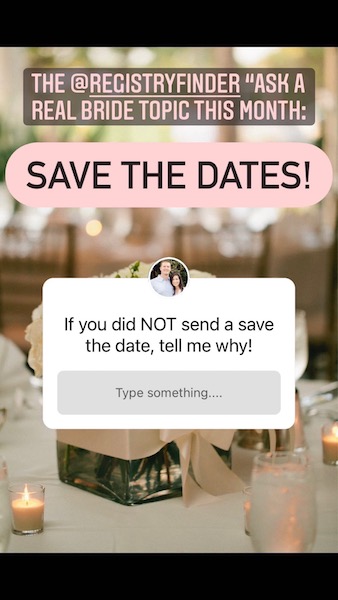 So why skip them?
The main reasons why brides skip save the dates? It all boils down to the two D's: dollars and drama. Obviously, you'll save money on printing and postage, but you could also cut down the guest list by NOT giving your guests too much of a "heads up" about your wedding date (of course, you'd be sure to tell your VIP's the date personally if not via the post).
"Added cost. Just told those I really wanted to be there!" –Christine B.
"Sent invites out earlier (8 weeks before wedding) to save money!" –Jenny D.
"We had a short engagement, and I hoped to weed out the guest list by not giving any extra notice!" –Rachel P.
A lot of brides don't talk about this, but deep down, you might secretly be hoping for a few "no's" so you can squeeze into your venue (or reach out to your B-List). In that case, skipping the save the dates might work in your favor!
"Small wedding + guest list is a minefield!" –Sarah G.
Like Sarah said, if your guest list has been a bit drama-filled, skipping the save the dates will give you more breathing room to decide who exactly will make the list (and who will be offended if they are not). For example, if you're having a hard time deciding who gets a plus one, or whose children will be invited, skipping the save the dates gives you more time to make those decisions and finalize your budget.
Remember, wedding invitations don't go out until six or eight weeks before your wedding–and you might need all that time to decide who exactly will get one. If you send a save the date, you have to make those decisions months in advance. Once the save the dates are sent, you can always add more guests–but you obviously can't subtract them!
When to Send:
Okay, so you've decided you want to send them. When should they go out? The brides had a definite opinion on this one: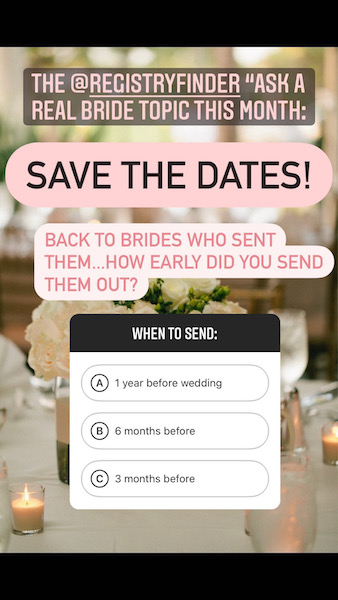 82% of our brides agree that the perfect timing is 6 months before the wedding. So, if your wedding is coming up sooner than that, you can safely skip save the dates, as you'll be sending out wedding invitations soon!
A few of our brides with lengthy engagements did send out save the dates a full year before the wedding, which can help family and friends keep their calendars open and remember that a happy celebration awaits!
On to the guests!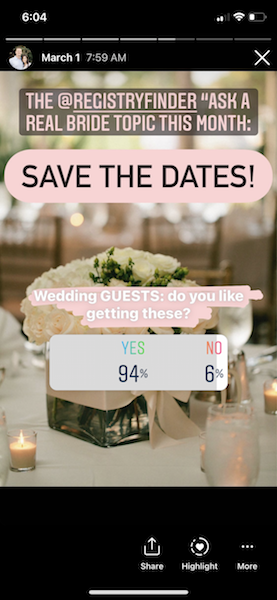 This landslide reveals that you really can't go wrong by sending a save the date; wedding guests LOVE receiving them!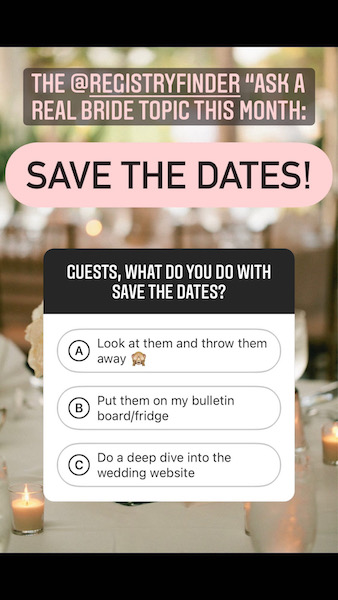 So what are guests doing with the save the dates that they love so much? As you'd probably expect, most (76%) of guests display the save the dates, but 18% say they throw them away! So while they love them, they also tend to trash them–something to consider if you're on the fence about sending. Only 6% report diving into the wedding website–which surprised me, as I feel like that's one of the major benefits of sending save the dates!
The Bottom Line:
So what to make of all this (non-scientific) data? This is still a gray area, but the survey responses reveal a few takeaways that I think clarifies if a save the date is a good fit for your wedding.
Send a Save the Date IF:
You have a long engagement: the save the date will bring awareness to your wedding date, and help you answer the never-ending questions you've probably received over the course of your extended engagement.
Most of your guests will be traveling to attend: there's no doubt about it: if you're having a destination wedding or most of your guests are traveling to attend, it helps to have six months notice to book travel and accommodations. Send the save the date!
Your wedding date falls on a holiday weekend or a weekday: Your guests will appreciate advanced notice if they'll have to request extra time off of work or if flights and hotels will be booking up due to a holiday. Definitely send!
Skip a Save the Date IF:
You're looking for ways to save: Save on printing and postage and put that money toward the actual invitations or something else!
Most guests are local: if the majority of your guests don't have to travel, you can skip sending save the dates. Reach out to out-of-town guests personally instead!
The guest list is problematic: if you're having a hard time trimming your list or deciding on plus-ones and children, buy yourself some more time to figure it all out.
Venue capacity or budget is tight: If you're secretly hoping for "no's" so you can squeeze into your venue (or reach out to your B-List), skipping the save the dates might work in your favor!
If I skip the save the date, should I send my invitation earlier?
Not really. Even if you skip the save the date, do not send your invitations out earlier than 8 weeks before your wedding. I know it seems counterintuitive, but sending invitations out earlier than that does not mean guests will RSVP earlier. Rather, you run the risk of your invitation falling to the wayside and the date slipping to the back of your guests' minds ("It's so far away…I'll deal with this later"). The 8 week ballpark builds momentum and excitement leading up to your big day!
Save the Date Wording and Examples
If you've decided a save the date is for you, it's time to start designing! Wondering what information to include, how to word it, and which design to choose? Minted has you covered!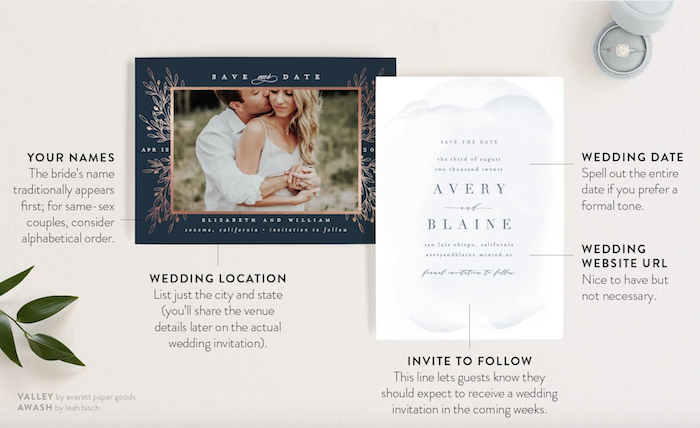 Minted is an incredible resource for wording, layout, and design–hop over to this page for save the date examples, wording, FAQ's, and tips to create a save the date that gives the perfect first impression of your wedding style!
Have a Question for our Real Brides?
Let me know what topic you'd like us to tackle next! And if you're interested in learning more about etiquette, gift giving, and celebrating in style, be sure to subscribe to the RegistryFinder GiveIt blog for weekly posts on wedding etiquette, bridal showers, wedding trends, and of course, wedding registry guidelines and tips! And as always, be sure to refer your guests to RegistryFinder.com, where they can conveniently locate all of your registries in one place!