The temperatures are dropping and the leaves are falling. There is color and beauty all around. It's the perfect backdrop for hosting a bridal shower. We've collected ten of the best ideas to fill your autumn soiree with vibrant colors, seasonal flavors, and fun activities.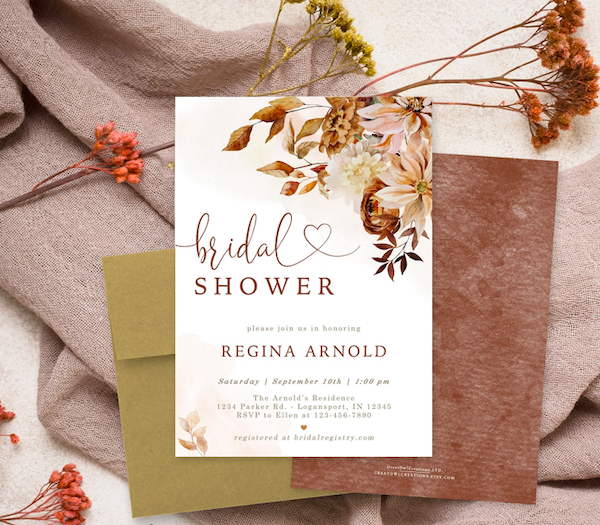 1. Invitation Inspiration
First things first: find a fall-themed invitation. Etsy has so many lovely options (like the design featured above) that will go with any color scheme or theme: from leaves and pumpkins to apples and florals, or any combination of these!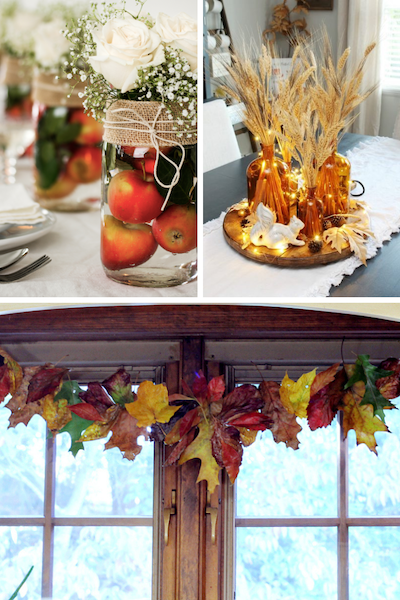 2. Bring the Outdoors In
With so much natural beauty all around, there are plenty of colors and textures to utilize in your decorating. Gather some acorns and pinecones to use in a tablescape or inside jars with candles. Or make your own leaf garland to string up over a mantle or along the edge of the gift table. Use dried wheat in bud vases or add crab apples to mason jars for simple seasonal flower arrangements.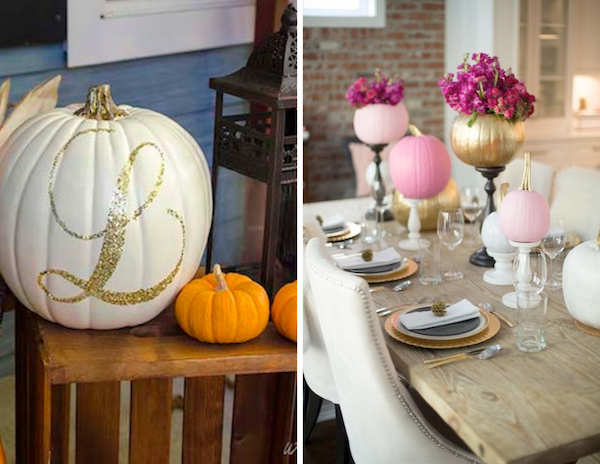 3. Pumpkins, Of Course
Pumpkins are the official (and easiest!) decor for all fall festivities. Position them at the entryway to welcome your guests, get small ones to adorn tables or accompany centerpieces. Use them in their natural oranges and whites. OR give them a romantic Cinderella-esque makeover by adding a glitter initial or painting them gold or any shade of pink.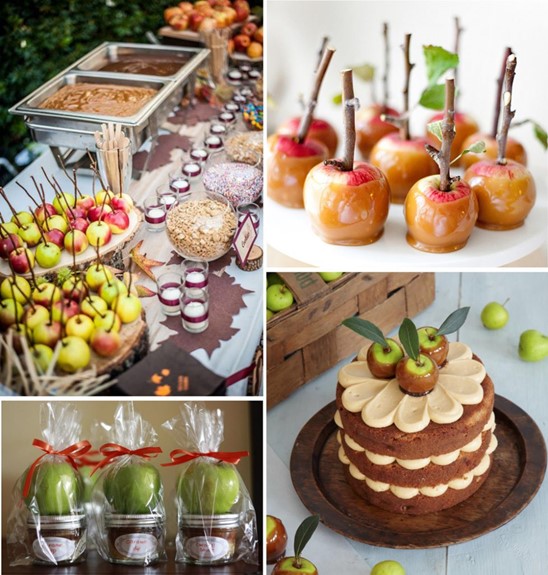 4. Don't Forget the Caramel Apples
This delectable fall treat should not be left out of your shower. Set up an interactive caramel apple bar, make adorable twig apples, send them home as a party favor, or try this scrumptious Toffee Apple Cake.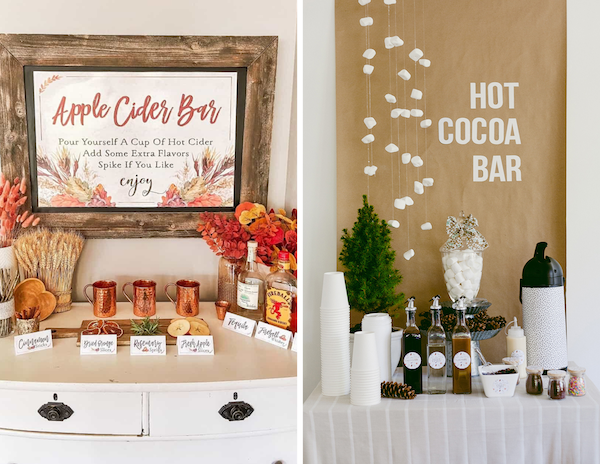 5. Make a Hot Drink Bar
Baby it's cold outside….so help your guests warm up with a fun hot drink station. Our favorites are an Apple Cider Bar or a Hot Chocolate Bar.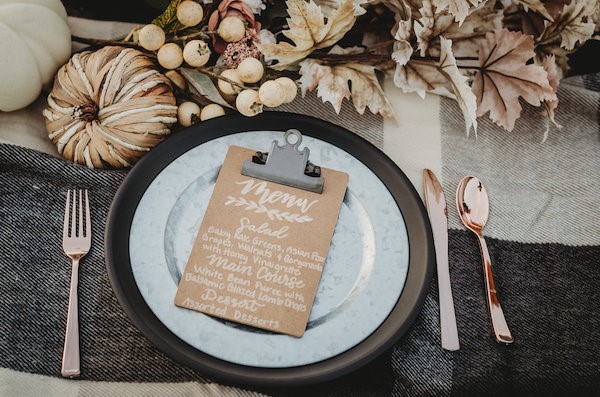 6. Serve a Seasonal Menu
You'll find sweet and savory recipe inspiration in our post, Delicious Fall Shower Recipes. And we have a complete fall menu lineup in our Fabulous Fall Shower Menu post, including desserts and drinks!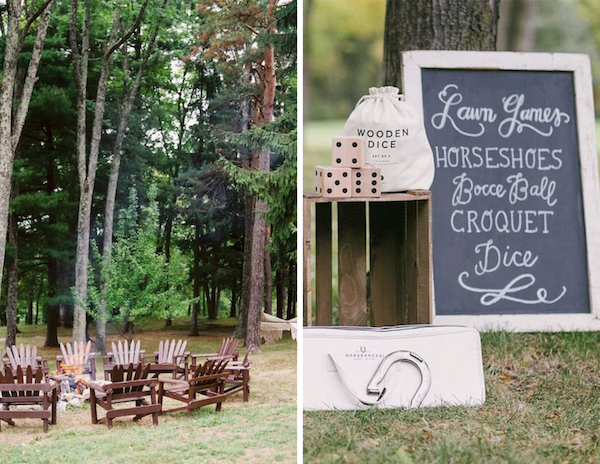 7. Take Advantage of The Crisp Fall Air
Set up chairs around a firepit for guests to enjoy their cup of hot cider and some cozy conversations in the crisp outdoor weather. And have some classic yard games set up for a little friendly competition.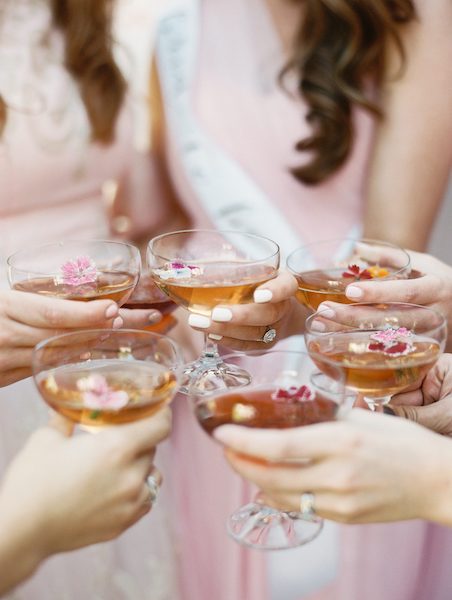 8. Get Creative
Buy some of the Bride's favorite cocktail supplies and some new flavor add-ins to try, and let her family and friends play mixologists. Everyone will enjoy sipping their new creations; or make it a contest for who can come up with the Bride's new "signature drink."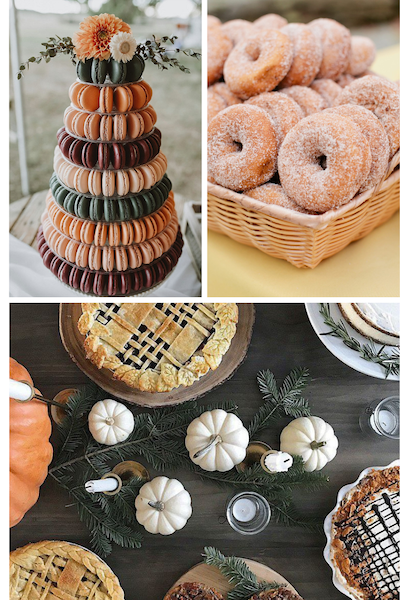 9. Select a Seasonal Dessert
If pumpkins are the official symbol of fall, then pie is the official fall dessert! Why not opt for a table of pies in lieu of cake? Apple cider donuts are also a delicious autumn dessert option; set up a basket of these warm cinnamon sugar-dusted donuts right at the apple cider (or hot chocolate) bar. Or how about an elegant tower of macarons in a vibrant array of fall colors and flavors!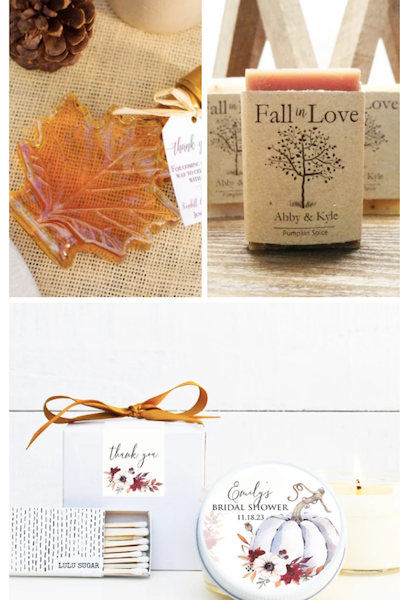 10. Pick a Party Favor (or Two!)
Find a sweet seasonal shower favor to send home with your guests. A maple leaf bottle of syrup or a handmade bar of soap are practical choices. And I love the personalized candle that comes with matches in a little gift box.
Ready, Set, Plan!
Have fun planning a fabulous fall bridal shower! If you're still looking for more autumn inspiration, head over to our Pinterest Board: Fall Wedding Shower Inspiration.
And don't forget to send your guests to RegistryFinder.com, where they can find all of the bride's wedding gift registries in one place!