This post is part 2 of a new summer series here at RegistryFinder: Travel with Kids. We're covering all the necessary details (and realness) of hitting the road, flying the skies, and conquering the theme parks. Today we tackle flying with a newborn!
For some people, flying can be stressful. And when you add a baby to the mix, it can make it a little more daunting! Newborns are unpredictable, and as they figure out life, there's no way to tell how they'll handle a plane flight. That said, there are a handful of things you can do to preempt or address any problems that might arise.
Here are our tips for flying with a newborn:
Make sure your baby is old enough to fly!
Some airlines say your baby only has to be two days old, others say seven. Some require a doctor's note for any newborn that doesn't fall in those age ranges. Before you book your flight, check with your airline (and for safety, your child's pediatrician!) about rules and regulations.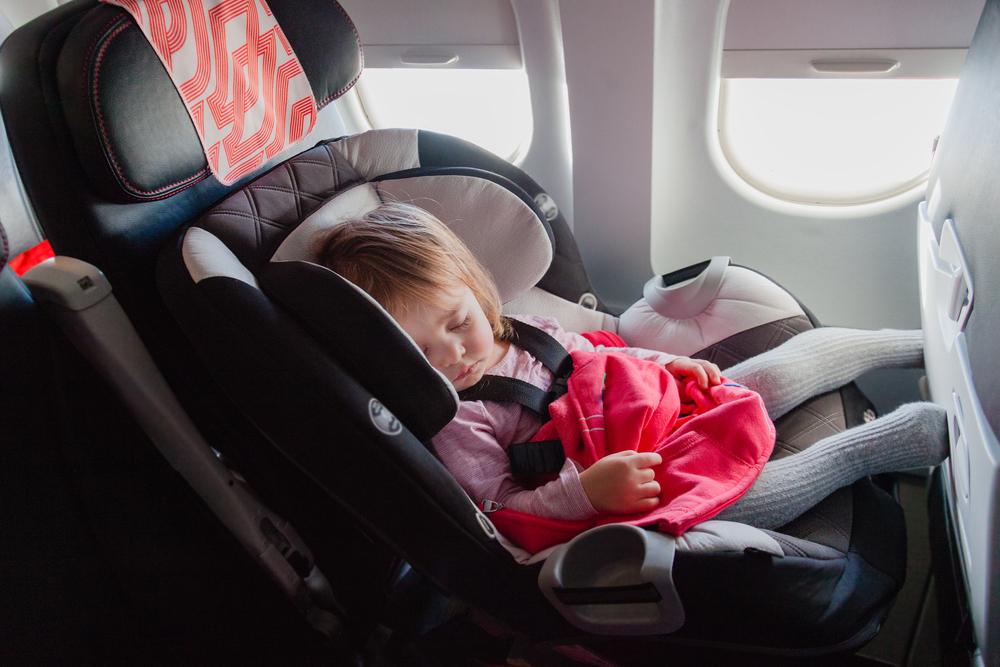 Think about buying your baby a plane ticket—even if they fly for free.
Children who are under the age of two usually fly domestically for free… if they sit on their parent's lap. That said, there's nothing safer than strapping a child into his or her own car seat, especially during turbulence.
Car seats require airline tickets, but even if you don't want to bring one, you'll still need to add your little one to the reservation so the airline prepares accordingly.
On top of that, be sure to bring a copy of your baby's birth certificate and insurance card when you check-in for your flight! Some airlines require it.
Pick your flight times carefully.
Every baby is different, but for many parents, morning flights are easier to manage! In the afternoon, you might have tiredness or hunger to deal with.
Taking other travelers into consideration, most passengers will already be awake during morning flights… unlike night flights, where a crying baby might get in the way of their hopes to sleep. (Take flight times into consideration, too, if a connecting flight is involved.
Try to give yourself extra time to get to your gate, but not so much time that you—and your baby—are stuck in an airport or on a plane all day.)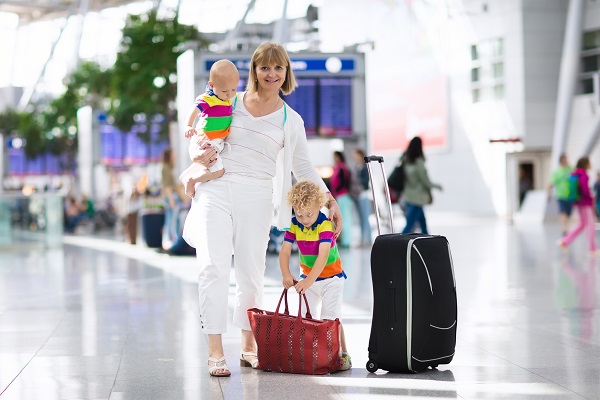 Check some of your baby gear.
Babies require a lot of stuff, like strollers, car seats, diaper bags, toys, and formula. With the baby in hand, it can be hard to carry it all. Ask your airline what you can check; most times, strollers and car seats are free.
If you don't check it, make sure you've nailed how to physically handle it all! Between security and connecting flights, you'll be messing with your baby gear a lot. Add that to having a baby in tow, and you'll be glad you and your partner had a plan in place for carrying, packing and unpacking your gear as you make your way to and from the gate.
Other tips? Bringing your own car seat eliminates the cost of renting one at your destination, and carrying your baby in your baby carrier leaves your hands free to juggle whatever equipment you bring with you.
Pack extra clothes for both of you.
As cute as they are, it's no secret that babies are messy. Plus, if they're fussy and anxious while in flight, things might get messier. Throw a change of clothes in there for both you and your baby, in case an emergency calls for it.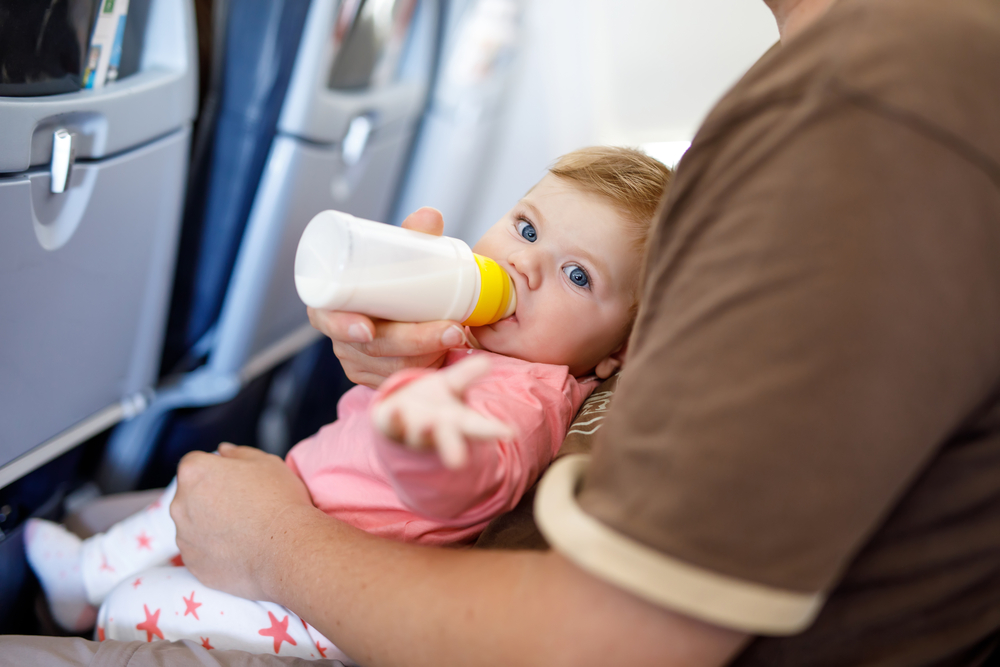 Feed your baby during takeoff and landing.
The air pressure when a plane lands and takes off tends to make our ears pop, and babies are no different. Just like sucking a piece of candy helps adults relieve the pressure, feeding your child will help the little ones, too.
That said, be flexible with your feeding and napping schedule on travel days! You might have to feed more to soothe your newborn during travel, and there's nothing wrong with that. You can return to your normal schedule when you're back on solid ground for a full day.
Walk up and down the aisle.
Babies are soothed by movement. When the seatbelt sign isn't on, hold your baby and walk up and down the aisle to rock him or her to sleep.
Let other people help you.
If you're new at this (or even if you're not, but you have other children to watch), you might need some help. And that's okay! If a flight attendant or the person sitting next to you wants to hold your baby to give you a break, or the freedom to tend to someone else, it's okay to let them.
Most importantly, remember that crying is normal.
They're babies! Babies are beautiful, but yes, they do cry. Rude passengers may make comments, but most have been in your shoes and will understand.
Just because your baby is crying on a plane doesn't mean you're doing anything wrong; and even with all these tips, they might still cry. It's perfectly natural. Don't worry, Mom… you're doing just fine.
Are you a new parent? If so, check out our Registry Finder blog, where you'll find tips about what products to buy for your first baby, your second baby and more.