Five reasons why you may want to wait until delivery day to find out your baby's gender!
If Newton were alive in 2017, his laws of nature may have included: "Every trendy action has an equal and opposite old-school reaction." Like record players, Polaroid cameras, and French presses, it seems like the latest trends are actually throwbacks. Another case in point: expecting parents who deliberately choose not to know their baby's gender until the birth!
For most of human history, waiting to hear "it's a girl!" or "it's a boy," in the delivery room was a common experience—only recently have pregnant women been privy to high-tech ultrasounds and testing that could reveal their little one's gender. These medical advances have given birth to an entire industry of gender reveal invitations, balloons, piñatas, smoke bombs, and t-shirts. Despite the technology and the trend to stage a "pink" or "blue" social media announcement, a growing number of moms and dads-to-be is choosing to stay in the dark—my husband and I included! When we were expecting our first, we wanted to wait. So why choose not to know? I've got a few reasons why you might want to say "yes" to this throwback trend!
5 Reasons to Wait on Finding Out Your Baby's Gender
1. Enjoy one of life's biggest surprises
Four years before I became a mom, my sister announced she was expecting. I was beyond excited to become an aunt, but her decision to not find out if she was having a boy or girl drove me crazy for the next seven months. I was in suspense as I waited for my niece or nephew to arrive! The day she gave birth was full of excitement and nerves, and to this day, remains one of the most exciting days of my life: I'll never forget seeing my brother-in-law race into the waiting room, announcing, "IT'S A GIRL!"
The drama of the moment was so emotional and memorable that I knew I was going to follow my big sister's lead when I became a mom one day—and I did!
Chase and Allegra, two friends of mine from college, are also waiting to find out if they'll welcome a little boy or girl this December. Allegra explains, "This is the biggest surprise no one can spoil for you—why not enjoy the moment?"
2. Resist the urge to splurge
I'm beyond grateful that I didn't know I was having a daughter until the moment she arrived, because I can only imagine the temptation to splurge on pink outfits, bows, and bedding while I was pregnant! If you wait to find out your little one's gender, you'll also be less likely to purchase gender-specific items (like a pink Bumbo seat) and more likely to purchase items you can re-use for future children (think neutrals like gray, duck egg, or aqua). There's plenty of time to buy clothes once the baby is born—save your cash for the essentials you can use for years to come!
3. Receive the gifts you really need
One of my cousins has a theory that when no one knows your baby's gender, you get more gifts from your registry at your baby shower. I think she's right! When everyone knows the baby's gender, many shower guests (myself included) find it quick and simple to pick up an outfit from the mall, rather than shop the registry for the essential items moms and dads have painstakingly researched and chosen.
Check out this photo from a recent shower I attended, where the gender was a surprise. The mom-to-be got everything from her registry—from feeding items to furniture! And I think it had something to do with the fact that no one knew if she was having a boy or girl. While this may not be THE reason to wait to find out your baby's gender, it's definitely a nice perk!
4. Avoid gender "disappointment"
This is my personal theory: let me know if you're buying it. I think that moms and dads who are really pulling for a girl or boy should wait until delivery day. Why? Because I've witnessed a pregnant friend fighting back tears when the gender reveal cake revealed blue frosting (she was praying for pink), but I seriously doubt that she would've felt disappointed if she had heard "it's a boy," and then immediately met her adorable son face-to-face.
5. Create a memorable moment
I know what you may be thinking: what about all the cute gender reveal posts I'm seeing on Instagram? Fear not, social media mavens: you don't have to be left out of the fun of creating a unique announcement! I think it's even more suspenseful when your friends and family have been waiting for months to hear the big "pink" or "blue" news!
When I was packing my hospital bag, I included a pink and blue shirt for my husband. After my daughter arrived, he put on the pink shirt, grabbed his cell phone, and walked into the waiting room recording our family's excited reactions! It's a moment he'll always treasure, and a video I've watched over and over.
So did I convince you that it's worth the wait? Let me know! But no matter what you decide, our RegistryFinder team is here to make celebrating your little one full of fun—stay around awhile to check out our latest posts on 2017's best new baby products (part 1 and part 2), co-ed baby showers, and personalized baby gifts. And as always, direct your guests to RegistryFinder.com so they easily find all of your baby registries in one place! And speaking of registries, if you're ready to begin your baby's registry, you've come to the right place! We've got a printable checklist to help you get started no matter where you choose to register!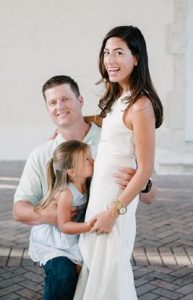 Written by Christina Peterson, who is expecting Baby #2 in January and can't decide if she wants to find out the gender on this one!