When you think through your reception timeline, you're probably carving out time for speeches by the father of the bride, the best man, and maid of honor. But recently, I've noticed that more and more couples seem to be hopping on the mic themselves! Is the bride and groom speech something you should consider for your wedding?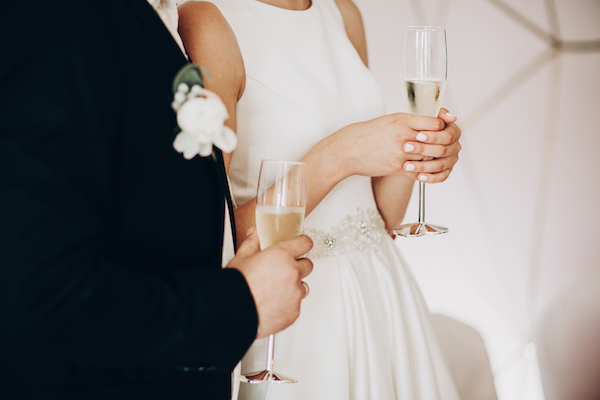 Should you and your groom give a wedding speech? Read on for advice from our real brides (and grooms!)
I took to Instagram to find out why couples were giving speeches (or skipping them). Here's what I learned from our real brides and grooms:
The Couples Speech is Rare, but Getting More Popular
Only 21% of couples gave a speech at their own weddings. In fact, many brides messaged me to say that they didn't even know the couple's speech was an option: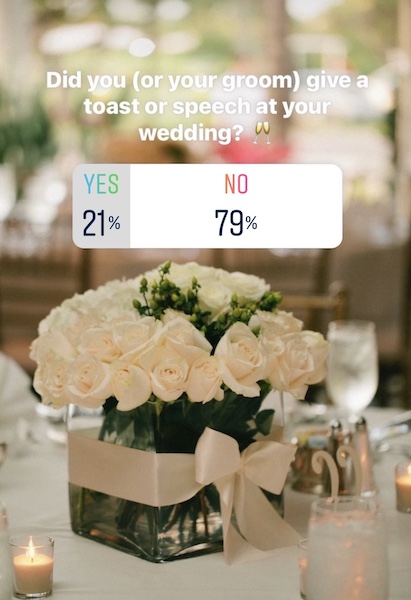 "I didn't even know it was a 'thing!'" –Gabby W.
"I didn't even realize that people did this lol" — Rachel B.
"I thought speeches were just for the maid of honor and best man!" — Melissa S.
Should You (or your Groom) Give a Speech?
So why should you think about saying a few words on the mic? Our couples shared a few reasons why a couple's speech might be a good fit for your wedding and personalities.
Yes, If You're Hosting
Traditionally, the parents of the bride host the wedding: they issue the invitations, pay for expenses, and therefore, the father of the bride is the one who welcomes and thanks guests for coming. But many modern couples are now hosting their own weddings, which may explain the trend towards couple's speeches I've been noticing. If the invitations came from you, it makes sense that you would be the ones to thank your guests for coming.
Yes, If you Had Lots of Help in Planning and Paying
"My husband gave a speech to honor the people who made the day possible and to thank our guests." — Jessica G.
On the flipside: if your parents are hosting (and paying) for your wedding, a speech from the couple is a nice way to honor them, thank them publicly, and express your gratitude to your guests for coming. Also, if many of your family members contributed to the wedding in the form of DIY projects and special touches, a special "shout out" from the couple is a nice gesture.
Yes, If you Enjoy Public Speaking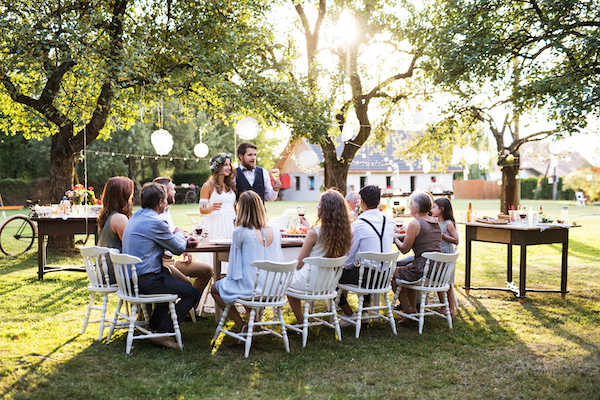 Some brides and grooms are comfortable in front of a crowd, and it feels natural for them to say a few words of thanks and toast their new spouse. I've also seen a few couples use the words, "my wife," or "my husband" for the very first time in their speeches. It's definitely a sweet moment, and if you or your groom don't mind the limelight, I say you seize the opportunity!
No, If the thought terrifies you
"I could never speak in front of a lot of people!" — Tiffany P.
If public speaking isn't your thing, don't sweat it! A couple's speech isn't a "must"…In fact the vast majority of wedding guests say they don't expect to hear a speech from the couple. Check out this landslide poll: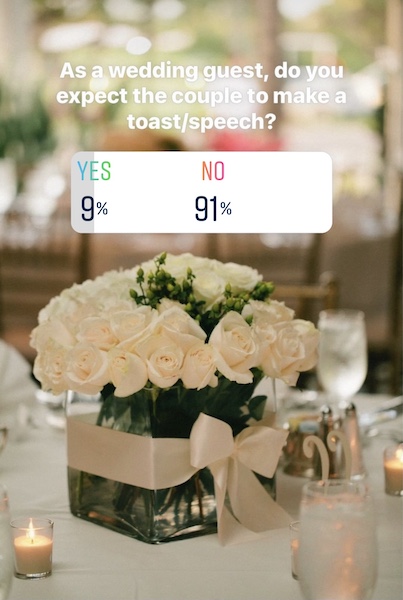 There's no need to push yourself to do something that no one is expecting, anyway! You shouldn't dread any part of your wedding day.
A quick caveat: in my family, the groom is expected to give a speech thanking the bride's parents and toasting his new bride. Even though my husband doesn't love public speaking, he took to the mic because of what it meant to my parents. I still appreciate that he stepped outside his comfort zone to give a brief, heartfelt speech!
No, if you know your guests would rather be dancing
"We knew our crowd didn't want to hear too many toasts." — Laurie S.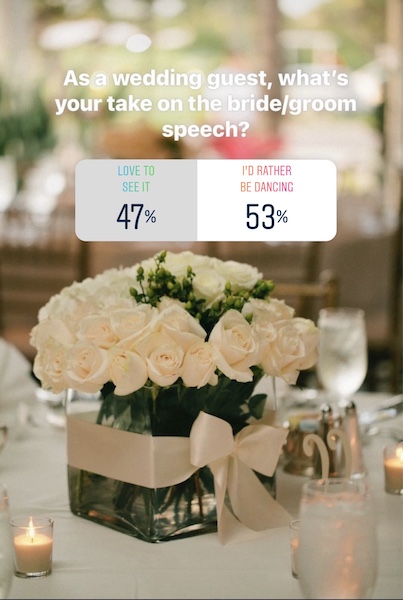 Long, drawn out speeches rank among the top wedding guest pet peeves. If you know your friends and family are there to party, skip the speech and get dancing!
Yes, If You Think You'll Regret NOT Giving a Speech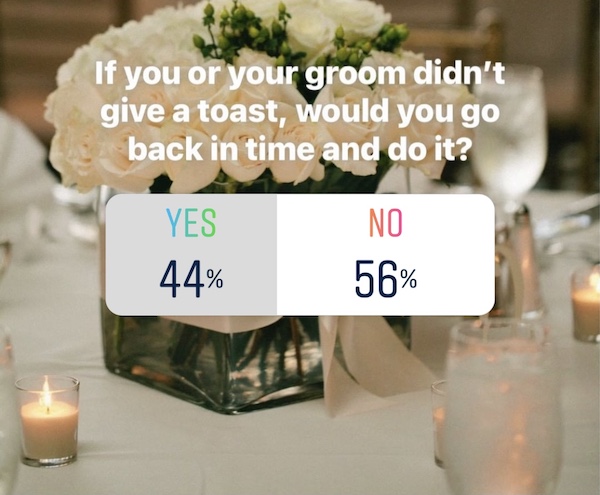 "In hindsight, I wish we had." — Megan P.
Maybe it's just me, but when I'm trying to make a decision, I always ask myself if I'll regret NOT doing it. According to this poll, half of couples regret not giving a speech or toast. Chances are that you won't regret saying "thank you" on the mic, but you might regret skipping it!
"Our reception just flew by!" — Desirae P.
If you think you want to speak, be sure to build it into the reception timeline you create and share with your vendors. Your wedding day will fly by, and you might forget to do everything you wanted unless it's written down! Your speech should be the last one of the evening, usually as dinner is winding down and before dancing begins. And take a few minutes to prepare what you want to say. Even though it should be brief, you want to make your words count!
Remember: A Speech Doesn't Replace a Personal Greeting
"We walked around during dinner and thanked everyone which is more personable." — Lindsey B.
"It's definitely important to interact with every guest there." — Melissa S.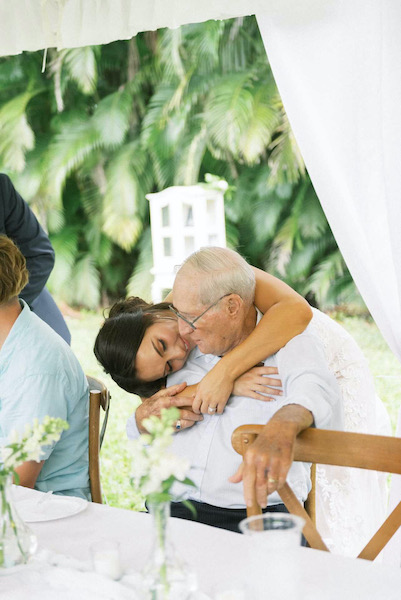 Whether you choose to thank everyone in a speech or not, you and your groom should be sure to circulate the room and greet every single guest. A public speech cannot replace a personal greeting, so be sure to "work the room" to warmly thank each and every guest for their presence on your big day!
Have a Question for our Real Brides?
Let me know what topic you'd like us to tackle next! And if you're interested in learning more about etiquette, gift giving, and celebrating in style, be sure to subscribe to the RegistryFinder GiveIt blog for weekly posts on wedding etiquette, bridal showers, wedding trends, and of course, wedding registry guidelines and tips! And as always, be sure to refer your guests to RegistryFinder.com, where they can conveniently locate all of your registries in one place!