A bachelorette party doesn't have to be budget-busting rager to be raging success!
Bachelorette parties have morphed and changed over the years, growing from night-before-the-wedding nights out to wild weekends away in Las Vegas or NYC. When everyone you know gets married right after college, a weekend getaway full of drinking and shows and matching t-shirts isn't usually in the cards–at least it wasn't for me. Even a local night of bar-hopping or club dancing was both a little on the expensive side and a touch too crazy for my last fling before the ring.
Thankfully, I had the best crew of bridesmaids in the world who planned the perfect bachelorette party for my style and their own wallets. (You'll read more about it in a minute!)
Before you dive into the rest of this post, here a few do's and don'ts of bachelorette party planning:
Do ask the bride what she's looking for in a bachelorette party.
Don't think every little detail has to stay a surprise, but instead give her a few choices to ensure the night is truly all about her.
Don't try to top the wild bachelorette parties you've seen on Instagram and make every bridesmaid fork over her life savings.
Do have fun, get creative and make it a night to remember!
If you're planning a weekend getaway with your bridal bestie check out this post for some awesome destination ideas!
Hotel Sleepover Bachelorette Party
For my bachelorette party, my bridesmaids flew in a few days early and booked a night at a beach hotel to tie my bachelorette party into the wedding weekend. Because most of my bridesmaids were from up north, it was fun to stay right on the ocean, walk along the beach and lounge by the pool drinking complimentary happy hour sangria. Even better, it was the most relaxing night surrounded by my best friends in the world–what more could any bride want?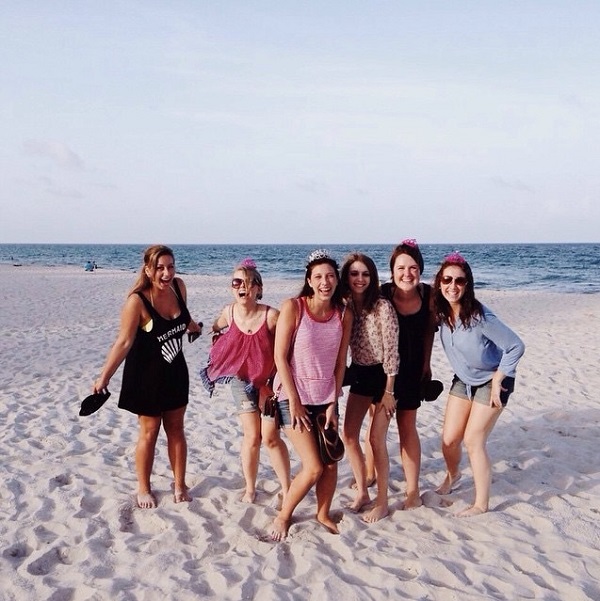 Food:
For dinner, we walked down the beach to a casual pizza place.  In the room, my MOH had stocked some of my favorite snacks like cheddar popcorn and mimosa ingredients.
Activities:
After soaking up the sea breeze by the pool and strolling through the sand, we watched my favorite (and aptly timed) movie, My Big Fat Greek Wedding and opened up a few presents my thoughtful friends surprised me with.
Bachelorette Brunch
For the laid back bride who might have a few more people on her guest list than just her bridal party, a bachelorette brunch is the way to go. When my best friend got married a couple years ago, I threw a sweet and simple brunch at our apartment for all the girls invited to the wedding and it was a blast!  We didn't have a set agenda so it helped my bridal bestie to relax and soak up the sweet season she was in: so close to being a wife!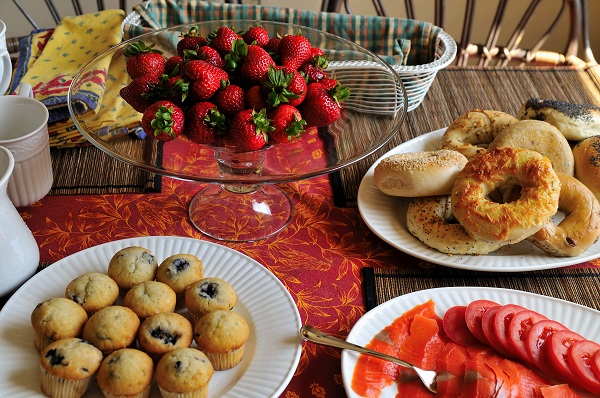 Food:
My sample menu is below, but there are 100 different options on Pinterest that you can tailor to the bride's taste:
Breakfast punch (non-alcoholic)
Coffee + tea. Don't forget to add fun additions such as:

Flavored syrups and honey
Pirouette cookies to stir
Variety of creamers–think seasonal: cinnamon, pumpkin pie spice, cocoa powder.

Sausage, egg and biscuit casserole
Pumpkin chocolate chip muffins. This is the world's easiest recipe so if you're throwing a bachelorette brunch, there's no reason not to try it:

Ingredients:

1 can pumpkin
1 box spice cake mix
1 cup chocolate chips

Instructions:

Mix all three ingredients together in a bowl.
Pour into muffin tins and bake at 350 degrees for 15-20 minutes

Breakfast pizza bar: sugar cookies, fruit and homemade icing
Assorted fruit
Activities:
I asked every guest to bring a pair of underwear that I strung up in the living room. The bride had to guess which guest brought which pair and it was a hoot! We also went around and shared sweet memories with the bride and asked her to share her biggest excitements for the wedding day.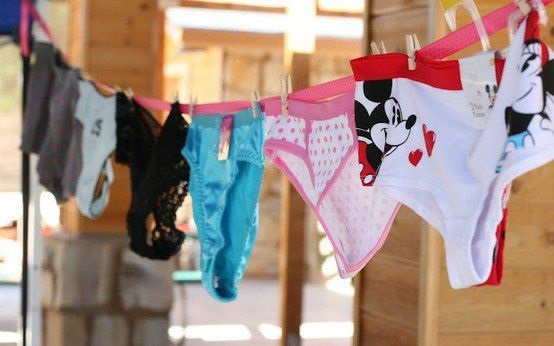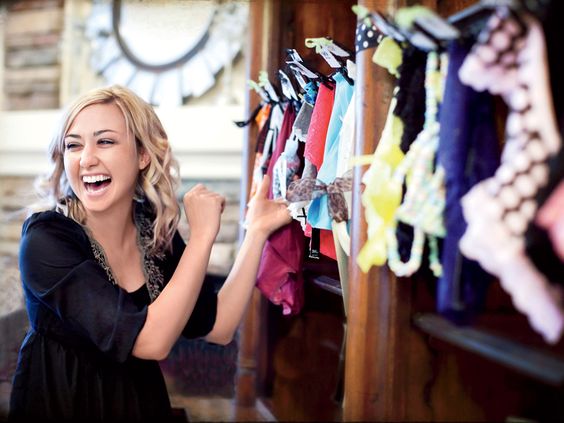 Wine and Cheese Bachelorette Night
Another way to plan an effective and fun bachelorette party that won't break the bank is to think of the bride's favorite things. When my bestie Kate got married last fall, a wine and cheese night was a no-brainer. I did some research to hunt down a place that could accommodate our group in a private room and stumbled upon the perfect spot. I pre-ordered a few bottles of wine and charcuterie boards and the restaurant allowed us to bring in our own desserts.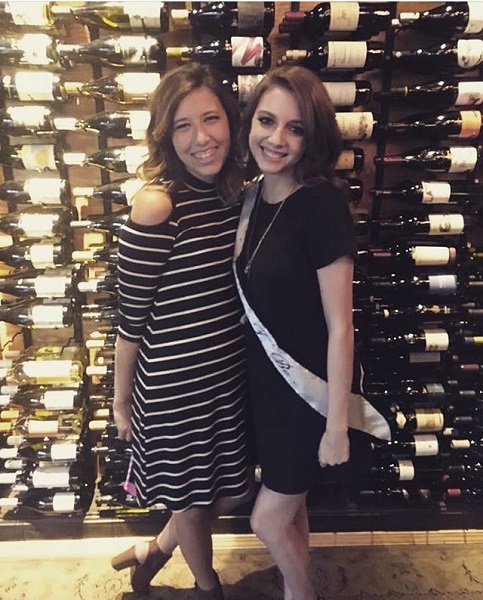 Food:
Wine and cheese of course!  Desserts included cannoli dip as an ode to the bride's Italian heritage as well as mini key lime pies.
Activities:
We played the always popular "Newlywed Game" where we asked the bride's fiance to answer funny questions about her favorite things, like: "What's Kate's dream job?" and then we asked her the same questions to see if they were truly meant to be. On the invitations, we asked all guests to wear some form of stripes–the bride's favorite. The wine rack on one end of our semi-private room was the perfect backdrop for photo-ops with our props.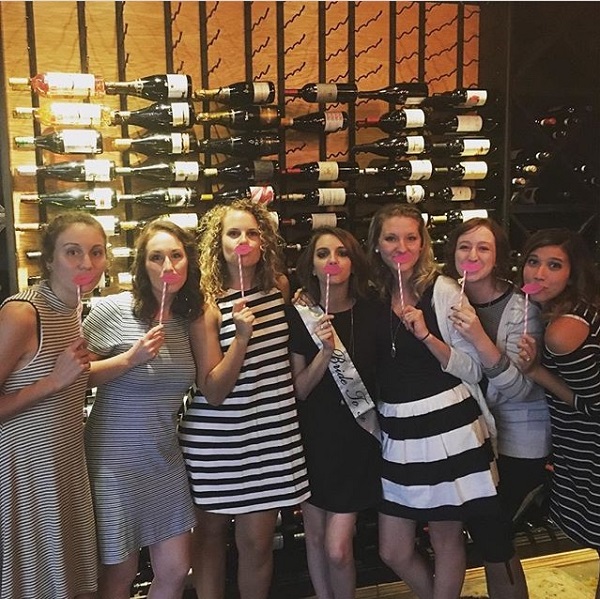 If you're looking for more party-throwing ideas for your bridal bestie, check out our blog!  We've got tons of tips and tricks for throwing the best bachelorette party, whether you're considering a trendy coed bachelor/bachelorette bash, or if you're wondering about things like who pays for the party. And if you're a bridesmaid who is stuck dealing with a difficult bride, we've got you covered with a guide about which issues to bring up and which ones to let go.
Remember that bachelorette parties don't have to be Instagram-worthy ragers to be raging successes.  I promise you that the bride in your life will value the thought and love that went into planning a party she'll enjoy far more than she'll love the thought of all her best girls dropping big bucks to celebrate.