Last fall, my daughter Haley and her husband Joe learned they were expecting their first child. As a designer of home furnishings and accessories, Haley loved choosing all the items for her wedding registry. However, she became quickly overwhelmed with the endless choices for her baby registry. Knowing that I breathe, sleep and live all things registry, she turned to me for recommendations on baby registry must-haves. That was an easy request because our team of mom bloggers had already done all of the research.
I am beyond excited to welcome their baby girl into the world this June and so happy to help Haley in any way I can, so my first recommendation was for her to register at buybuyBABY® and make a visit to one of their stores. For full disclosure, RegistryFinder has had a long relationship with buybuyBABY to bring expecting parents helpful and exclusive information. Regardless of that, my recommendation would have been the same. Where else can you see, try, and compare such a large variety of baby products and brands?
I was fortunate to make a trip to see them in January to help with their registry. So armed with checklists in hand (mine on paper, her's on her phone), we headed out to their local buybuyBABY store.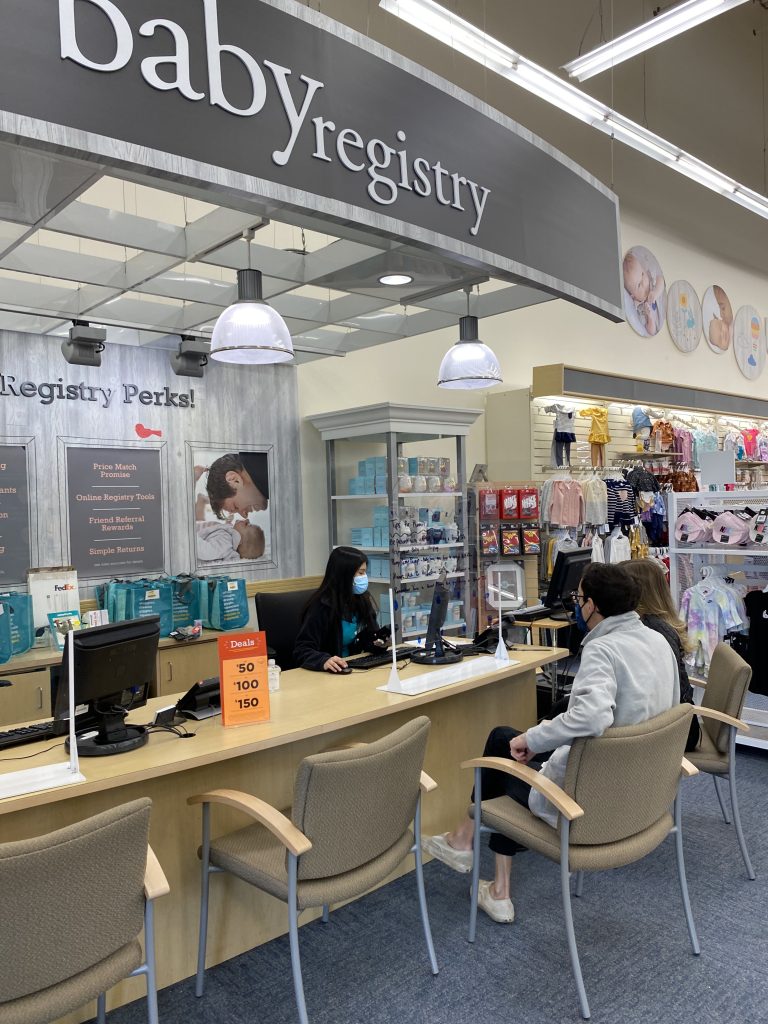 Upon arriving in the store, the first step is to head to the baby registry welcome center. It was the first thing we spotted as we walked in, and there was a helpful buybuyBABY associate ready to get them started on their new baby registry.
She asked Haley and Joe a few questions, and since we had already set up a buybuyBABY account online, she briefed them on buybuyBABY's registry perks and return policy. (Which is fantastic, by the way: return something off your registry within the first year, and you'll get free exchange or store credit of the full amount!) If you haven't created an account, they are happy to set it up for you right then and there.
Finally, after explaining the store's layout, she sent them on their way with a gift bag (more on that later), a registry gun, and a guide.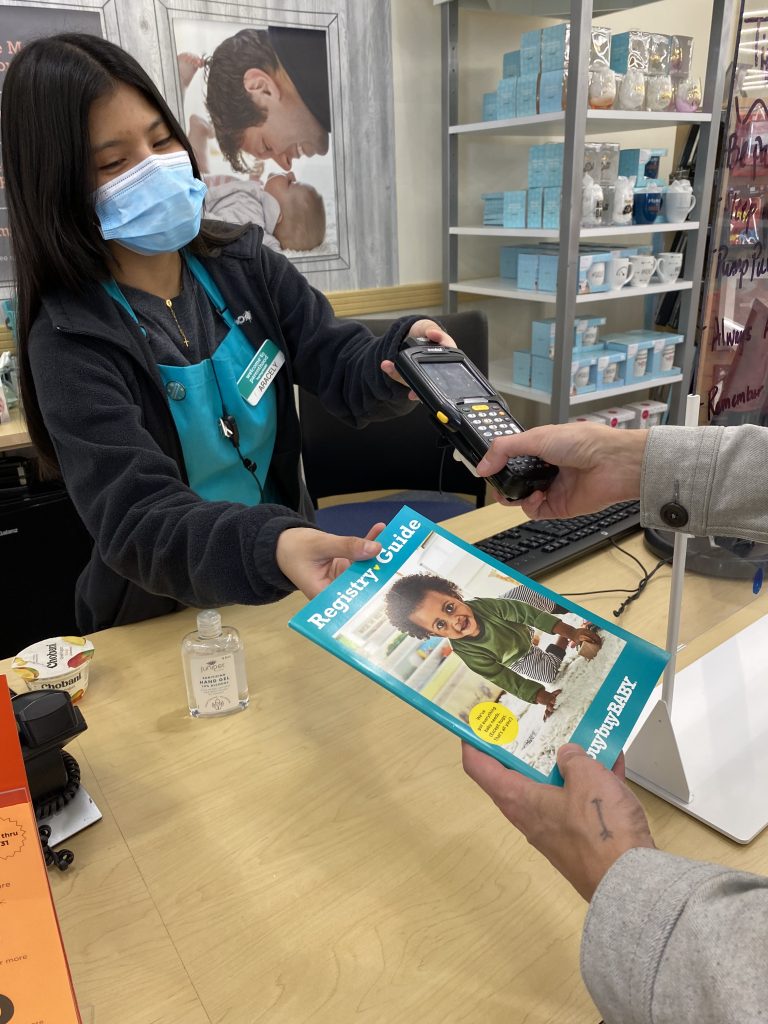 One of Haley's goals in visiting the store was to make informed decisions on her most important (and big-ticket) items, like strollers and car seats.
She was happy to see so many floor models of the multiple stroller options, including her current top choices. She and Joe were able to push them around the store, feel the weight differences, load them down a weighted baby simulator doll (yes, that exists), and practice opening and closing them with one hand- a critical test of any stroller.
The buybuyBABY in-store stroller expert offered her advice and expertise as well. It was so helpful to know which car seats would fit with which strollers and what other accessories were needed.
As we made our way purposefully through each section of the store, not only did we have help from buybuyBABY associates, we learned a great deal from other customers, both experienced moms and other expecting moms.
I mentioned earlier that Haley is a designer, and aesthetics are important to her and her husband. I had recommended the 4moms® mamRoo® baby swing because it's praised by all the new moms I know. She wasn't sure about it, worrying about the lack of space in their apartment and all the gear they would need (valid concerns). Also, she didn't love its look (their style is minimalist), so they selected a non-electronic option, the BABYBJÖRN® Bouncer. It was so nice that they could see the product options' true look and size displayed in the store.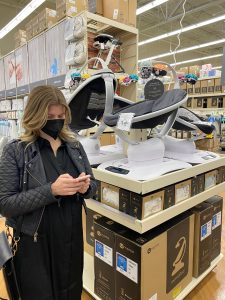 I had so much fun with my daughter and son-in-law registering, advising, and researching at buybuyBABY. While there were many necessary baby products, like sleep sacks and swaddles, that started as mysteries to them, with the help of the experts (our blogging team and the buybuyBABY staff), they were now able to feel more knowledgeable and confident making their choices.
We rounded out our registry trip to buybuyBABY by going through the registry gift bag. It is full of awesome product samples like baby shampoo and a Pampers gift set, and it also includes coupons and services and more registry checklists and guides.
Here are a few more helpful tips as you complete your registry at buybuyBABY:
Give yourself time. We went to register on a Saturday afternoon, and it took us a few hours.

You want to be able to take your time and maybe even make a couple of trips.

Sometimes you need to think about the options. It's also easy to make adjustments to your registry online if you change your mind.
Talk to other new moms.

Baby gear technology is continually improving. Talking to moms who've had babies in the past year is very helpful because they've tested out the latest products!

Use a checklist and keep a list on your phone. We used RegistryFinder's Ultimate Baby Registry Checklist, which was very helpful, keeping us on track and ensuring we didn't forget any categories of items. She also talked to friends and read reviews and blogs before we made our store visit, and I referred her to this blog post about registry favorites. Obviously, you'll run into some differing opinions. (Do you really need a bottle warmer? The jury's still out on that one.) But a starting point is so helpful.
Focus on a variety of price points.

BuybuyBABY's registry has a nifty tool that shows a graph of all the gifts on your registry based on the price range. Take a look at that after you get home from your registry trip and if necessary, head back to the store to vary the price points. You can also easily modify or update your registry from anywhere; simply log into your buybuyBABY account online or download the app on your phone.

Don't forget the little things. Be sure to i

nclude the necessities to start your baby off on the right foot. These include baby toiletries, a baby first aid kit, diapers, wipes, etc.
The best part of any baby registry is that your friends and family can access them all in one place at RegistryFinder.com. All they have to do is search for your name, and they'll find all the things you need to welcome your sweet baby into this world!
Are you a first-time mom still looking for more registry tips? I think you will love our GiveIt blog. Our experts advise about baby registries, baby products, baby showers, and more on our blog!