Jon and I found out we were expecting our first baby earlier this year and as we've looked forward to his or her arrival this September, I've been chomping at the bit to start our registry!  I loved choosing the things we'd love and cherish in our first home together through our wedding registry so the chance to do it again for our new little one was even more exciting!
But have you noticed how much stuff a baby needs?! The choices are endless and the list of necessities feels a mile long!  Before choosing where to register, the first thing I did was crowdsource- I asked my family, my cousins, my friends, even my Instagram followers for suggestions on the best strollers and car seats and things to register for. I kept a running list in my phone, read reviews online for all the suggested favorites and waited for my mom to come to town so she could steer me in the right direction too. (Because when do we ever outgrow our need for our mom's help?!)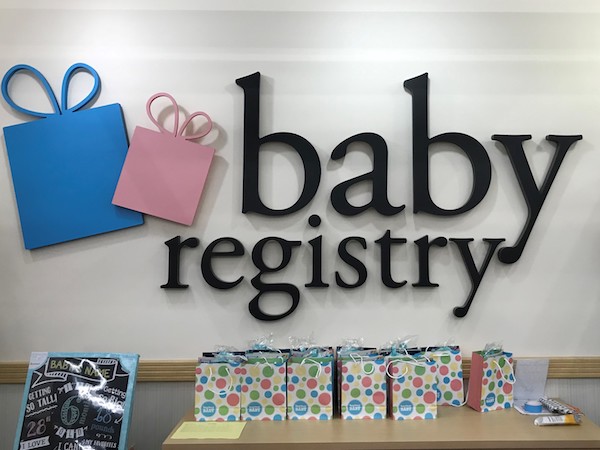 Armed with my list and my mom, I knew there was only one store to turn to: buy buy BABY®. It's the one stop shop for all things baby–from clothes and gadgets, to bath toys and car seats- even maternity clothes!
My experience registering in store with buybuy BABY has turned me into a fan for life. It couldn't have been easier and calmed this new mom-to-be's nerves over all the things this baby would need.
Upon arriving in the store, the first step is to head to the baby registry welcome center.  It was the first thing we spotted as we walked in and there was a helpful buybuy BABY associate ready to get me set up with my new baby registry.
She asked me a few questions about our baby–due date, gender, address, etc–had me set up a buy buy BABY account, and briefed me on buybuy BABY's registry and returns policy. (Which is awesome by the way: return something off your registry within the first year and you'll get free exchange or store credit of the full amount!) Finally, after explaining the store's layout, she sent me off on my registering way with a gift bag (more on that later!), a registry gun and a checklist.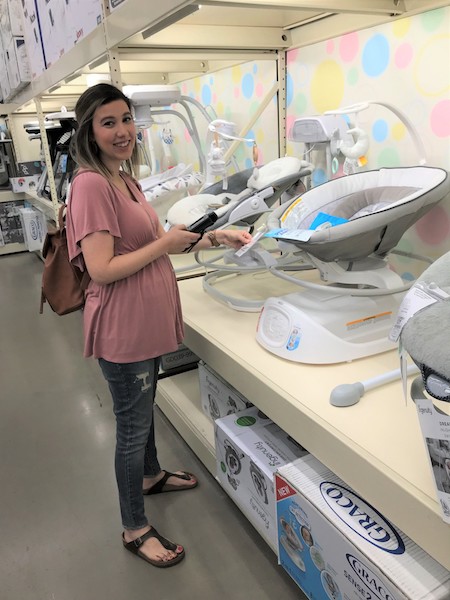 The very first section we wandered into produced what felt like 87 choices for baby monitors.  Smart baby monitors, wi-fi enabled monitors, video monitors, two way monitors–the choices were endless, yet again. Reading the descriptions just made me more confused so I was grateful to run into one of buybuy BABY's in-store experts.
She was able to point out the perks of each monitor and the ones that had proven to be customer favorites.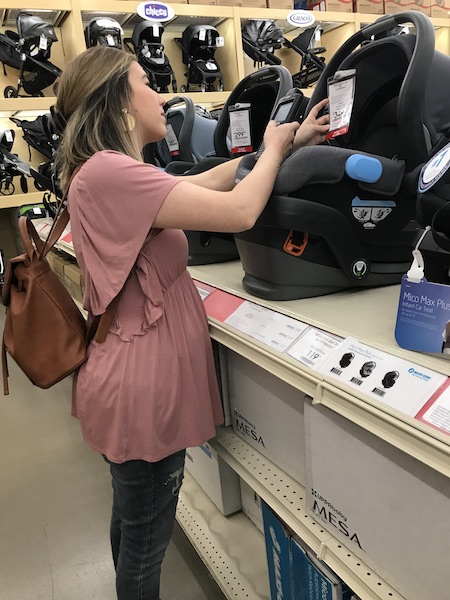 When we made it to the stroller and car seat section of buy buy BABY, I was so glad to see so many floor models of the multiple stroller options. I could push them around the store, load them down with my backpack and practice opening and closing them with one hand–which is my number one test of any stroller.
I knew I wanted something lightweight that wasn't too wide, with wheels that turned easily. Because we'd like to have more kids, I also wanted the option to add on additional seats to make it a double–or even triple–stroller.
Thankfully, this one area that crowdsourcing had come to a pretty even consensus and left me with the choice of only a few of the stroller models. From there, the buy buy BABY in-store stroller expert offered her advice and expertise as well. It was so helpful to know which car seats would fit with which strollers and what other accessories-like bases, adapters, consoles, etc-were needed.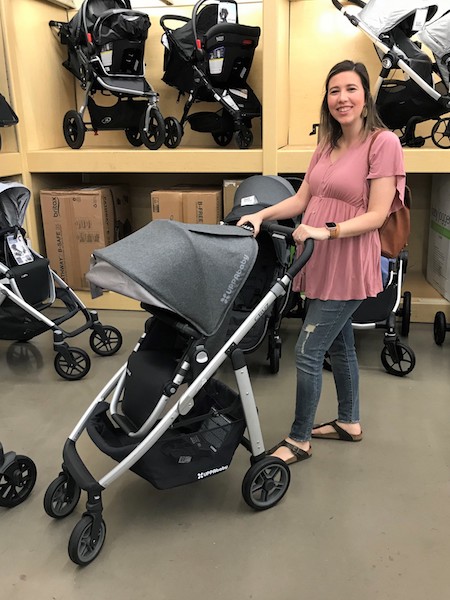 The last area of our store also happens to be the biggest: nursery. buy buy BABY has three walls covered in every design of baby bedding and blankets and pillows and it is the cutest thing ever!  We won't know the sex of our baby until he or she arrives in September so that helped to narrow down our bedding and nursery furniture and accessory hunting.
We steered away from the pinks and blues and toward the grays and yellows. The item in this section that I hadn't even considered (first time mom) was the crib mattress. Like an angel, another buy buy BABY in-store expert was there among the dozens of mattress options waiting to shower us with her knowledge.
She told us the brands that specialize only in crib mattresses, the perks of each mattress and the ones that have been added to registries most often. She even told us about the best bassinets and sleeping accessories–like sleep sacks and swaddles–for baby.
We rounded out our registry trip to buy buy BABY by going through the registry gift bag. Not only is it full of awesome product samples–like baby shampoo and a Pampers gift set–but it also includes more registry checklists and insight.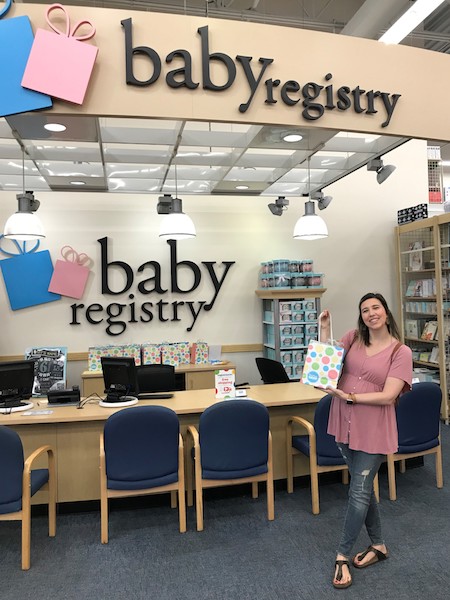 A few more helpful tips as you complete your in-store registry at buy buy BABY:
Give yourself lots of time. My mom and I went to register on my day off from work and it took us the entire morning. I was so grateful to be able to take my time and not feel rushed by store closing or another appointment during the day.
Talk to new moms. I have a lot of friends and family who had their last baby three or four years ago. Believe it or not (and it really was hard for me to believe), a TON has changed in the world of babies even in the last few years. Talking to moms who had babies in the last year was super helpful to me because they had tested out new products!
Keep a list on your phone. I'm so glad I talked to my friends and family and read reviews and blogs BEFORE I stepped foot in the store to register. (I also referred to this blog post about baby registry do's and don'ts.) It helped me narrow down most of my choices and gave me something to refer to. Obviously, you'll run into a lot of differing opinions. (Do you really need a bottle warmer? The jury's still out on that one.) But a starting point is so helpful!
Focus on a variety of price points. The online portal for buy buy BABY's registry has an awesome tool that shows a graph of all the gifts you've registered for based on price range. Take a look at that after you get home from your registry trip and head back to the store to vary the price points if necessary. You can also easily modify or update your registry from anywhere; simply log into your buy buy BABY account online or download the app on your phone.
Don't forget the little things. I made sure to register for the extra little things to start Baby Moss off on the right foot. These included things like baby shampoo, a baby first aid kit, diapers, wipes and the like.
The best part of any baby registry is that your friends and family can access them all in one place at RegistryFinder.com. All they have to do is search for your name and they'll find all the things you need to welcome your sweet baby into this world!
Are you a first time mom still looking for more registry tips? I've been so thankful for our GiveIt blog in these days of pregnancy and I know you will too. You can check out what our RegistryFinder experts have to say about baby registries on our blog!