The first few weeks after your engagement can feel like a blur: your to-do list is a mile long, with items like, "set wedding date," "book venue," "find vendors," and "order a dress." Making those big decisions can take a month or two, but once you've nailed down a date, dress, venue, and vendors, there's a lull in wedding planning. So what's next? Creating your wedding registry!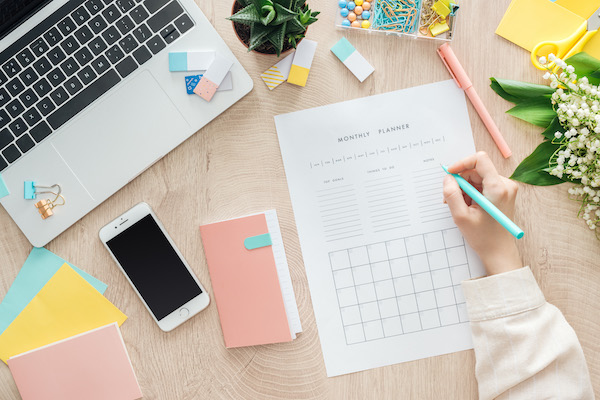 The process can feel overwhelming, but don't stress: we're here to help and streamline the process for you! Read on for the answers to the big questions of wedding registry creation: the why, when, who, how, where, and what!
In this Article:
Why Register for Wedding Gifts?
Short Answer: It makes gifting easy for your guests
Long answer: Chances are you haven't created a wish list since you believed in Santa, but now as a bride, you get the chance again! While this might feel a little out of your comfort zone, remember: most guests actually prefer to shop from a wedding registry. It gives them confidence that they are buying you the perfect gift!
When Should I Register?
Short Answer: Around 6 months before the wedding, and then revise 2-3 months later
Long Answer: Your goal should be to have your registries up and running by the time your guests receive their first piece of wedding correspondence. Some guests will start gift shopping as soon as they get it! If you are sending a save the date, think of the day you mail it as your goal: this is usually 6 months before the wedding.
If you aren't sending a save the date, you have a little more time. At the very least, your registry should be ready in time for your bridal shower, which is usually 2-3 months before the wedding.
But registering doesn't have to be a "one and done" process. Thanks to online registries, it's easy to revise and add items as you go along. In the lead up to your bridal shower and wedding, keep checking the registry to be sure there are gifts available at a variety of price points. Your aim isn't to "clear the registry:" it's to offer items you need and love that fit any budget.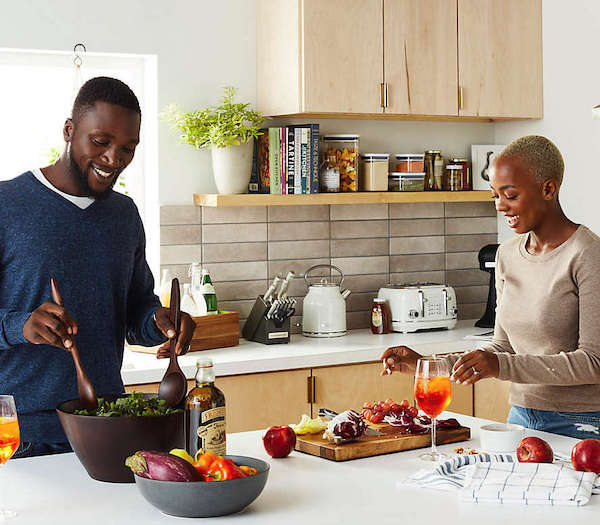 Who Should be Involved in the Registry Process?
Short Answer: Your fiance and trusted experts
Long Answer: Definitely bring your fiance along for at least the beginning of the registry process. Whether you're merging two separate households or adding to the things you already have, take some time to evaluate what you need and like, and make shopping together a fun activity. For many couples, the registry is their first joint style statement, so talk through your preferences and tastes to find some common ground.
If you have friends who have recently registered or are connoisseurs of the home and kitchen, ask them to preview your registry and offer advice. And as you shop, utilize online reviews and the advice of the store's sales associates.
Where Should I Register?
Short Answer: 3-4 retailers, at least 1 "brick and mortar"
Long Answer: With so many stores and websites, it can be hard to narrow it down to 3 or 4 places. Consider the following:
Online vs. Brick and Mortar: do you think most of your guests are comfortable shopping online, choosing a gift sight-unseen? Or would some prefer to choose a gift in-person? Choose at least one physical store for guests you think may fall in the latter category.
Essential Retailers: websites and stores that offer everything you need for kitchen, dining, bedding, bath and more
Specialty Retailers: tailored more to a specific home category or hobby- home décor or kitchen, and outdoor adventures
Universal Registries: these sites allow you to add items from any website you choose.
Universal registries are wonderful for adding items from retailers who do not offer a registry through their store. But for stores that do offer their own registries, it might benefit you to register directly through them instead of bypassing them for a universal registry. You may miss out on store-specific perks and benefits, and without an official registry through individual retailers, you might not be able to get personalized help from each store's customer service department. Also, most universal registries require guests to navigate back to the universal site to mark their gifts as "purchased." When guests forget this extra step, it can result in duplicates!
We've put together a helpful chart to help you compare registry retailers! Take a close look at the perks, benefits, and return policy of each one, and visit this page for more info.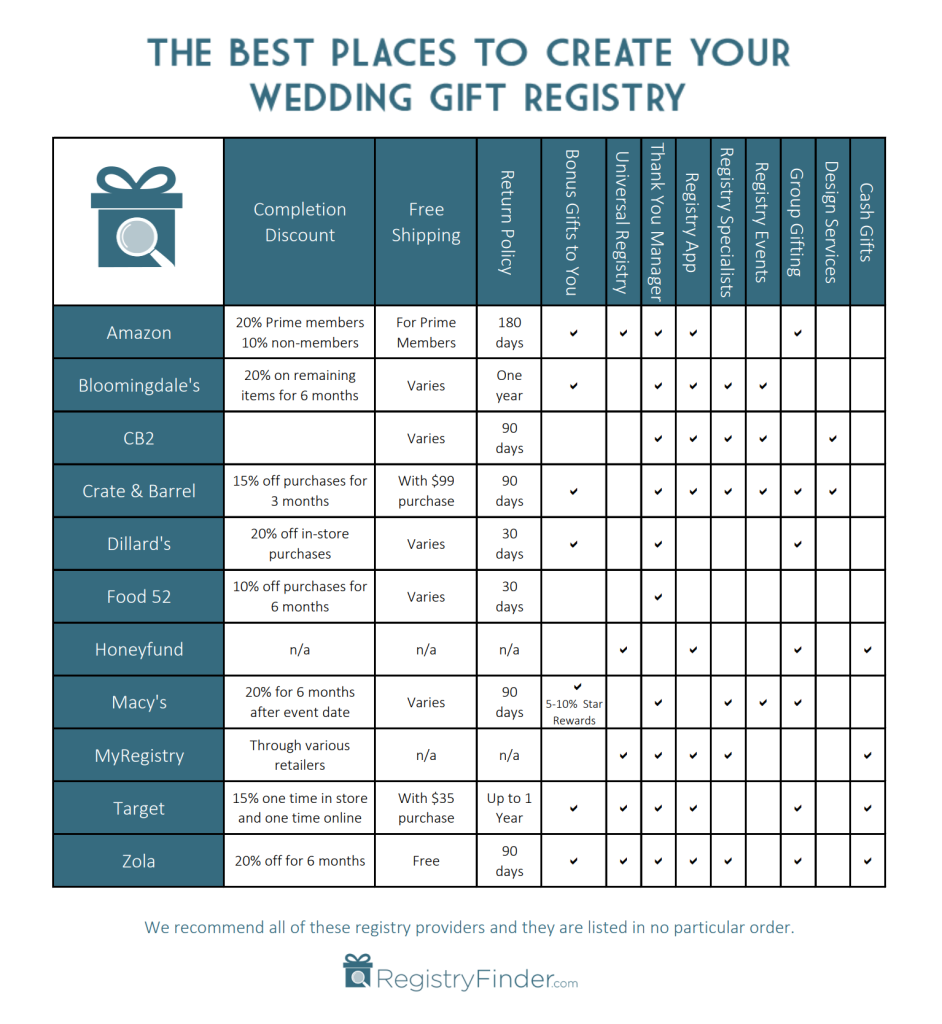 Tip: No matter where your register, make all of your registries searchable online, and use the same names (be consistent with nicknames), wedding date, and location across all online registries. Your guests will be able to find them all by simply visiting RegistryFinder.com!
How Should I Register: Online or In-Person?
Short Answer: Both
Long Answer: Most couples take a hybrid approach of online and in-person. Start by choosing 3-4 retailers, and create your registry online first. Then, plan a date day with your fiance to visit any stores with physical locations near you and pick items like linens, place settings, silverware, and anything else you'd want to see and touch in person! As your shower and wedding day approaches, keep adding items, either online or in person, so that guests have options at every price point.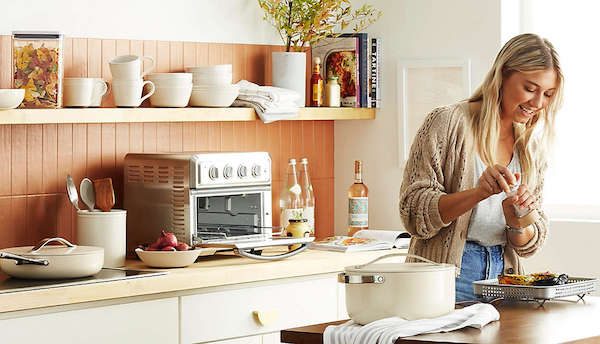 What Should I Register For?
Short Answer: Items for the home and kitchen, and possibly items that speak to your hobbies, interests, or even your honeymoon!
Long Answer: Download this checklist for household items that most couples add to their registries. You don't have to add them all, but remember: guests want to help you fill your home! Provide plenty of options!
Click here to download your printable version & check out our "Pinnable" version below, which shows a preview of kitchen items to get you started. When you click the links above, you'll see checklists for kitchen, dining, home decor, bedding, bath, cleaning, and laundry.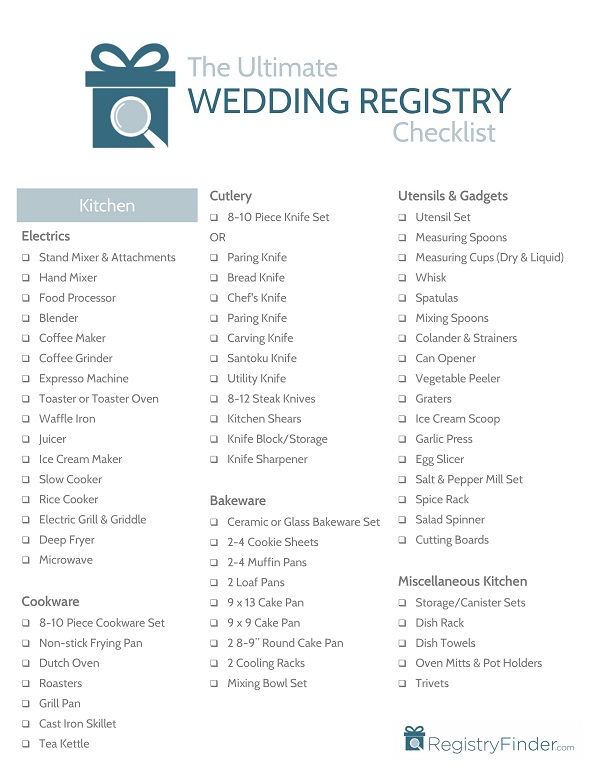 Most guests spend between $30-$75 on a shower gift, and $50-$200 on a wedding gift. Think about these price points as you add. It's OK to include some items beyond the $200 threshold, especially if the retailer offers group gifting. You might choose to buy these big-ticket items later with your registry discount, too! The bulk of your gifts should be in the $50-$100 range, or smaller items guests could group as one bigger gift.
What about non-traditional items, like camping gear, electronics, and board games? If you're considering adding a unique item to your registry, check out this blog post to help you determine the best way to do it.
How Many Items Should I Include on My Registry?
The Short Answer: Around 2 per wedding invitation sent
The Long Answer: Two gifts per invitation is a good rule of thumb, but remember: keep checking back after your bridal shower and as the wedding day approaches to make sure there are still enough items at various price points left for your guests to choose.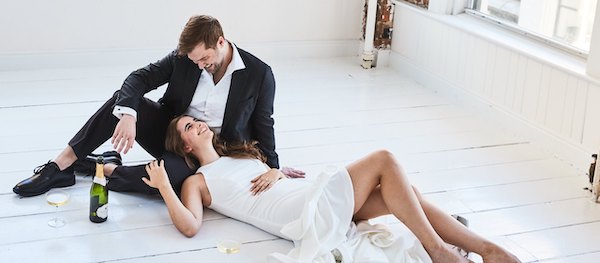 Ready to Register?
We've gathered our favorite retailers on one page to make the wedding registry process easy! Visit our "create a registry" page to get started. Then, search your name here at RegistryFinder.com to get a link to all your registries in one place! You can add it to your wedding website and send it to your bridal shower host.