We made an appointment with a Macy's personal shopper, and it totally changed our shopping game—here's why!
Making an appointment with a personal shopper always seemed like an "out-of-my-league" luxury to me: right up there with having a personal chauffeur and chef. But as it turns out, having a personal stylist isn't just for people for who walk the red carpet: it's for anyone who walks into Macy's!
A few months ago, I wrote about all that MyStylist @ Macy's has to offer: that it's a fun way to discover the latest trends and brands, it's fast, since your stylist prepares cute options for you in advance, and best of all, it's free! But writing about the stylist service wasn't enough—I knew I had to make an appointment and experience it for myself!
But, since the RegistryFinder blog is all about weddings, I knew I had to bring a bride-to-be along: enter my gorgeous cousin, Courtney.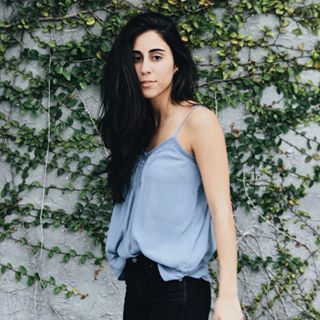 Courtney and her fiancé Jon are planning to tie the knot in August of 2018. And while there's plenty of time until the big day, I talked her into making an appointment with a stylist at Macy's in the Boca Raton Town Center store. Here's the rundown of our appointment:
Making the Appointment
Macy's makes this step super simple: you can easily book online by clicking here, and choosing the date, time, and location that works best for you! Stylists are available in all major stores around the country, during regular store hours, 7 days a week!
Before the Appointment
A few days before the appointment, our stylist, Lee, emailed Courtney a style profile: basically a rundown of Courtney's dress and shoe sizes and the types of items she was looking for. Lee also let us know she was available to chat by phone before the appointment, and sent us a quick email the night before our appointment to ask if we needed any cosmetic products (she could have them ready for us upstairs). Needless to say, I was already impressed!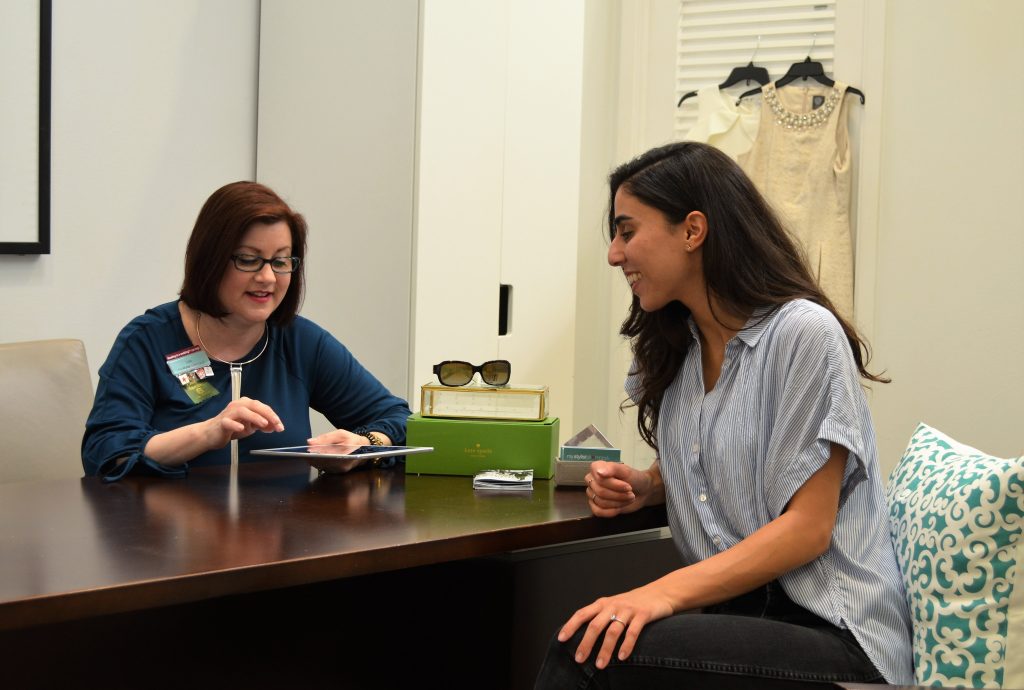 Arriving
Lee's office was tucked away on the second floor, and entering truly felt like a behind-the-scenes experience! Lee greeted us with coffee and pastries, and invited us to sit down and chat (though I'm sure if we had been in more of a rush, we could've gotten right to the clothes!). She instantly put Courtney at ease, telling us that finding Courtney the perfect white dress for her engagement photos was just the beginning of what she had to offer: Lee told us she could help every member of the bridal party find the perfect looks for the big day: from helping Courtney's bridesmaid find the perfect dresses (she's going for the mismatched look) to finding dresses for the mothers of the bride and groom, and even outfit the groomsmen, flower girl, and ring bearer! Lee also told us that she's helped brides find outfits for the honeymoon as well as the perfect suitcase from Macy's luggage department—and Lee will even pack bride's bags!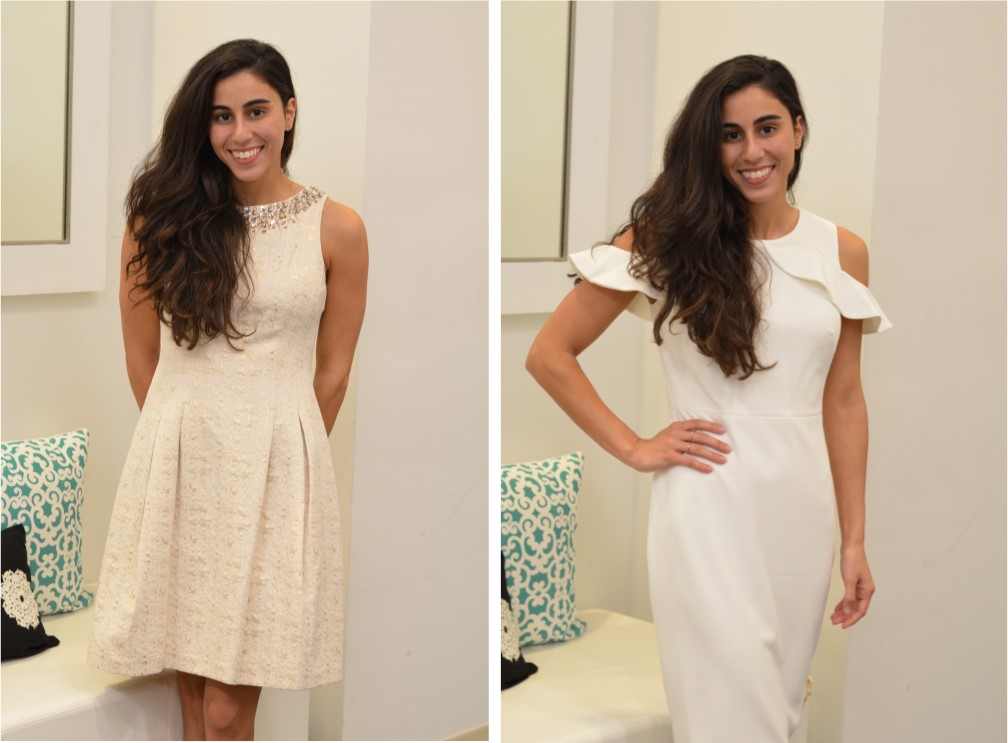 The Clothes
If you dread scouring the racks for something you like in your size, then you never have to do it again: make an appointment with MyStylist and skip that hassle! Lee had 3 stunning white dresses ready for Courtney to try on in her private dressing room. She even had an assortment of heels for Courtney to see the completed look. After trying on the dresses, Lee showed Courtney a selection of bridesmaid dresses and matching jewlery.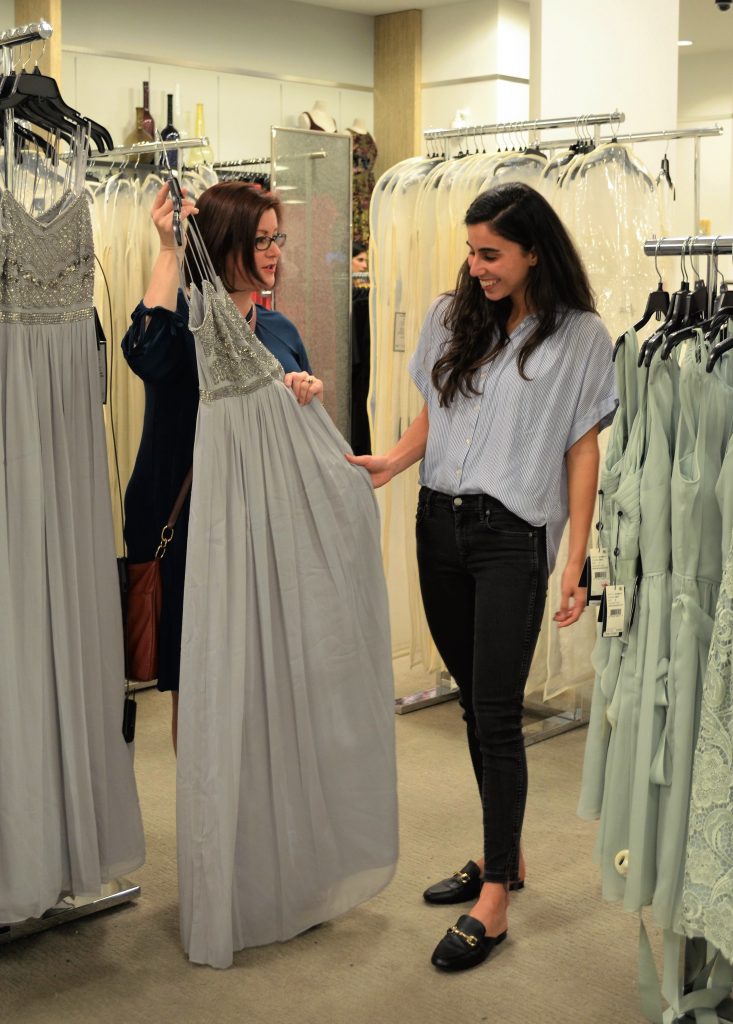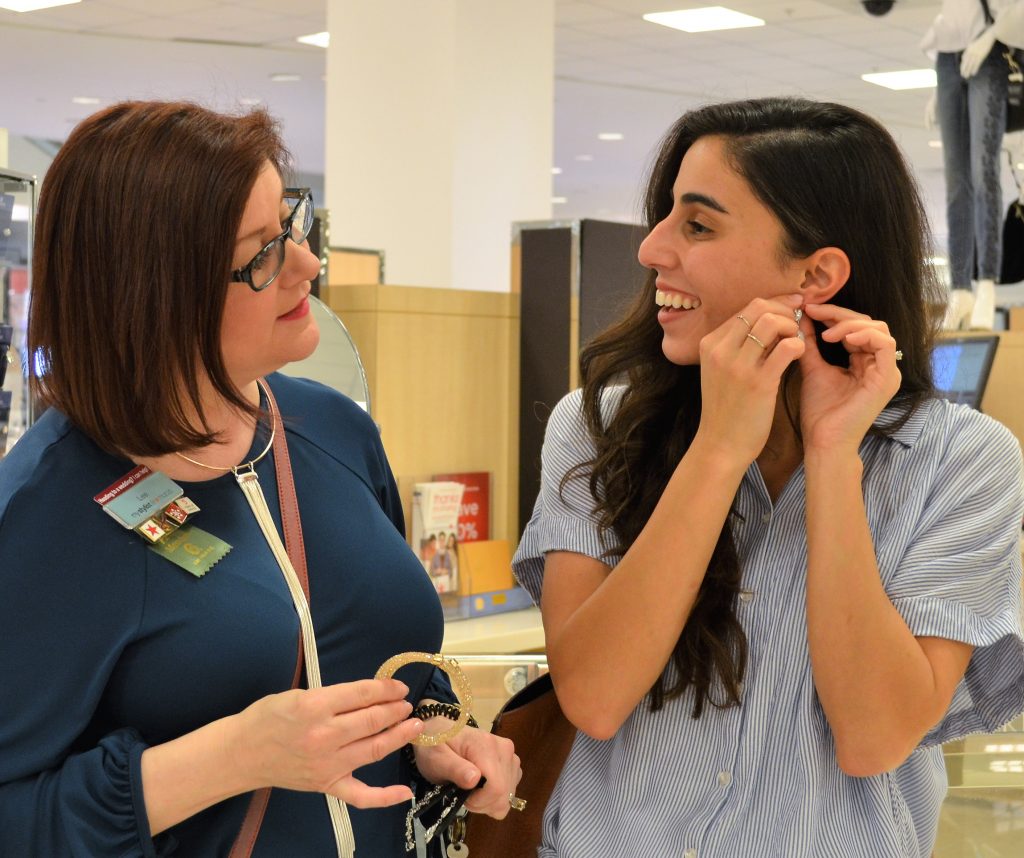 The Perks
So besides the treats, the expert advice, and the personally selected clothes, there was one more surprise coming our way: Lee let us know that anything bought during the first appointment would be 20% off!
And it's not just about fashion—your Macy's stylist can even help with the registry, whether you're creating one or shopping one!
Lee's personal motto is "When you shop with Lee, the shipping is free." And while that slogan might not rhyme with your stylist's name, it's true: when you buy a gift from a Macy's wedding registry through any stylist, shipping to the bride and groom is complimentary! Not shipping your gift? Your stylist can even wrap it for you!
The Takeaway
Macy's has always been our go-to store for its amazing registry perks, the best brands in fine china and bedding, the perfect place to find bridesmaid and groomsmen's gifts, and a one-stop-shop for your honeymoon essentials. The MyStylist experience makes finding those perfect outfits, gifts, and registry items so much quicker and more luxurious—a true treat for busy brides, grooms, and wedding guests who want to feel like a celebrity for the day!
Ready to make a date with your stylist?
Visit the Macy's stylist page to book your appointment online! And if you haven't already, you'll want to set up your Macy's registry, too—so many magical perks await!
Save
Save
Save
Save
Save
Save