I have a large, happy family that loves to commemorate every occasion with over-the-top celebrations. When I got engaged, my aunts offered to host many events…some of which I'd never heard of. Maybe, like me, you're clueless when it comes to your own wedding festivities. Or maybe, you've been invited to a bridal luncheon or rehearsal dinner and you're wondering what you're getting into or if you should bring a gift. Either way, we've got you covered with this comprehensive guide to wedding festivities.
The Engagement Party
An engagement party is a wonderful way to toast the newly engaged couple, as well as introduce the bride and groom's family to each other.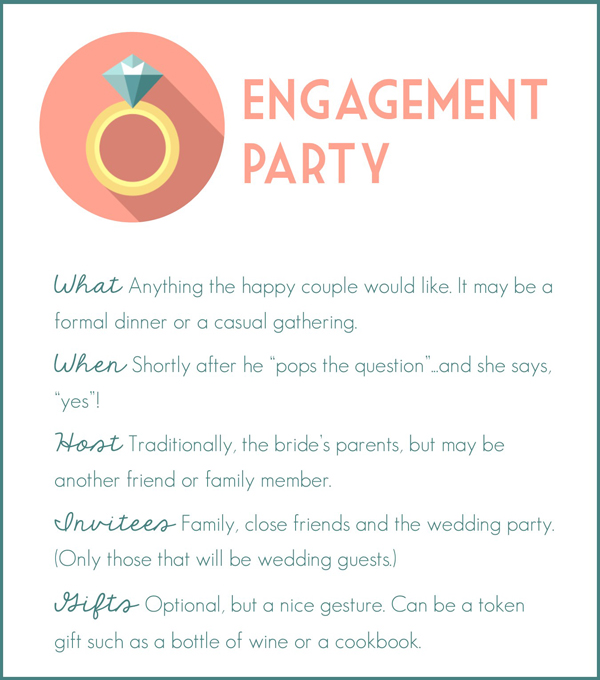 Attending an Engagement Party? Read this first: Engagement Gift Etiquette
The Bridal Showers
Traditionally, a bridal shower was a ladies-only event in which the guests "showered" the bride with gifts for her new home. Today, coed showers are becoming very popular as many grooms are choosing to be more involved in wedding planning.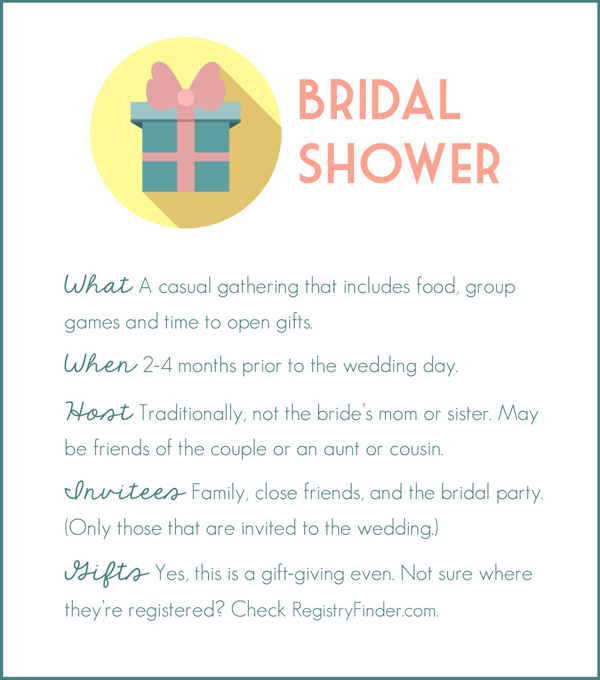 Planning a Shower? Don't start until you check these out: Bridal Shower Hacks | Bridal Shower Games and Activities | Who Should Be Invited to a Bridal Shower | Workplace Shower Etiquette
The Bachelorette Party
The bachelorette party is one last celebration of the bride's days as a single woman. It's typically a smaller gathering that includes only the bride's closest pals.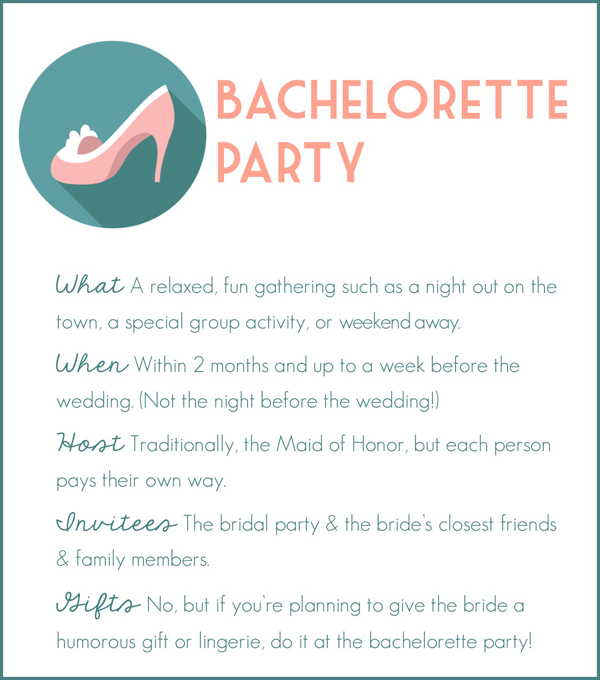 Is there some confusion amongst the 'maids? We'll help you out: Who Pays for the Bachelorette Party?
The Bridesmaids' Luncheon
A special gathering, often hosted by the bride, to honor her attendants and any others that have played a special role in planning the wedding day.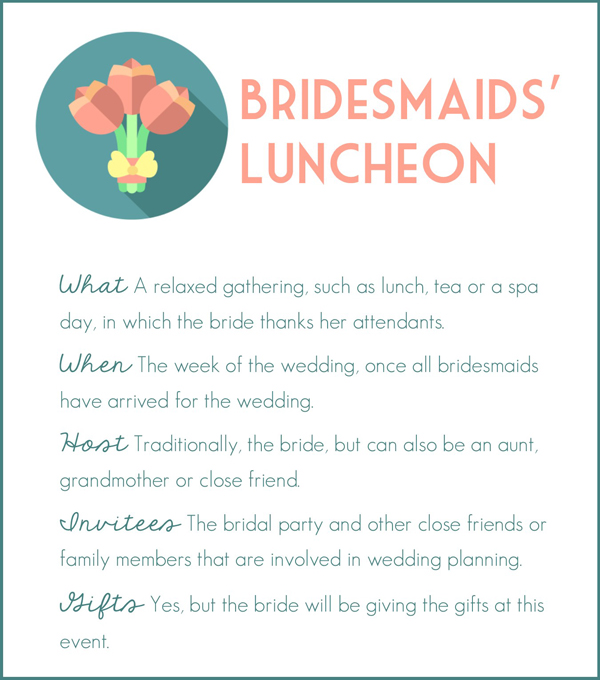 Not sure what to get your Bridesmaids? Check this out: Finding the Perfect Bridesmaid Gift | How Much to Spend on a Bridesmaid Gift
The Rehearsal Dinner
A rehearsal dinner is a perfect time to bring two families together in a relaxed, personal setting before the big day. This celebration of the soon-to-be married couple includes the wedding party, close family and occasionally, out of town guests.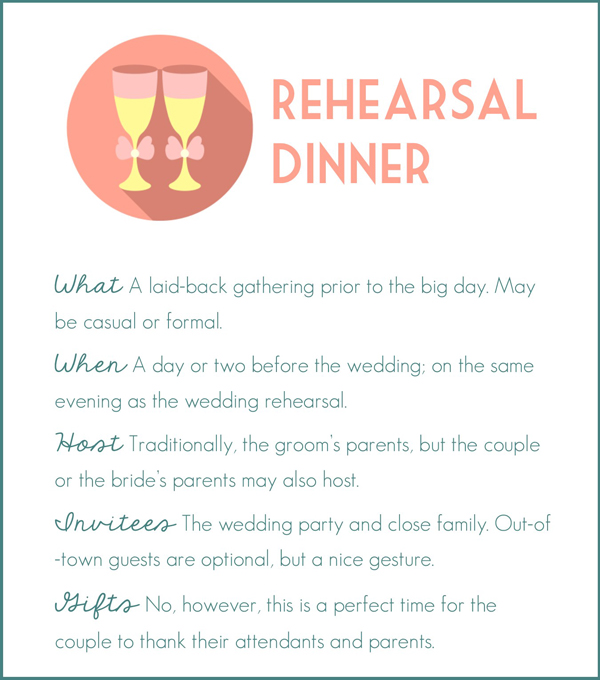 Wondering if you should get your parents or attendants a gift? Look no further: Who Gets a Gift from the Bride & Groom? | Personalized Gifts for Your Wedding Party
The Wedding Day
The BIG day. Need I say more?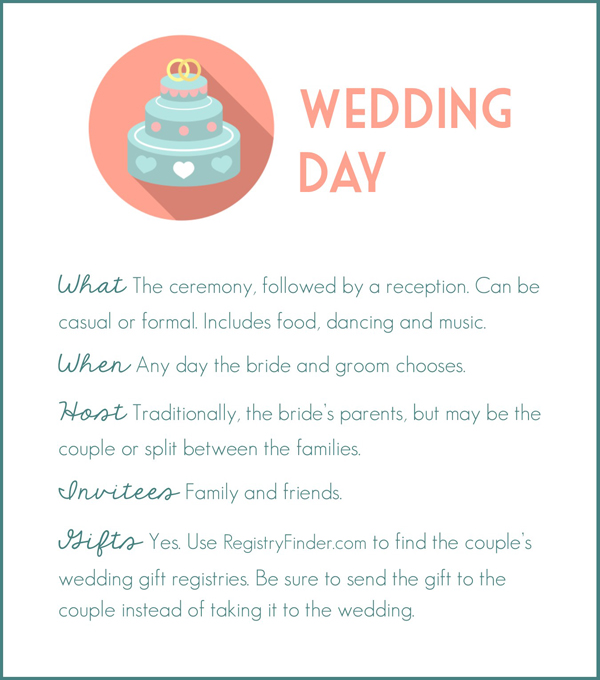 Hosting a Wedding? Read these first: Wedding Traditions | Destination Weddings | Inviting Co-Workers to Your Wedding | Etiquette for an Encore Wedding
Attending a Wedding? Check these out: Wedding Guest Etiquette | How Much Should I Spend on a Wedding Gift?
Post- Wedding Brunch
This day-after gathering is one last wedding event and an opportunity for family and friends (and especially out-of-town guests) to rehash the big day and spend a little more time together.
Hosting the Brunch? We've got you covered: Brunch Recipes | Brunch Menu | Easy DIY Food Bar Ideas
Before I go, I do have a few additional helpful (and important) tips to pass along:
If you are hosting one of these events, please be sure that the guests are definitely invited to the wedding. You wouldn't want to invite someone to the bridal shower who is not also invited to the wedding. The only exception to this rule is at a workplace bridal shower. Depending on how close they are to the engaged couple, co-workers may host/attend a workplace bridal shower without being invited to the wedding. Cheryl goes into more details here.
You want to be sure that the bridal shower or wedding present you select is something that the newlyweds would like in their home. So, when it comes to purchasing a gift, our suggestion would always be to shop from the couple's gift registries- even if you think the items they chose may be silly or something you wouldn't typically select on your own. If you're not sure where the couple is registered, head over to RegistryFinder.com, where you can find all of a couple's gift registries, purchase a gift and have it sent to their home…in just a few minutes!
Whether you are the event host, bride-to-be or a guest at one of these lovely wedding celebrations, we hope that this guide has been helpful. Have fun, enjoy the party and always keep in mind that you're gathering together to celebrate the happy couple!
Click the image below to open in a new window, or pin now and read later. 

Save
Save